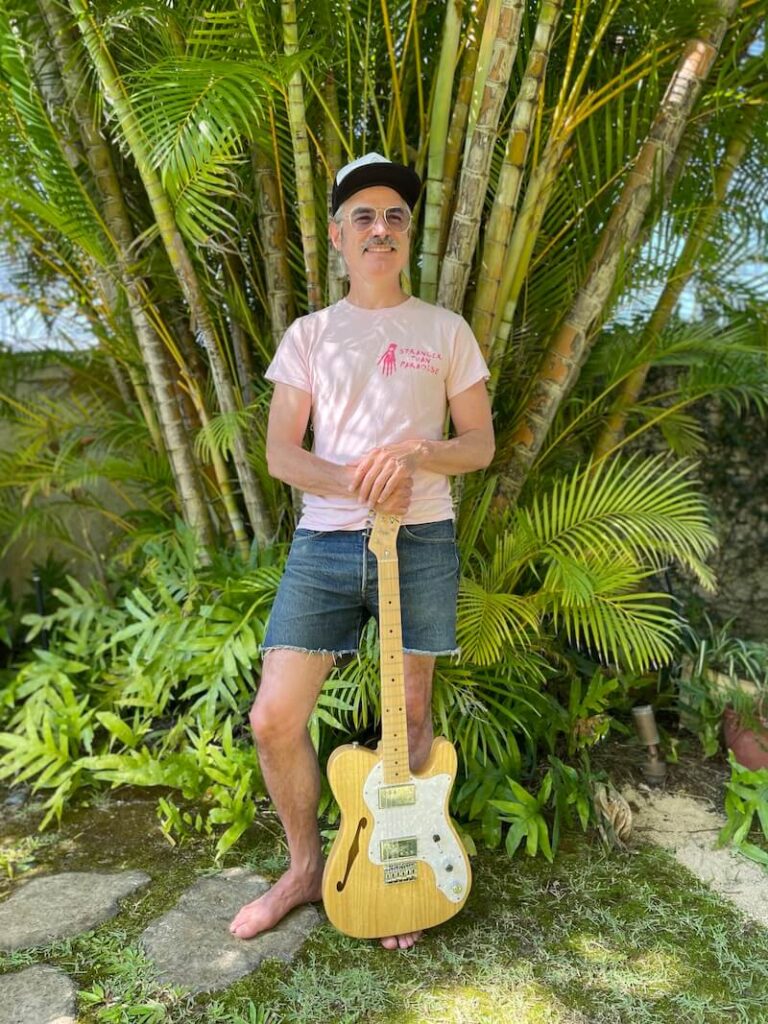 Though the grooves of Rose City Band's Garden Party go down easy, when he was coming of age in Wallingford, Connecticut in the 1980s, Ripley Johnson defined himself by what he hated. "Being an adolescent you're just against everything, so we were against all of the synth pop and '80s haircuts," says Johnson. "Everything was neon and there were yuppies and Reagan." As a teenager, Johnson longed for more adventurous sounds, drawn to punk bands like Black Flag and JFA through his love of skateboarding and Thrasher Magazine.
"When you grow up in a small town you're finding clues everywhere about the counterculture," said Johnson. "It was really an act of sleuthing." Punk rock shifted to a fascination with the 1960s as Johnson began experimenting with psychedelics and the music that came along with them. Indulging in Jimi Hendrix and Neil Young was a form of resistance. "Sticking it to the man," says Johnson.
Inspired by a friend, Johnson left Wallingford to chase his dreams of living on the West Coast. "I got on a Greyhound bus," Johnson explains. "They were running this special for a while. I'm pretty sure it was $69 to go anywhere in the country." So, Johnson saved up his money, spent three days on the bus and found himself in California where he enrolled at UC Santa Cruz and formed his first band, Botulism.
Heavily influenced by Blue Cheer, the Stooges and the Japanese label Psychedelic Speed Freaks, Botulism cranked their amplifiers to the maximum volume, and cleared rooms with their deafening noise. "Looking back, I'm kind of proud of my younger self," said Johnson. "I think we were pretty terrible in a lot of ways, but we were committed. We didn't care that everyone left."
Once Johnson graduated, Botulism moved to San Francisco, where they released one 7" record and found little success. After Botulism, Johnson's music taste shifted to free jazz, minimalist music and Krautrock. The repetitive quality of these genres led Johnson to a musical epiphany. "There's some music that people just respond to intuitively because it's a primal thing," Johnson says. "And so, I thought if I find non-musicians, I can teach everyone a chord and experiment with that."
The group of non-musicians jammed for a couple years but never played a show. Uninterested in making an album or playing live they went their separate ways. Still passionate about the primitive project, Johnson recorded and released a solo 10" record titled Wooden Shjips which became the name of his first major band.
Johnson lost his job in San Francisco's tech industry during the 2008 financial crisis. The solution, and artistic challenge to his unemployment was to form a new band that "said yes to everything," said Johnson. So, he put Wooden Shjips on the backburner and started Moon Duo with his wife, Sanae Yamada.
Their records well received, Moon Duo hit the road. "It was just the two of us, and we could travel pretty cheaply," said Johnson. "We went to Finland and Estonia. We went to Moscow, Ukraine and Sardinia. Just all over." After touring consistently for a few years, Johnson and Yamada settled in Portland, Oregon in 2012. Johnson was drawn to Portland's gentle qualities compared to San Francisco.
"There's a bigger sense of the natural world even if you're living in a neighborhood," said Johnson. "It's much greener."
"For a while I just kind of hid behind fuzz," said Johnson of the music he had created over the years. "I was really into fuzz and distortion. More obscure vocals and loud music." Over the years, as his projects mellowed, Johnson longed for a new sound. "I felt that there was a part of my musical personality that I hadn't expressed yet," said Johnson. "I wanted to do something with a little twang in it."
"When I was younger I had more energy, everything was fast and groovy," said Johnson of songwriting. "The Rose City Band stuff comes from just strumming the acoustic guitar." Rose City Band is the fruit of Johnson's appreciation of music and eclectic taste. "I'm a huge Neil Young fan from childhood. But also the Grateful Dead, The Stones, their more pastoral vibe, and The Band, Bob Dylan," said Johnson. "And then I'm really into country like Waylon
Jennings, Willie Nelson and Lucinda Williams, it's just a side of me that I really respond to in music and something that I've always wanted to do."
For years Johnson longed to form a country rock band. Due to the pandemic, he released three albums as Rose City Band before ever playing a live show. As restrictions loosened, Johnson recruited a handful of local musicians to perform live as Rose City Band. "We got really tight and we played this Mississippi Studios show. Afterwards Sanae was like, 'You did it, you got your country rock band.'" The sound in Johnson's head had come to life, inspired by Portland summers. "The feeling of going for a bike ride or sitting on your porch," said Johnson. Johnson's attitude towards life is reflected in his music.
"He's got a very zen vibe to him," said Dustin Dybvig, drummer of Rose City Band. "I look up to his calmness, especially on the road."
"Initially I didn't love touring," Johnson says. "I'm not super into being the center of attention. I still get anxious about playing on stage and I don't really want to be in the spotlight." There is uncertainty with live performances. "It's sort of akin to throwing a party," said Johnson. "You're not sure if people are going to come to your party or not." Performing with other people helps Johnson overcome his anxieties. "It's like a safety net," says Johnson. "Everyone's carrying the load."
Johnson especially feels a sense of security when performing as Rose City Band. "The guys in the band are all really enthusiastic about music, they all want to play," said Johnson. "They come alive on stage and get this energy that is just so contagious."
Rose City Band is composed of five musicians, the largest group that Johnson has performed with. "It takes the pressure off because everyone is contributing," Johnson says. "If you're well-rehearsed and everything is going well and you have good material, you have this confidence that you're going to go out and crush it."
"You're a crew," Johnson says of being in a band. "You develop that the more you play, especially when you're on tour. You can rehearse every week for a year and you'll never get as tight as doing a one or two week tour. You get so good so quickly because everyone is responding to each other, making micro adjustments all the time and bonding in a way that I think is really special."
"The live show is so ephemeral, it's a different type of beauty," Johnson says. "I don't like recreating the record live. I find it's often better, especially live, if someone brings something you hadn't thought of like a different bass line or keyboard sound. It keeps it fresh to me."
While Johnson has grown to appreciate touring, his favorite part of being a musician is making albums. "Records have been so important to me in my life," Johnson says. "It's almost like a drug. I rely on records to cheer me up or calm me down."
"Making the record is one thing, and playing live is a completely different thing," Johnson says. "The record stands as what it is. That's me trying to get the sound that's in my head exactly how I want it on the record and indulging myself."
The live band is a whole different experience. "I don't feel like I really know what I'm doing most of the time and I embrace that," Johnson says. "A lot of the music that I like is outsider kind of music. Private press, weird music that was never successful for whatever reason. Or was just done in a different way and appreciated later." Johnson tries to retain the amateur, outsider sound in his music. "I do just by virtue of not being a great musician," Johnson says. "I can't do everything, but I can do these things. I record most of the stuff at home, so it hopefully retains a humble, homemade sort of feel."
Garden Party is a summer album and Johnson looks forward to performing the songs live. "I feel like I really lucked out," Johnson says of the touring band. "Everyone's fired up in this band, just having a good time." | h mahood
For heads, by heads. Aquarium Drunkard is powered by our patrons. Keep the servers humming and help us continue doing it by pledging your support via our Patreon page.