(Welcome to Videodrome. A recurring column plumbing the depths of vintage and contemporary cinema – from cult, exploitation, trash and grindhouse to sci-fi, horror, noir, documentary and beyond.)
Billy Bob Thornton first met Billy Wilder while working as a waiter at a Hollywood party. At the time, Wilder was already a living legend: a writer, producer, and director who'd spent his multi-decade-spanning career working alongside the upper echelon of Tinseltown royalty. Known as having a keen eye for "star power," Wilder's esteemed filmography boasted Marilyn Monroe, Marlene Dietrich, Humphrey Bogart, Tony Curtis, and Jack Lemmon. In short, Wilder knew a star when he saw one.
"I came over to give him a fish head," Thornton recalled in an interview about his encounter with Wilder, "and he said, 'So you wanna be an actor?' He was joking with me, but I didn't know the joke. I didn't know all actors were waiters. But I thought the guy had ESP or something, so I said, 'How'd you know that?' And he said, 'Oh, all you people want to be actors. Let me tell you something: you're never gonna make it – you're too damn ugly.'"
Having relocated to LA from Arkansas in the mid-1980s, Thornton had spent years hustling for bit parts on sitcoms with little to no luck. In between cattle-call auditions, he worked as a telemarketer, fast food manager, and waiter. Despite his lackluster circumstances, Thornton remained starry-eyed, and it's no doubt that when he struck up a conversation with Wilder about acting, somewhere in the back of his mind, he thought, "This may be it. This may be my big break." But Wilder, speaking bluntly in his thick German accent while chomping on fish hors d'oeuvres, immediately took the wind out of Thornton's sails. After Wilder delivered his cutthroat assessment, perhaps seeing the hurt in the young waiter's eyes, he quickly pivoted from criticism to guidance, suggesting that Thornton pursue writing as a way to reverse-engineer his acting ambitions. Since he was "too damn ugly" to be cast as a leading man, Thornton's best bet was to develop his own material that he could star in. Wilder's advice wasn't what Thornton wanted to hear, but it would become the catalyst for his success years later.
In 1987, Thornton landed a small part in The Man Who Broke 1,000 Chains, a period drama starring Val Kilmer about a WWI veteran arrested for theft and sentenced to work on a prison chain gang. The role came as a friendly favor from a casting director, and although Thornton only had five lines, he was determined to use the minuscule role as his chance to prove himself as a movie star. As they began shooting, Thornton only got through a few lines before director Daniel Mann yelled, "CUT!" Mann didn't like Thornton's subtle approach and instructed him to "go bigger." Numerous takes ensued, each one concluding with Mann's frustration. Afterward, when he retreated to his trailer, Thornton looked at himself in the mirror, defeated and fuming with disappointment over his performance. The reflection staring back at him was a failure: a thirty-two-year-old no-name actor. Whether it was because he didn't have the acting chops or was "too damn ugly," his career had stalled out. And then his reflection changed to a face he didn't recognize, one with an overshot jaw and squinted eyes, and he heard himself speaking in a raspy voice that wasn't his own.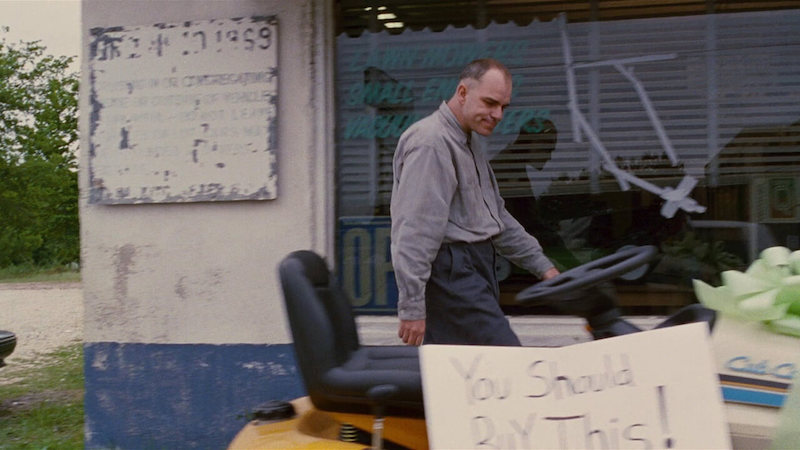 This character would stick with Thornton long after his discouraging day on the set of The Man Who Broke 1,000 Chains. Over time, he would expand upon the character, fleshing out a detailed backstory and modeling mannerisms off of Boo Radley from To Kill A Mockingbird and Frankenstein's Monster. Eventually, this character – who Thornton named Karl Childers – would become the basis for a one-man show, Swine Before Pearls. With Billy Wilder's words circling around his head, Thornton wrote a short film based on Karl Childers. His screenplay would become Some Folks Call It A Sling Blade (1994), directed by George Hickenlooper and starring Thornton, Molly Ringwald, and J.T. Walsh. Using the earnings from the short film, Thornton developed it into a feature, writing, directing, and starring in the lead role of Karl Childers: an intellectually-challenged man who returns to his hometown in Arkansas after being released from a psychiatric hospital for the murder of his mother and her lover when he was twelve-years-old.
Shot in just under twenty-four days on location in Benton, Arkansas, Sling Blade (1996) immediately impacted those who saw an early cut. This included former Miramax head Harvey Weinstein, who purchased the distribution rights for ten million dollars after only seeing a half-hour of the film. Another early advocate for Sling Blade was Martin Scorsese, who told Thornton it would undoubtedly win Oscars. Scorsese instructed Thornton to disregard Weinstein's long list of notes and plethora of cuts (as a first-time director without a marquee name, Thornton knew he wasn't in a position of power with Weinstein and Miramax), encouraging Thornton to keep his first cut intact. As Scorsese saw it, Thornton didn't use any of Miramax's money to make the film, so he didn't owe them any changes. Confident that Thornton would become a big name on account of Sling Blade, Scorsese imparted some experiential wisdom: all of his future projects would inevitably be compromised by the studios financing his films, and he'd never have the luxury of controlling his creative vision the way he could with Sling Blade. "Take advantage of this time in your career," Scorsese told Thornton. "Keep the film exactly as you want it."
Released on November 27th, 1997, Sling Blade would become a sleeper hit, grossing thirty-four million against its one-million-dollar budget. Kevin Thomas of The Los Angeles Times wrote, "Sling Blade is a mesmerizing parable of good and evil and a splendid example of Southern storytelling at its most poetic and imaginative." In an inspired summation, Roger Ebert of The Chicago Sun-Times wrote, "If Forrest Gump had been written by William Faulkner, the result might have been something like Sling Blade." The film launched Thornton into superstardom, earning him an Oscar nomination for "Best Actor" and winning him the award for "Best Adapted Screenplay." He was affectionately called the "hillbilly Orson Welles" by his co-star, Robert Duvall. In 2004, Thornton received a star on the Hollywood Walk of Fame, defying and joining Billy Wilder in eminence, his own star only a few blocks away. 
After achieving the notoriety he worked so hard to obtain, Thornton found himself embittered by Hollywood, giving the cold shoulder to the industry he'd so desperately pleaded with for acceptance. Part of this is because Scorsese had been right: Sling Blade was an unprecedented smash hit, leading Thornton into a lucrative but compromising career position. His next directorial film, All The Pretty Horses (2000) – boasting a fifty-seven million dollar budget, financed by Miramax and Columbia Pictures – was littered with so much studio interference that Thornton vowed never to direct a film again. "Billy had a heart problem at that time, and it was because his heart fucking broke from fighting for that film," Matt Damon would say in a 2012 Playboy interview. "It really fucked him up." Thornton's creative control over Sling Blade and its subsequent success would prove to be a one-off fluke in his career. "I love making movies, and I love acting," Thornton would say, "but I'm not real crazy about the Hollywood system…I have very few friends within the movie community."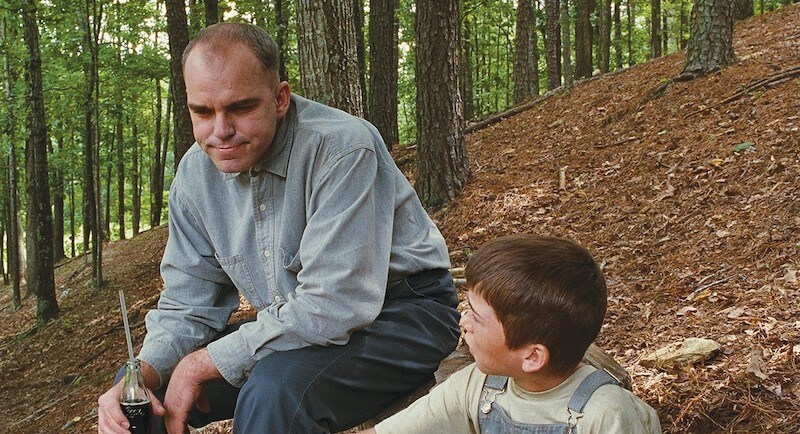 The Carey Grants, Steve McQueens, and Leonardo DiCaprios of the world are few and far between because they not only achieved star power, but embraced it. When Tom Cruise is on screen, you're watching him play a character, but you're also watching Tom Cruise. These are stars with a capital "S," their fame proceeding not only the parts they play but the cult of personality behind them. In contrast, Thornton chose to double down on his authentic Southern-boy roots over his fabricated celebrity persona, often going out of his way to distance himself from stardom rather than live inside of it (the most lucid example of this being his infamous 2009 appearance on the CBC Radio One program Q to promote his band, The Boxmasters, in which Thornton completely derails the interview after host, Jian Ghomeshi, brings up Thornton's Hollywood accolades).
But this is precisely why Sling Blade works as a film. When Karl Childers is on screen, Thornton is nowhere to be seen. He completely disappears into the character without a trace; Karl Childers' voice, posture, walk, and facial expression translate as wholly genuine. Given that the film centers around an intellectually disabled man, there are a million different ways that the able-bodied actor portraying him could fall into an exaggerated or cartoonish performance. This is especially true if the audience feels like they're watching an actor they know – a Dustin Hoffman or a Sean Penn, a movie star – act like they're mentally challenged.
Like its lead character, Sling Blade walks a fine line between mishandling sentimentality and portraying somber reality. The film explores childhood trauma, homosexuality, disability, and domestic abuse, set in the deep south and released in the mid-nineties. One only needs to watch other films that cover similar issues from this period of filmmaking to understand how easily Sling Blade could be deeply exploitative and problematic. Yet, its world and characters are treated with the utmost amount of nuance and sensitivity. This is primarily due to the dimensional performances from the rest of the cast, playing characters that – on paper – read as broad stereotypes: John Ritter as a semi-closeted southern gay man, Natalie Canerday as a hardworking single mom, and Dwight Yoakam as a (scene-stealing) alcoholic bigot and failed musician. But these characters are never caricatures, transcending tropes with an often excruciating amount of empathy and depth, none more so than Thornton as the tortured Karl.
In tandem with the characters, the rural world of Millsburg, Arkansas – the overgrown lawns in front of debilitated houses, the antiquated Frostee Cream fast-food stand, the rusty railroad bridge over the river, the vacant storefronts and sleepy streets – is also in danger of becoming a pastiche. But Millsburg is depicted with a deadpan sense of naturalism, never calling attention to itself and existing only as a raw backdrop. Photographically, Millsburg is neither beautiful nor ugly – it simply is, like a Rockwell illustration left out in the sun for too long. The wilted town has the same vérité realism of its characters, propelling Sling Blade beyond artifice to authenticity.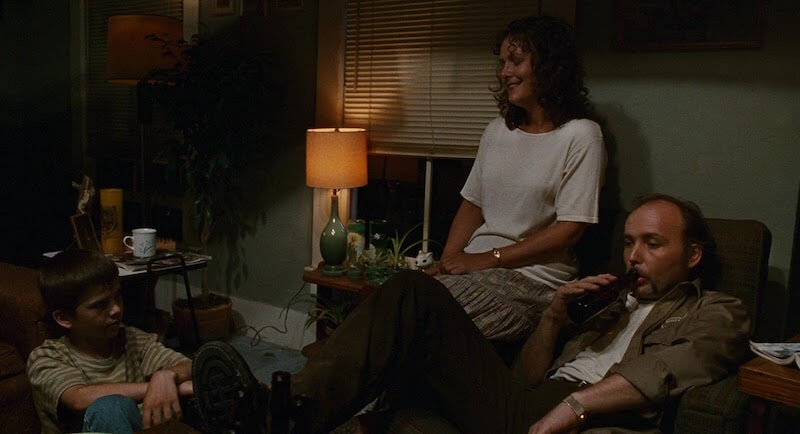 Thornton's unhurried directorial approach – long takes framed in static wide shots, sparse editing, minimalistic blocking – allows this setting and its inhabitants to breathe organically, capturing an uncontrived sense of sincerity and humanity. This is all set to a contemplative score by Daniel Lanois, a producer and musician whose discography includes albums by Bob Dylan, Neil Young, Robbie Roberston, and many others. Lanois' score infuses new-age ambient with back-porch country, welcoming consonance and dissonance alike, creating the perfect sonic texture for the quiet desperation of Millsburg and Karl's restitution.
At the heart of Sling Blade is Karl's relationship with an innocent kid named Frank (played by Lucas Black), who befriends Karl after his release from the psychiatric hospital. Ultimately, Karl sacrifices himself to save Frank from a life of emotional and physical abuse. Karl sees a former version of himself in the young boy, a fellow wounded spirit. He knows what's coming down the pipeline for Frank, and he needs to save him before it's too late. How Karl carries this out blurs the line between an act of altruism and merciless violence. Is Karl inherently a danger to society ("What in the hell are you doin' with that hammer?"), or is he a saint in workman's clothes? Like many aspects of Sling Blade, it calls into question some complex ethical issues and psychological debates of nature vs. nurture. The narrative chooses not to telegraph clear-cut answers, concerning itself with the character's choices rather than stipulating doctrine.
What's most tragic about Sling Blade is that around the midway point, everything is finally working out for Karl. He has a job at a small-engine repair shop and a home with the Wheatley family; he goes to dinner parties with friends and even receives flowers from a potential love interest. Finally, we see how Karl could have a happy life. "What was it like out there in the world?" a fellow inmate asks Karl at the film's end. "It was too big," Karl replies, looking out the window at a world he'll never be a part of.
Similarly, what is most tragic about Thornton's trajectory is that upon the release of Sling Blade, all of his dreams and aspirations finally came to fruition. He broke through the Hollywood system despite all his failures and setbacks. Thornton was finally a part of the world he'd always wanted to belong to – the one he'd spent so long looking in on from the outside – only to find out it wasn't for him. "I'm real uncomfortable around rich and important people," Thornton would say about working in Hollywood in a 2016 interview with GQ. "It's the hardest thing in the world to be in a business where it's all about people accepting you, and you have a desperate need to be accepted."
It's not to say that Thornton hasn't done well for himself. Between Golden Globe wins for FX's Fargo, Amazon's Goliath, and a slew of award-winning films, the waiter that Billy Wilder once called "too damn ugly" to be an actor turned out to be a bonafide Hollywood star (whether he likes it or not). Still, it's a shame Thornton hasn't replicated the directorial summit he hit with Sling Blade. It's a film that displays a true multi-faceted talent operating at the heights of his creative prowess, unburdened by the executive intervention and studio interests that would come to infiltrate his later career. In an interview with Reuters, Thornton commented on his upcoming film projects by saying, "The movies they're making these days, they're really not my bag." | e hehr
Aquarium Drunkard is powered by its patrons. Keep the servers humming and help us continue doing it by pledging your support via our Patreon page. For heads, by heads.