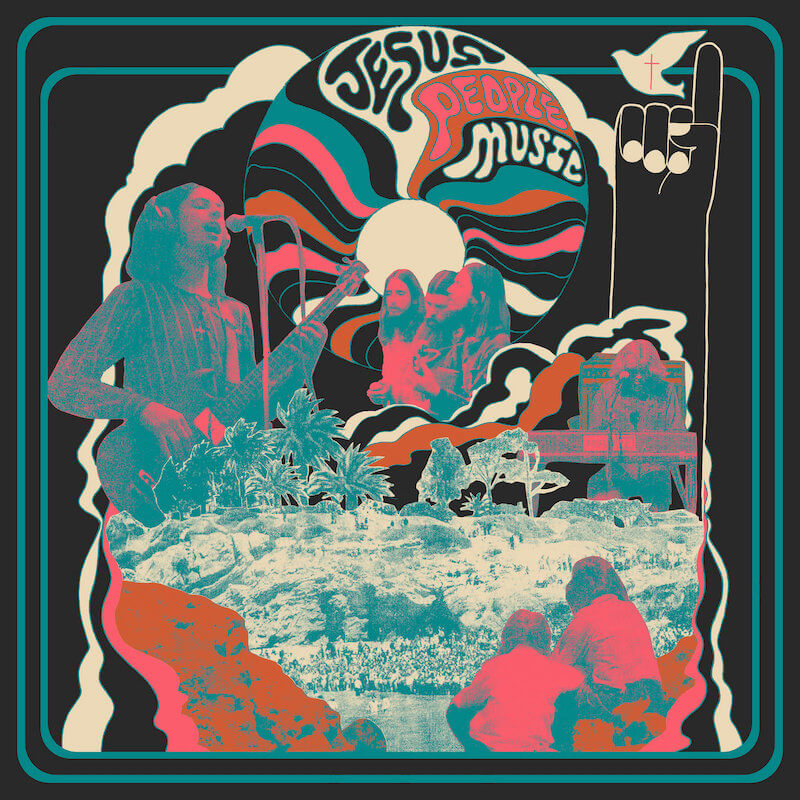 On May 26, Aquarium Drunkard and Org Music present Jesus People Music Vol. 2. Culled from the BlackForrestry's AD mixtapes of obscure '60s and '70s Jesus People psych, rock, folk, and country. In advance of this collection's release, we're presenting its liner notes, written by Jason P. Woodbury.
---
No one knew what to make of the Jesus People. A loosely aligned youth movement growing out of California in the late '60s, it found waves of hippies, burnouts, stoners, and weirdos turning to Jesus Christ. But that didn't mean they were going to tidy up. Jesus People wore their hair long and kept their slang wiggy, extolling the highs of "the Jesus trip" and asking, "You've tried everything else—why not try Jesus?" Everywhere they went, from mainstream churches on the West Coast to rural communities where back-to-the-land types founded communes, the Jesus People inspired confusion.
"Normal Christians didn't like it because it was hairy and weird; freaks hated it because they were Christians. So everyone was ignoring it," says Erik Davis, a counter culture scholar and author of High Weirdness: Drugs, Esoterica, and Visionary Experience in the Seventies. But as the weird '60s morphed into the stranger even still '70s, the Jesus People became increasingly difficult to turn a blind eye to.
"Thousands of young people, dressed in styles ranging from very casual to far-out, marched down Hollywood Boulevard, chanting, shouting, waving flags and posters," Eve Martin Lohmann wrote for the Herald Examiner in December of 1969. Her article was reprinted under the headline "Thousands March for Jesus" that same month in the Hollywood Free Paper, an underground Christian newspaper headed by Duane Pederson. Though these young people were "not in the mold of the 'traditional' church group," their fervor was undeniable, boosted by the "use of music with a pop beat that has the kind of excitement the young people of today demand in anything they are attracted to." Music was essential to the identity of the movement.
Who was the first Christian rocker? Even discounting the preachers' kids who hopped on the early rock & roll bandwagon, the origin story is murky. On paper, one could make a convincing argument that Christian rock began, unlikely enough, with Black Sabbath's "After Forever," an explicitly Christian anthem from 1971's Master of Reality. But it was artists like Larry Norman, a major label rocker who wrote a fiery column for the Hollywood Free Paper, and RCA-signed psych combo Mind Garage, who helped popularize the notion of rock music for the Lord's sake.
The selections gathered here are culled mostly from the early '70s, and from outside of the music industry proper, from an era before Christian music became a commercial sub-genre. As such, these recordings represent a homespun era and idiosyncratic approaches. That's not to say these songs don't share sonic and spiritual commonalities—like most Jesus People music, the songs are united by ardent evangelistic lyricism, often driven by apocalyptic zeal. But they also stand as individual expressions of individual relationships with God, the primacy of a one-on-one connection to the divine being, just one of the elements of the Jesus People Movement that was subsumed into the mainline church as decades wore on.
For Davis, an ardent fan of the earnestness and emotionality of early Jesus People music, the early '70s presented "this moment where ideas are cracking wide open and there's space for people flooding in with their own interpretations." The recordings assembled here by Aquarium Drunkard and Black Forestry provide both a broad overview of the movement and examples of its peculiarities. Some 50 years later, the Jesus People remain baffling and difficult to pinpoint. But their individual spirits—and devotion to the Spirit—rings true in these songs.
Our Generation, "Hello Friends": Driven by flooding church organ, a combo of fuzzed-out leads and cleanly strummed electric guitars, and manic drums, New York band Our Generation sound as if they might have laid hands on the Nuggets: Original Artyfacts from the First Psychedelic Era, 1965–1968 compilation like it was a sacred hymnal. This selection comes from their second album, Praise and Prayer, released, like Nuggets, in 1972. Pressed by their own Generation label, the album asserts the group was "Born Of The Spirit To Minister Through Music To Our Generation." While the music boogies, the sanctified vocals aspire to and achieve an otherworldly grandeur.
All Saved Freak Band, "All Across The Nation": Few bands illustrate the feral nature of early Christian rock quite like All Saved Freak Band. While much of the Jesus People ethos and aesthetic was soon absorbed into the more genteel presenting Contemporary Christian Music industry, ASFB could hardly be confused as polite or mannered. A rock & roll outfit spun out of radio broadcaster and freak Christian Larry Hill's commune near Orwell, Ohio, ASFB's saga sets the tone alongside the work of Larry Normal for the birth of the Christian rock genre itself. The group issued a number of records, incorporating metaphysical folk inspired by J.R.R. Tolkien and apocalyptic psychedelic rock, like our selection here. It's drawn from the band's final album, 1980's Sower, assembled by Hill after most of the band quit, including scene stealing guitarist Glenn Schwartz, formerly of The James Gang and Pacific Gas and Electric, whose experience with Hill included a "kidnapping" and cult deprogramming regiment orchestrated by his concerned parents. Following a mass exodus from his ultra-strict compound, Hill sounds unhinged, raving about the end of days over Schwartz's intense riffs.
D.R. Hooker, "The Bible": Drawn from his self-released 1972 album The Truth, released in an edition of only 99, Donald "D.R." Hooker of New Haven, Connecticut, conjures a mythical aura on "The Bible." A reformed burnout, he charges forward with a fury that recalls Neil Young and Crazy Horse while invoking scenes from Revelation, the spoken, echo-drenched nods to the books of the Bible and verses taking on the occluded, supernatural quality of backward masked messages in secular records. Hooker brings a sense of terror and cosmic dread to the take, and his distortion drenched guitar sizzles over the rumbling of the hastily assembled studio band who commit fully to the processional.
Candida Pax, "Darkness": JPM wasn't a solely American phenomenon. Take Candida Pax, who recorded its 1971 album Day at Deroy Studios in Carnforth, a small town near Lancashire, England. You hear traces of their fellow countrymen, especially Peter Green-era Fleetwood Mac and Cream. "Darkness" embraces a dark night of the soul lament and combines it with a sprawling psych-blues mood.
Patric Calfee, "Joy Comes In the Morning": While much of the CCM music that would follow the JPM movement embraced a focus on the positive sheen, Ohio singer/songwriter and functional one-man-band Patric Calfee acknowledges that times occasionally do get tough, even for the saved. Recorded in 1974 at a "4 channel studio in Akron," his album Dayspring offers a singular blend of funk, folk, and gospel tones with this stand-out track providing solace that the dark is always followed by a new dawn.
The Last Call Of Shiloh, "New Jerusalem": Hailing from rural Sandpoint, Idaho, this folk rock collective recorded its self-titled 1972 debut over at Sound Recording Co. in Spokane, Washington. On "New Jerusalem," the band explicitly cites Revelation chapter 21. The Beatles paraphrasing of the intro and refrain is nearly as direct, but from there, the band introduces a florid atmosphere, evoking both the darting flourishes of guitarist Richard Thompson with Fairport Convention and that band's earthy rhythmic feel. Hailing the coming of a glorious age to come, The Last Call Of Shiloh offers a gentle, mystic counterpoint to much of the stormy, end of days doomerism proffered by their contemporaries.
Sonfolk, "Homecoming": Layered with a sparse and desperate loner folk edge, St. Paul, Minnesota crew Sonfolk lay back at the start of "Homecoming," drawn from their self-titled 1973 Artronics release. But then Hal Blaine-esque drum hits signal a shift into an overdriven choogle that echoes the low slung majesty of Loaded-era VU, which lasts only long enough to collapse back into a rustic, melancholy blues moan about the end of days and the divine judgment of "That man who's coming, coming home for sure."
First Revelation, "Lord, Come Into My Life": Led by Danny and Lynda Kimer, New York band First Revelation dip their toes into bluegrass, folk, and country on 1973's This Side of Eternity. But "Lord, Come Into My Life" hits with soul-driven urgency. Lynda's vocals soar with Janis-like intensity and Danny—pictured on the back cover with a modified Telecaster—lets loose with deep fried solos that evoke Santana in his most ecstatic zones.
For heads, by heads. Aquarium Drunkard is powered by its patrons. Keep the servers humming and help us continue doing it by pledging your support via our Patreon page.