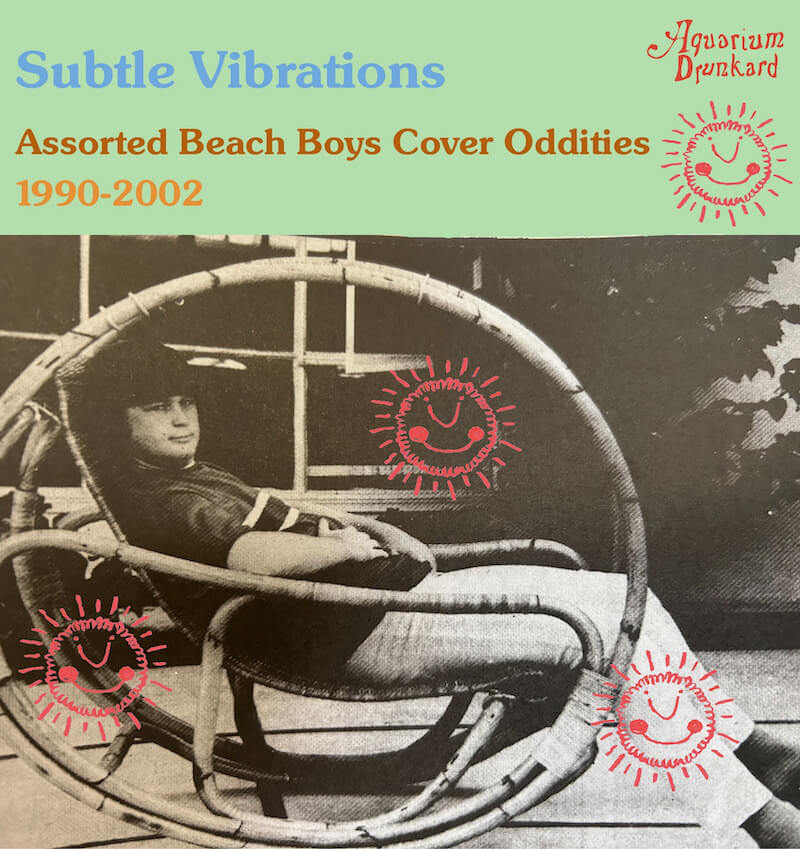 Attempting to catalog Beach Boys cover songs would be a fruitless exercise. A highlight of a recent Lagniappe Session was a beautiful version of "All I Wanna Do" courtesy of San Francisco's Healing Potpourri, with playing by longtime Beach Boys advocate Sean O'Hagan. The reverence for the blissful chill of the Sunflower ballad seems to have taken on a second life of late, with L.A. folk duo Mapache also recording a version on their recent covers record. Like Yo La Tengo's rendering of "Little Honda" being essential to the seminal I Can Hear the Heart Beating as One, the archive is vast and bottomless. Referential homages (John Cale's "Mr. Wilson", anyone?) are another whole category of exploration. In the past, we have tried to capture not the covers, but the best of the fresh crop of varied artists influenced by the high harmony spell of the band.
Flashing back to the era of the nineties and early aughts, there was a momentum shift in the influence of Brian Wilson. Similar to the skyrocketing Dead renaissance of the last decade plus, this embrace of the Beach Boys influence was not always en vogue. In particular, interest in the legendary abandoned Smile project seemed to reach a fever pitch. Spurred by dedicated tape trading communities and more context surrounding Wilson's post "Good Vibrations" artistic and intellectual peak, the legend of the lost recordings simply refused to die off. The early and pre-internet days saw publications of fanzines like L.A. historian Domenic Priore's Dumb Angel Gazette, while author David Leaf literally moved to California with the deliberate intention to only write a definitive Wilson biography, but to help him finish Smile. Another young musician involved was Darian Sahanaja of power pop band Wondermints, who went on to not only become the pivotal, unsung hero of the Smile's resurgence, but being a key player in Wilson's band for decades.
Enter a handful of curious, if not downright mysterious Beach Boys/Brian Wilson cover compilations that began to emerge intermittently. In the current landscape of Bandcamp and the streaming realm (having now surpassed the bygone era of magazine sampler disc), it can be easy to forget how complicated and special such compilations once were in their curation and distribution. The first of these tributes was 1990's Smiles, Vibes & Harmony: A Tribute to Brian Wilson. The album is also the first of many to reignite the Smile lore by featuring a variation of Frank Holmes's iconic cover art. Except here, the storefront is instead the Radiant Radish, the infamous West Hollywood vitamin shop that Brian Wilson briefly co-owned at the height of his erratic behavior. Already, this is a nod to the heads.
A combination of early material and late sixties gems make up Smiles, Vibes & Harmony, which culminated with a release party at Maxwell's in Hoboken. The compilation features a bevy of garage rock artists such as The Cynics and British punk stalwarts Thee Headcoats. A passion project compiled by Barry Soltz, some twists and turns include British power pop band The Records (taking on Wild Honey gem "Darlin'") and Peter Stampfel of Holy Modal Rounders. Nikki Sudden of Swell Maps delivers an interesting hybrid, combination suite of "Wonderful" and "Whistle In".
By far, the biggest splash of the Vibes compilation is Sonic Youth's performance of "I Know There's an Answer ". With assistance from J. Mascis, the cover (later reappearing as a Goo bonus track) features a great guitar tone and admirable lead vocals from Lee Ranaldo. Many of the artists on the compilation had personal relations with compiler/producer Soltz, who recalls simply calling up Thurston Moore. "They originally recorded it as 'Hang on to your Ego'", Soltz tells AD. "But since that version was only out on bootlegs, I had them redo the lyrics and released this version". That original working title (the lyrics a reference to Brian Wilson's LSD experience) was ironically used by Frank Black as a single on his solo record two years later. Given that this was the early nineties, Soltz's crew were even in communication with Dr. Eugene Landy to get approval on the whole project.
By the far the most elusive compilation came via 1998's double album Smiling Pets, released via Sony Japan. The album was compiled by Seiji Morita, who had previously curated a similar tribute compilation of the classic Phil Spector Christmas record. Featuring eclectic independent artists from both Japan and the U.S., the 2xLP's track listing itself is a bit of an enigma: many of the artists here appear twice as pseudonym monikers. The Oliver Tremor Control re-appear as The Ships, while Secret Chiefs 3 double as FORMS, respectively. This excess gets a bit redundant. Two versions of "Wonderful" (the only track that appears twice) seems unnecessary when the set starts with a great layered vocal melody by The Apples in Stereo. A solo Thurston Moore returns with a different Pet Sounds cut, "Here Today", practically spoken word over a bed of background noise.
Some of the Japanese artists are such obscurities they don't seem to even exist outside of the compilation. One such example is the brilliant version of "I Just Wasn't Made For These Times" by an artist called Feelds, who also participated on the Spector compilation and seems to have been a project of Morita, the curator. Covers like the rolling Sunflower closer "Cool, Cool Water" are virtually unrecognizable when performed by avant-proq group Harpy, with even the length being cut in half. OneTetsu (who appears to be the keyboard player of aforementioned Harpy) even performs an instrumental called "Tones", a very rare abandoned Carl Wilson original spawning from the Smile sessions.
During this era, Brian Wilson's influence on Japanese music is well documented. The reverberating phonics of the Shibuya-kei movement echoed out of Tokyo in the early to mid-nineties. Built from the bossa nova, retro kitsch traditions of the likes of Flipper's Guitar and Pizzicato Five, the marquee release became the sample-heavy, shapeshifting pop of Cornelius's 1998 opus Fantasma. With an American release on Matador, Fantasma not only featured an original song that borrowed the name "God Only Knows", but the packaging even included a photograph of Cornelius posing for a replica of an iconic photo of Wilson commanding the studio control panel during the Pet Sounds sessions. The freewheeling, experimental sounds of the Japanese underground represented here are much more visceral than the more familiar Shibuya-kei variety.
On the surface, Jim O'Rourke's participation is no surprise given his connections to Melt-Banana and the Japanese avant-garde (former bandmate David Grubbs also appears). However, despite constantly lauding Van Dyke Park's art pop masterpiece Song Cycle (created immediately after VDP's work as the primary collaborator on Smile), he has flatly stated that doesn't like the Beach Boys. Nonetheless, O'Rourke's handling of "Fall Breaks and Back to Winter" is perfectly on brand, the ambient Smiley Smile instrumental being perhaps the most obtuse pieces in the band's discography. Rounding out the Chicago underground contingent is drummer/producer John McEntire, with a more straightaway, electronic version of the cinematic Pet Sounds instrumental "Let's Go Away for a While". Put simply, Smiling Pets set out to be a truly weird, atypical take on the tribute comp and it delivers.
The most artful, carefully produced tribute was 2000's Caroline Now! The twenty four track project was put out by Marina Records, a German indie label. Ironically, the Hamburg-based Marina is actually synonymous with the Scottish artists that they release. It's no surprise then, that we get solo efforts from members of underground Glasgow legends like Orange Juice to Belle and Sebastian and Teenage Fanclub. In addition to the participants, Caroline Now! digs very heavily into the Beach Boys catalogue, from Malcom Kelly of The Vaselines kicking off the comp with Dennis Wilson's "Lady", to a member of BMX Bandits pulling out the ultra deep "Lines" from the abandoned Adult/Child album. Alex Chilton, meanwhile, delivers a perhaps uninspired take on Love You's "I Wanna Pick You Up" (in the liner notes exclusive interview with Brian, he claims to be one of the biggest Box Tops fans of all-time).
For artists more interested in not tackling the harmonies, brilliant instrumentals covers are to be found, like the "Pet Sounds" title track from German film composer Peter Thomas and his Sound Orchestra. The Free Design's cover of "Endless Harmony" marked the first time the group had reformed since 1972. An artist influenced by the baroque pop legends was The High Llamas, and it should come as no surprise that their version of "Anna Lee, The Healer" from 1968's mellow masterpiece Friends is one of the collection's high points. While the Beach Boys' vocal harmonies became an identifiable influence on artists like the Elephant 6 collective and neo-psychedelia movements like the Paisley Underground, no other artist exemplified the sound of the Beach Boys as Sean O'Hagan's Anglo-Irish outfit. Organized by Bruce Johnston, the lush orchestral pop of seminal Llamas releases like Gideon Gaye and Hawaii even led to ill-fated meetings in which O'Hagan was tapped to pronounce a Beach Boys album in the nineties.
A double-edged sword, the pigeonholing of O'Hagan's Wilson influence became so incessant by the press that it was often often impossible to read about the group without a plethora of references that the Llamas merely existed to replicate the Beach Boys studio sound. This focus missed so many other nuances … there were literally references to Dorothy Ashby and Tom Zé in the song titles. Closing out Caroline Now! is none other than Kim Fowley, who tells a story of meeting the band at Gold Star Studios when he was cutting 1963's chart-topping "Popsicles and Icicles" by female vocal trio The Murmaids (parallel to Wilson's own plans for The Honeys at the time). Fowley then reworks "Almost Summer", a song which originated from the M.I.U. sessions and was released via Mike Love's short-lived seventies project Celebration.
In 2002, even Contemporary Christian Music (CCM) artists got it on the game. The inspiration may have come from nineties CCM supergroup Lost Dogs, who recorded a song called "Jesus Loves You Brian Wilson". The two disc Making God Smile: An Artists' Tribute To the songs of Beach Boy Brian Wilson again repurposed Holmes's "Smile Shop" artwork. Interchanged with modern artists were legendary musicians like acclaimed guitarist Phil Keaggy, formerly of sixties rippers Glass Harp. Of note, the late Richard Swift performs "Caroline, No" with collaborator Frank Lenz. The material here could have used an injection from an artist like Swift's future band Starflyer 59, who's excellent album a year prior to this comp was recorded in mono as an homage to Pet Sounds.
With such a plethora of hidden relics, these discs provide fascinating insights frozen in time. After all, the vast majority of the Smile material wasn't even fully accessible until 2004's resurrection project Brian Wilson Presents Smile (the mammoth full band sessions, of course, finally came seven years later). In pieces like Jules Siegel's 1967 investigative article "Goodbye Surfing, Hello God", there is an overriding theme of Brian Wilson's attempted integration with the era's counterculture "hip intelligentsia". All these decades later, artists of all varieties continue to look at that specific era's creative burst and beyond for endless inspiration. To quote the promotional description for the American distribution for Smiling Pets: "Sure, there's a little schlock, but not that much". | m neeley
Surf's up. Aquarium Drunkard is powered by its patrons. Keep the servers humming and help us continue doing it by pledging your support via our Patreon page.