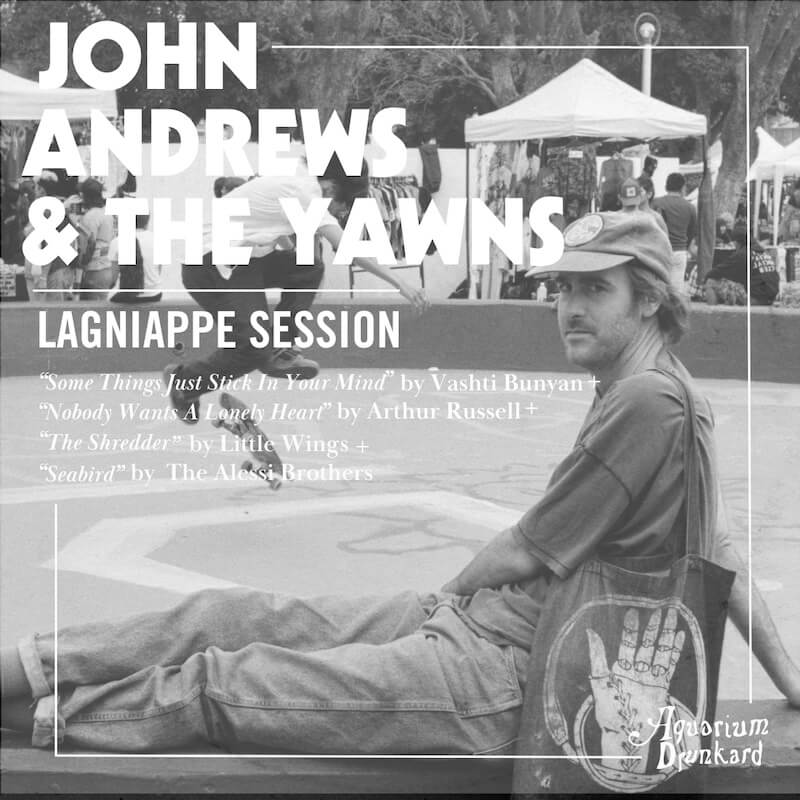 Lagniappe (la ·gniappe) noun 'lan-ˌyap,' — 1. An extra or unexpected gift or benefit. 2. Something given or obtained as a gratuity or bonus.
On the heels of their superb, hypnotically smooth fourth record, we bring you the inaugural Lagniappe Session from John Andrews & The Yawns. While Love for the Underdog examines the cinematic charms of the classic theater experience, this batch of covers expands upon the far reach of Andrews and his talented collective. From lo-fi takes on familiar influences like Arthur Russell and Vashti Bunyan, to the elusive single "Seabird" (also check the Peruvian yacht-rock version) by singer-songwriter duo The Alessi Brothers, there is a plethora of inspired takes to get lost in. Andrews on his selections, memories and recording techniques, below …
John Andrews & The Yawns :: Some Things Just Stick In Your Mind (Vashti Bunyan)
I recorded this song with Max Clarke (Cutworms) on guitar and singing harmonies, and my friend Michael Stasiak (EZTV, Widowspeak) on drums. We recorded it live to tape with no overdubs with a wonky 4 track tape machine that no longer works. I remember discovering Vashti's music through Vetiver as a teenager. I quickly became obsessed with her music. I love the live TV performance of her singing this one. She seems so uncomfortable on camera… something I can relate to.
John Andrews & The Yawns :: Nobody Wants A Lonely Heart (Arthur Russell)
The Yawns have been covering this song live lately and I wanted to document it. The arrangement fits perfectly for our band. This version is a bit stripped down though, it was just three of us, and we put some microphones in the room and hit record. No overdubs at all…just capturing a live performance and kept the first take. Jem Seidel on drums and Rick Spataro on bass. This song is timeless and feels universally loved.
John Andrews & The Yawns :: The Shredder (Little Wings)
I bought Little Wings' Discover Worlds of Wonder on CD at the Princeton Record exchange when I was a teenager. It was very influential to my early days of songwriting and home recording. "The Shredder" always stood out to me because I grew up skateboarding. I used to skate ditches, empty backyard pools. It was my life. An ex-girlfriend had a DVD copy of Wise Old Little Boy the tour video of Little Wings & The Microphones. It blew my mind. For me, it was the first example of true DIY'ers totally living in their art and I knew I wanted to follow in their footsteps. It's been really special meeting Kyle and even playing shows with him throughout the years, and Little Wings has continued to be a huge influence for me.
John Andrews & The Yawns :: Seabird (The Alessi Brothers)
This is another lo-fi, sloppy, 4 track, live recording of Max Clarke, Michael Stasiak and I just messing around in a practice space. No overdubs and first take. I mess up the lyrics right away but whatever. "Seabird" is such a good song. The Alessi brothers are hot and have great hair.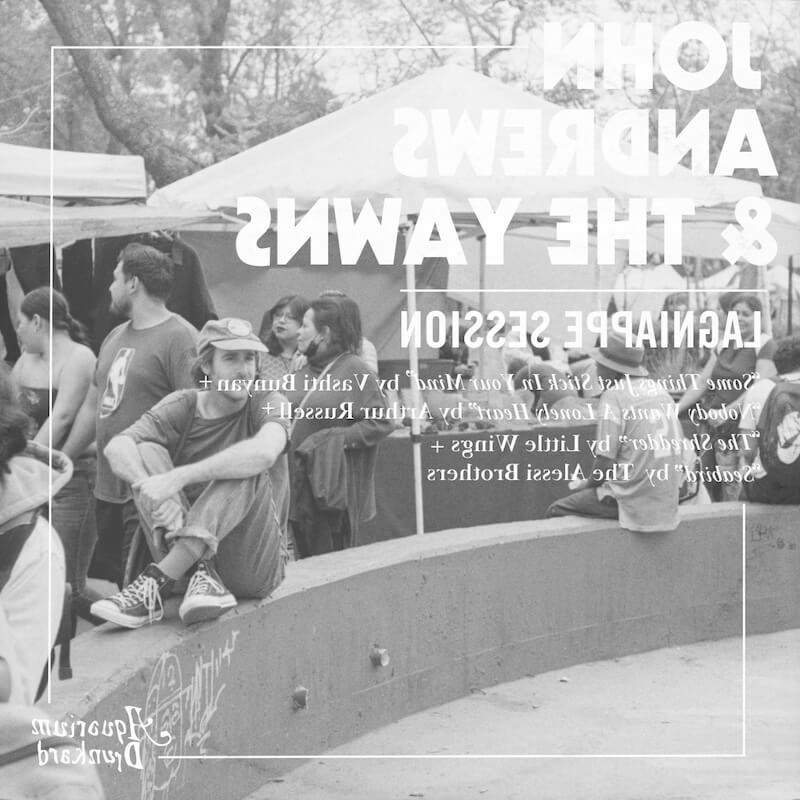 Lagniappe Sessions Archives / layout via D Brown
For heads, by heads. Aquarium Drunkard is powered by its patrons. Keep the servers humming and help us continue doing it by pledging your support via our Patreon page.