Bush Tetras formed amid the seedy glamor of New York City in the late 1970s, fresh out of art school and ensconced in a downtown art scene that fostered rule-breaking deconstruction in music, film, painting, theater and dance. The mostly female quartet—Cynthia Sley chanting art-damaged provocation, guitarist Pat Place inventing new chords on the fly, Laura Kennedy with her agile funk bass and Dee Pop, the lone male, bashing out syncopations on the kit—made two singles and an EP in their first early 1980s run, shared stages with Gang of Four, the Clash, Wire and the Feelies and attracted a pre-Sonic Youth Thurston Moore as a fan.
Bush Tetras toured themselves into exhaustion on this first run and went into hiatus in 1982. They re-emerged in the early 1990s on Tim Kerr records with Beauty Lies, but record industry turmoil delayed the follow-up, Happy, for 12 more years until it was released by ROIR. Bush Tetras had released an EP, Take the Fall, on Wharf Cat Records in 2018. Pleased by how that had gone and offered the opportunity, Sley and Place began working on a box set, Rhythm and Paranoia just as the pandemic hit. At the same time, they began writing new songs, mostly remotely.
Laura Kennedy had passed away in 2011, and Bush Tetras continued with other bass players including R.B. Korbet of King Missile. But by 2020 they were facing another loss. The band's founding drummer, Dee Pop, was seriously ill. Although he participated in some early writing and recording sessions, he died in October 2021. "For us with Dee, we couldn't really imagine doing anything without him. He was such a presence and a brother. So it was really, really hard," Sley remembers. But as she and Place wondered if they could continue, an old friend stepped in with a suggestion. Thurston Moore suggested they see if Steve Shelley was available, and he was. With him and new bassist RB Korbet, they finished this new batch of songs, and have added touring bassist Rocky O'Riordan for their tour of the East Coast and Europe this fall.
We recently caught up with both Sley and Place, in the first smoky days of summer, about their band's history and evolution, the new album and the legacy they'd like to leave. Said Place, "Girls come up to us after shows, and say that changed my life. We feel like, okay, wow, this is all worthwhile then." | j kelly
Aquarium Drunkard: Is this really only your third album?
Cynthia Sley: This and the box set.
AD: Why so few? Were you more of a singles band?
Cynthia Sley: We put out two singles in 1980 and 1981, then we put out an EP in 1982 and then we disbanded. We were just playing too much at that point. Our manager was our booking agent, so we just played ourselves into the ground. And then we got back together. We hooked up with Tim Kerr records in the 1990s and then they got bought up by Polygram. We had a two-record deal. So we put out one album, Beauty Lies in the early 1990s and then a second record got shelved by Polygram. By the end of the 1990s, there was a big meltdown where a lot of people got fired and the guy that was taking care of it, our A&R person, got fired and we just went up on the shelf. That was very heartbreaking. So we took a hiatus then because we lost the record Happy. We really loved it, and we just got defeated. That didn't come out for 12 years. That came out on ROIR. We've had a lot of ups and downs, this band. But we seem to persevere.
AD: You came together in New York City in 1979, which was a really exciting pivotal time for rock and punk music. I know some of you have been in other bands like the Contortions. What was New York like at the end of the 1970s and what was it like being a mostly female punk band then?
Cynthia Sley: I think a lot of attention has been focused on that period, for a good reason, because it was one of those moments when dancers and filmmakers and artists and musicians all came to downtown Manhattan. And uptown and the Bronx. It was a mixture of rap and lots of things were happening simultaneously and coming together. I knew a lot of artists and going out was just nightly. There was a lot happening. It was just too much fun.
AD: What are some of your favorite stories from that era?
Cynthia Sley: I just did this panel with Holly Burke and Amy Rigby and Hillary Jaeger, and we were talking about Tier 3. That was our clubhouse. That was our place. It's where I met my husband, Ivan Julian, from the Voidoids. We would all kind of hang out. And I think it was the first time I felt like I belonged to something. I fit into something. Because I was such an outsider.
AD: Where did you come from? You're not a New Yorker from birth, are you?
Cynthia Sley: No I'm from Cleveland, which had its own scene.
AD: With Pere Ubu and Devo and all that. I was watching the video for "Too Many Creeps," which must have been shot at about that time. And it gives you an idea of how scruffy and dangerous and kind of exciting the city was at that time. Do you remember it being dangerous as well as full of artistic ferment?
Cynthia Sley: Yeah, I had a couple of run ins. I lived on First Avenue and First Street in the rehearsal space. Three mattresses. Those were the days.
I was coming back from a gig, and I had to pull up a riot gate. It was really dangerous there at that point. I remember this guy coming up to me with a knife, and I had money on me for a change. I was coming back from a gig, and I sure as hell wasn't going to give him my money.
I was fearless. I went, "Fuck you" or something. I saw a Checker cab coming. I grabbed the Checker cab and went around the block, around to Second Avenue and down and around and came back about five minutes later and pulled up the riot gate. The guy could have still been there, you know, but I was not going to give this guy my money.
In Alphabet City…there was a ton of drugs. And that was the darker side. It was rampant. But at that moment, we felt fearless. We just felt like we owned that part of town.
AD: It's interesting, because even with all the problems of that time, it was more receptive to people making art and music than now, when they have all these boutiques and little restaurants around Tompkins Square Park, and no one can afford to live there.
Cynthia Sley: Exactly. My rent was $67.50.
AD: With a decimal point?
Cynthia Sley: Yeah. I remember my friend Barbara and I had an apartment that was a two-bedroom for $360 something, and we thought, oh my god, that's way too much money. We're paying too much. But yeah, it was really cheap to live and eat. It was a very undesirable area. Nobody wanted to live there. So we just took it over.
AD: You must have seen and been in some amazing shows.
Cynthia Sley: We played with a lot of English bands, and that was really fun and we got to meet a lot of great people. We played with Gang of Four a lot. The Clash. That was an amazing experience. It was the biggest crowd we'd played. And they were feminists. They really supported us.
You were asking me about being girls in bands. We definitely felt it. But there was ESG. There were the Au Pairs. There was Delta Five. There were female punk bands, but they were definitely in the minority.
In New York, there were so many different kinds of bands that we played with like the Raybeats and the dBs and the Feelies. We had nothing musically in common with them. We were much darker and funkier. But we played together and people would stay through shows. There wasn't a lot of division. I think people were just kind of open musically.
Having three women with three different colored hair, it was like a Clairol ad. I had black hair and Pat was blonde and Laura was red headed. It was like some Clairol ad. It was a spectacle. We looked androgynous. We looked weird. People were drawn to the look.
For Laura and Pat, playing instruments, they got a lot of flak. They would have men who were obviously disrespectful. We didn't really know how to play our instruments, but what we were doing with the instruments was unique. So a lot of guys would stand right in front of Pat and try to figure out what the hell she was doing. What is that chord? She'd make up chords. And they were jealous. They learned to play while listening to Cream records or the Rolling Stones, and they had a more traditional outlook. Whereas we were all in art school, the three of us, and coming from that camp. Which is really different. You're not tied down to all the rules. You just break the rules.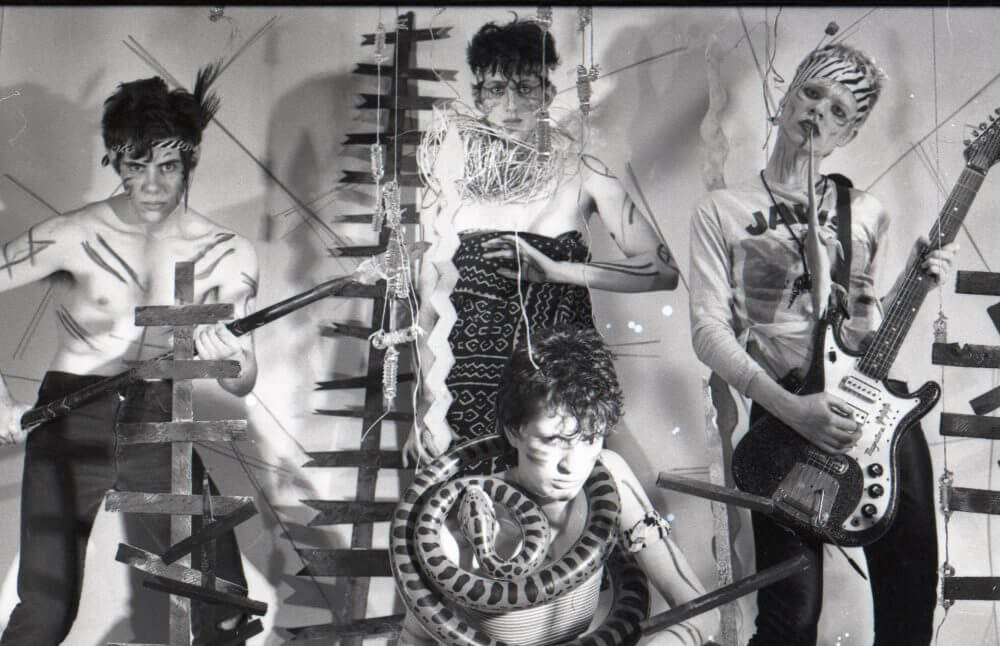 AD: It must have been very cool and exciting. I was listening to "Too Many Creeps" which is a lot starker and sparer and more reggae influenced than what you're doing now. How did you connect with reggae?
Cynthia Sley: Actually Dee and I were the ones who connected with reggae. Pat was not a big reggae fan. Dee was really into reggae. I think I had a Rastafarian boyfriend soon after that…in the early 1980s. But I'd hang out at the reggae lounge. I never had anyone say that about "Too Many Creeps," though.
AD: Really?
Cynthia Sley: I think it's because Laura's bassline is carrying the melody and Pat is doing more of a percussive thing, so I could see that. We didn't really know. I think over time we sound different because I'm singing more. Pat has more chops. We've all gotten to be better musicians. I've changed as a human. I'm sure I've changed as a performer. But I love that you said that.
AD: I think reggae was in the air then. Even if you weren't listening to it directly, you were hearing people who were.
Cynthia Sley: Yeah, and we had that song "Das Uh Riot." We still play that. I love that song. That was sort of our reggae song.
AD: Did you feel like you had peers in music, or were you sort of out there on your own?
Cynthia Sley: No, that's the thing, the community, it was so strong. The people that I hung out with back then, I still hang out with.
(Pat Place joins us)
We had a lot of community. It was supportive. We were friends with the Raybeats and ESG and we all hung out together. There wasn't a big division. I think we sounded different. Our music was so different from a lot of the bands we hung out with. Even Eight Eyed Spy had a different sound. We had more in common with DNA and Contortions. The No Wave stuff. Both our contemporaries. It was such a short time between No Wave and whatever we were doing. I don't even know what that was. Post-punk? They try to put labels on us.
AD: Post-punk is a very expansive category.
Cynthia Sley: Yeah it is. And I don't think our music had much to do with punk. We all listened to a lot of rhythm and blues and rock. We loved the English bands like Wire and Gang of Four. We were more influenced by that, I think. The sounds coming out of England. And we went over well in England.
AD: So this new record seems just way more guitar-centric and rock than your earlier stuff. Like the guitar on "Tout Est Meilluere" sounds almost like AC/DC.
[They both laugh at this.]
How did your sound evolve leading up to this album?
Pat Place: So AC/DC, wow, I'll take it.
AD: It sounds very riffy and kind of classic rock.
Pat Place: Interesting. Well I guess that's what we've been striving for all this time, and it just came out sideways. I'm kidding. We always just do what is coming out of us. I guess from playing for so many years, you develop a few chops. Though I'm trying kind of hard not to go generic in anyway. We try to avoid that purposely. But sometimes it creeps in, and sometimes we get it to work in an odd way. The categorizing, I was just going to add that we kind of came out of the No Wave, but we weren't No Wave because we were after No Wave. We were No Wave with a dance beat.
AD: I understand that you had been working on the box set Rhythm and Paranoia when you started working on these songs. How were those two things linked?
Cynthia Sley: We had been thinking about making a box set for a long time. And Wharf Cat offered to do it, and we had had a good experience with them doing the EP, and they're a lot like ROIR, family oriented. So we trusted them to do the job. It took a long time. It was during COVID. That was surreal, honestly, and Dee was not doing well, and we were struggling with that, because we knew we'd have to promote the box set. I had written a lot of lyrics during COVID. We weren't able to rehearse, and we got this new bass player R.B. Korbet, and the three of us started playing. And we had had little kernels, things that we'd worked on before that never got recorded. So I think they're not really related. It's just that the COVID came. We got pent up, and it just kind of came together. Slowly but surely in 2020 we had about a third of those songs, and R.B. started playing with us at the end of 2020 and the beginning of 2021 to promote the box set. We started doing these songs. For all of 2021, Dee was in bad shape, so we didn't have a drummer, so we were writing virtually, which we'd never done before. It wasn't really coming together until we got Steve.
AD: I know that members of Sonic Youth have been super supportive. How did you end up getting Steve Shelley for a drummer?
Pat Place: Thurston was always a very generous fan of Bush Tetras. Before he even started Sonic Youth, he used to hang outside our little rehearsal studio, and he was kid and it was very cute. He's always been very supportive. But when Dee passed, we were kind of thinking, oh, what are we going to do? Cynthia, you spoke to Thurston, right? And he said, what about Steve? Ask Steve. Steve was playing with Thurston, but Thurston lives in London now, and it was hard for them because of the distance. But Cynthia said he's probably way too busy, but let's give him a call. So we gave him a call, and that's history. It worked out.
AD: He's obviously a great drummer but probably different from Dee. How did that change things? Or did he slip into what Dee had been doing?
Cynthia Sley: I think he handled the old material really well. He just kind of fit in pretty seamlessly. There's a couple of songs that he has a hard time with that we play, but he's gotten really funky. I think it's branching out for him. He's really enjoying it.
Pat Place: Yeah, it's funny. I played this thing, a little fake funk riff, and he was like, "Do that one!" I was like, "Oh really?" And he said, "I've never played with a guitar player who played like that. I think he's really enjoying doing it. We like a funky rhythm, and he's a great drummer and he's growing with us into this new thing, whatever it is that we're doing. He's definitely a part of how we're progressing right now.
AD: Will you be able to do some shows with him? I'm sure he's busy.
Cynthia Sley: No, we do shows regularly. We have some booked for the fall.
Pat Place: He's got that same sensibility that we have, that he's always game for it. Dee and I played together for 42 years.
Cynthia Sley: He's really a team player. We write the songs together. We split the songs four ways. It's easy with him because he likes to play all the time. He's going to go on tour with us to Europe in the fall. And an East Coast tour in the fall. We're going to be busy.
Not in the summer, much to Pat and my delight, because we both love to swim in the ocean. We're going to have a summer to enjoy the water. That'll be nice. We're both water babies.
AD: Nice, where do you go?
Cynthia Sley: I go to Fire Island.
Pat Place: Different places in Long Island.
AD: Tell me about the title track on this album, which you think is going to be sort of uncharacteristically soft and torchy, and it goes all rocking in the chorus. Tell me about writing that song and how it came about.
Cynthia Sley: Yeah, well Pat and I were out in Long Island. I had these words. I think Dee had a couple of lines and I added to it. Sometimes Pat and I get together and it's like, poof! I don't know how it came together.
Pat Place: I had this riff. Cynthia had the words. We were together somewhere, and I said, well, this riff is crazy. What do you think? And Dee had the words and they just fit. I thought the riff was kind of…well, I wasn't taking it seriously, because it was almost kind of straight and traditional except I threw an off note into it. But the progression is kind of normal. Then, yes, we sped it up and added the chorus to try to give it a little more meat.
Cynthia Sley: It kind of went with the lyrics also.
Pat Place: It went with the lyrics.
Cynthia Sley: We presented it to Val and Dee, way back, and they were like, what the hell is this? They didn't really get it. So it was on the back burner for a while, but it came together. Steve loved it. Because of the juxtaposition of the two parts I think.
AD: It sounds like Dee, even though he wasn't on this album, is very much a part of it?
Cynthia Sley: Yeah.
Pat Place: A couple of the songs we actually started with Dee and we were able to finish with him, so his energy is definitely there.
Cynthia Sley: I feel like that was one of the hardest things that Pat and I had to go through. Laura passed a while ago. She had moved on. For us with Dee, we couldn't really imagine doing anything without him. He was such a presence and a brother. So it was really, really hard.
Pat Place: From working together for so many years, we definitely had a chemistry. Almost mind-reading. You could go into the room and we'd telepath and pick up on each other, what we were doing, and it would just gel. But we got there pretty quickly with Steve, which was really a blessing. We were really grateful to have that again.
AD: I wanted to ask you about "2020 Vision" which seems like it might be a COVID song?
Cynthia Sley: Yeah. It's about being angry. I was pissed off. With Trump, it was apocalyptic. With the combination of those two things, I felt very cornered. My back against the wall. I was fighting back. You know, as a woman under that administration, I felt attacked. It was my answer.
AD: Do you have any favorite lines or moments or sounds — not so much a song but a specific moment in a song that you really like?
Cynthia Sley: I really like "Walking Out the Door," the whole thing, and that came together in the studio. We had little parts of it, but the way it came together was very magical. I love the lyrics. I love the way they progress. We had that line, "Won't wear a dress/you know the drill," it's just this crazy line about being a girl. I liked the lyrics to "Walking Out the Door," a lot. And for me, "Bird on a Wire" is really special because I wrote it when I was with my mom during COVID. She's passed away. It's about her connection with birds. Yeah.
Pat Place: Yeah, and "Ghosts of People" for me. I enjoy playing it because we really worked to have dynamics that worked with the lyrics. It's fun to play that song because of that. There's a few other parts. The break is really fun to play.
AD: I always like to hear about the bits that the artists like the most, because sometimes it opens up another way to listen to the album.
Pat Place: It's true that some songs are more fun to play than others. For me. It's different for everyone.
AD: How does it feel to be doing this again after all this time? You must be going out and playing songs you wrote decades ago.
Pat Place: We've been playing all along. When we were playing with Dee, we put out an EP with Korbet, and we went out on the road and supported that. For the past six or seven or eight years, we've been plugging along. But yes, we do try to include the old songs. We like playing them, but I think also, people want to hear them. So we do a mix of the old and new.
Cynthia Sley: We had a show on my birthday, May 3, in the city, Union Pool. We played with the new bass player, Rocky O'Riordan. She was an old friend of ours, but we had no idea how that was going to be, playing with her. But live, it's kind of taking off. That's really fun. That's really hopeful. It's really fun to play with her. The rhythm section is really gelling and we're stirring the soup up. I love performing, and I'm super excited about doing more shows. Pat and I have a pact. And Steve. And Rocky. You gotta have fun. Or why do it? Pat and I are in our 60s, and Steve is just 60 and Rocky is younger, but you get to this age and if you're not having fun, why in the hell are you doing it? You have to enjoy it and have it enhance your life. It's really great that way. I feel like it is. It's fun.
AD: But how many people at 60 have that visceral connection to something they were doing as a teenager?
Cynthia Sley: We're lucky ducks.
AD: Have you thought much about your legacy as a band and how you'd like to be remembered?
Cynthia Sley: That's a good question. I really hope it inspires girls, that it keeps inspiring girls to play. When I think of how few girl guitar players there are—there are always girl bass players—but it's still kind of stuck. I hope it inspires girls to be androgynous and weird and just be yourself. And follow what you're feeling and not think about the commercial part of playing. That I think is great. We talk to kids and they are inspired by us. If there's a 20-year-old who plays because of us….that makes me feel like there is a legacy.
Pat Place: Yeah. I would agree with that. We have kids coming to shows. We have older fans, too. But a lot of girls come up to us after shows and say that changed my life. We feel like, okay, wow, this is all worthwhile then.
Aquarium Drunkard is powered by its patrons. Keep the servers humming and help us continue doing it by pledging your support via our Patreon page. Only the good shit.