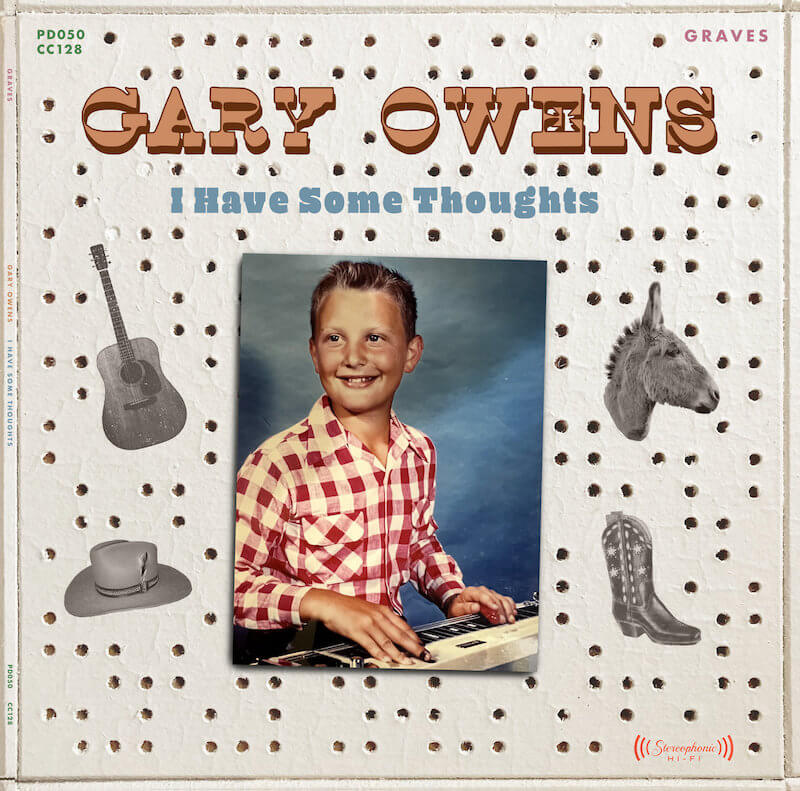 Now taking on the mysterious role of "Gary Owens" (the young lap steel guitar player on the LP cover), Graves is the moniker of veteran indie singer-songwriter Greg Olin. While spending many years collaborating with fellow Northern California outsider musicians like Lee Baggett and Little Wings (whom he now joins as Perpetual Doom labelmates), Graves has very quietly released a steady stream of solo material dating back to the early aughts; the music's subdued folk touch accurately described as "a calmness that can't be faked" the last cycle around.
If the rudimentary country nature of Gary Owens: I Have Some Thoughts is a self-proclaimed full circle moment for Olin, it's also his masterpiece. With a talented cast including members of Sonny & The Sunsets, Ty Segall's band and others, the record was recorded in multiple sessions from San Francisco to Portland to plenty of remote sessions. With a deadpan delivery, the inward lyrics of Graves effortlessly intersect a nonlinear trajectory that overflows with humor, tragedy, nostalgia and a sincere, melancholic starkness that recalls the unmistakable prose of David Berman. Catchy lead single "Little Dumb Dogs" should certainly have a second life as a psych-folk singalong that wouldn't be out of place on the soundtrack to Nilsson's The Point.
Across the west coast desert landscape of Gary Owens, a golden age Nashville sound is replicated in a remarkably earnest and sincere take. A gliding pedal steel ballad like "Atchee Ketchee" (in which Olin's typically pragmatic wordplay is replaced by a novelty attempt at an absence of words) or downer "Bad Teeth & Bad Wine" might simultaneously nod to the clever kitsch of a project like Ween's essential 12 Golden Country Country Greats. The soft-spoken banter between choruses recalls the signature rambling of Lee Hazlewood, as does the structure: most of the sixteen tracks don't eclipse the three minute mark.
"I'm sure you're right though/I'm sure I've done you wrong/I let that milk sit out on the table too long", Olin pontificates on the apologetic "Direct Light Sun", a romper that spins the lyrical subject matter of domestic chores into a remarkably catchy ditty. It's clear that humor is a foundation of the erudite Graves formula, but the polished, twangy backing tracks and hypnotically catchy songcraft of these dusty waltzes sets it apart from any current projects getting an en vogue, fashionable countrified makeover. Described as a "moonstruck sweetness" by the label, Gary Owens is clear-eyed country ready to captivate any ears willing to tune in. | m neeley
For heads, by heads. Aquarium Drunkard is powered by its patrons. Keep the servers humming and help us continue doing it by pledging your support via our Patreon page.