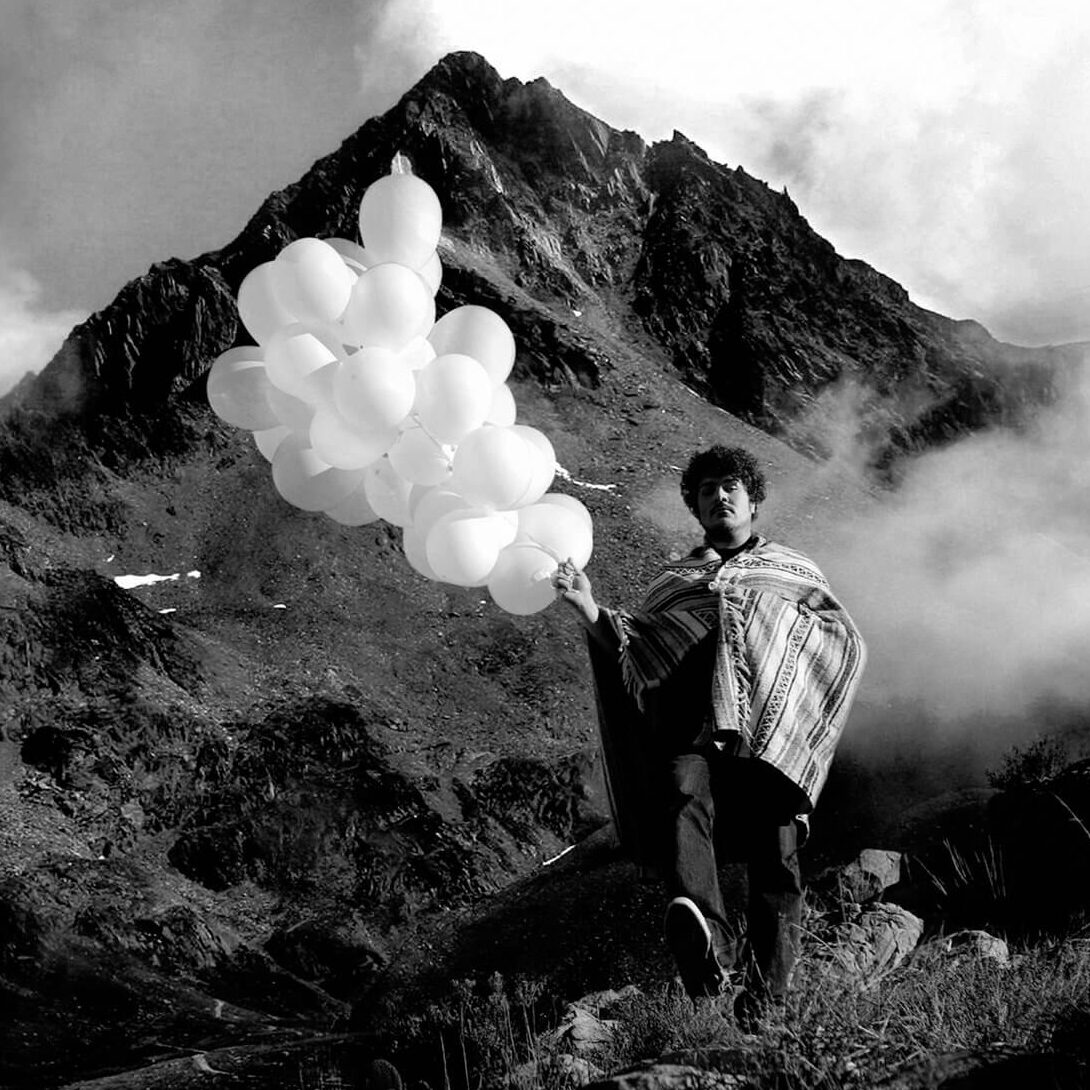 Somewhere off the beaten path in Cottage Grove, Oregon there is a converted woodshed called National Freedom. It's a recording studio, of sorts. You wouldn't call it state-of-the-art. The space is wired and arranged in a somewhat idiosyncratic manner. Art and ephemera fill much of the available wall space, and the lingering scent of palo santo tinges the air. It's a spiritual space. An uncommon structure. For over a decade, an entire world of music was created there under the freewheeling command of one Richard Swift. 
Born Ricardo Ochoa, Swift was an unmistakable presence on every piece of music he touched. His own work as a songwriter unfolded over the 2000s, as he morphed his shape from a Nilsson-esque folk hero on The Novelist and Dressed Up For The Letdown to the bloody-lipped garage rocker of Onasis. By the end of the decade, he began to work more as a producer and collaborator, helping to pull the lid off the creativity of dozens of artists and shaping their sound with the same sense of liberation and playfulness on which he'd built his own. While his production credits run the gamut of sonic styles, the thread that ties them together is a willingness to embrace imperfection, rather than circumvent it. The courage to leave a blemish or two in the track, to follow what feels right, all in the service of an unvarnished truth. 
The musical world of Richard Swift continues to resonate and enrapture. Revisiting his songs reveals diverging moments of quiet heartbreak and explosive grandeur. Swift had a distinct view of the world, divulged by his wry observations of the absurdity in how people act. His songs manifest a whole person, and a troubled one. Richard suffered with alcohol addiction throughout his life, and it was a struggle that ultimately consumed him. He would, it was known, try to get help. Try to live sober. Addiction was an aspect of his life that very few people were privy to, but the deep personal struggle undeniably inhabits his songs as well. It has brought new meaning to his art, as posthumous appraisals often do. But there is a way to accept these truths without dwelling on the morbidity of them. Richard was a complex individual, and a tremendously gifted one. His memory deserves to be seen, heard, and felt in as many ways as it can.
As a way to pay tribute to Swift, and examine both his artistry and legacy, I spoke with six of his collaborators. Each of these individuals worked on at least one record with Richard. Some returned to National Freedom several times and were close to him until the very end. They all loved Richard, and in these conversations I could feel the pain of his loss still very much present. He is profoundly missed, even by those like myself who never met him. While we are no longer graced by Richard's earthly presence, we can always find ourselves wonderfully lost in the world that his songs created.
Long live Swift. | r mcshane
Laura Burhenn (The Mynabirds): The first time I'd met Richard, I'd been listening to Dressed Up for the Let Down constantly. It turned out we were both going to be at South by Southwest. After talking a little bit, we took a shot of tequila and decided to make a record together.
Damien Jurado: I met Richard very briefly at South By Southwest, at the Secretly Canadian showcase. It was 2007 or 2008. Richard walked right up to me, put out his hand, and I knew exactly who he was.
Kevin Morby: In my mind, Richard was someone I would never get to work with, because he was just the biggest, coolest, best producer. I had this album in my back pocket and I wanted someone to do something weird with it.
Laura Burhenn: Mynabirds played at The Mercury Lounge in New York. Richard was in the band. At the end of the show, these two kids came up and gave us a handmade decoupage CD. 
Jonathan Rado (Foxygen): It was an unmixed Take The Kids Off Broadway.
Greta Morgan (Springtime Carnivore): After Justin Gage suggested we work together and connected us, Richard and I just started writing jokes to each other over email. That's all we did for a while, just song demos and jokes. By the time I met him, it was like we were a comedy lounge act or something. 
Damen Jurado: I was feeling very frustrated with my music, where it was going. I was planning to take a long break, just put aside music for a while. But then I got a call from Chris Swanson [co-founder of Secretly Group] telling me I should consider working with Richard. I didn't see what Chris was getting at. Richard and I played two different kinds of music. 
Luke Lalonde (Born Ruffians): Working with Richard was a shot in the dark, very unromantic. The band was talking about who we could get to produce the record and we all agreed it would be really cool if it were Richard Swift. For some reason, he agreed to do it. We flew down, went to Cottage Grove. It's very Stand By Me.
Jessie Baylin: We did three songs in a little two-and-a-half day session. Then Richard flew back with us to L.A., and we kept working at Kevin Augunas' studio in North Hollywood. That's where we made our first project, Little Spark.
Jonathan Rado: A couple days after Mercury Lounge I got an email from Richard Swift titled, "Urgent." It says, "Ok. So. Listen to me really quick here. I love your record. And I'd love to record the next one." That's the moment my life changed. He had booked us a show at The Axe & Fiddle in Cottage Grove. We played from 8 to 9, and Swift deejayed until 4 in the morning. We slept in a tent in his yard. We did not have a record deal yet. 
Damien Jurado: Richard invited me to come down to Cottage Grove, just to hang out. Told me I didn't even have to bring a guitar with me, he had everything already. When I got there, it was really good to see him. The guy had such an infectious smile. I don't think I've ever met someone who made such an impression on me in a matter of seconds.
Kevin Morby: Ahead of our session, he told me not to be a coward. And then he said he only liked to work for about four hours a day. I was like, what the fuck? Only four hours? 
Damien Jurado: Being in that studio was like a fever dream. There was not a lot of saying no to things.
Laura Burhenn: The amazing thing about Richard is that he was not a perfectionist. He used Pro Tools like it was a four-track tape recorder.
Damien Jurado: His studio looked like an artist's yard sale. Or an antique store. 
Greta Morgan: The bathroom was a collage of hundreds of pictures of Jesus. 
Luke Lalonde: [Richard's studio] National Freedom is basically a converted woodshed, but beautiful. Every inch of it was Richard. His art, things he liked. Palo santo burning, first time I'd ever seen anyone do that. 
Greta Morgan: One of the first days in the studio, Richard had brought a mannequin and some silver spray paint, and said that as our warm-up for recording, we had to have "art time".
Laura Burhenn: Richard would mic a drum kit with just two mics. He was like "that's all the information you need." 
Jessie Baylin: After our first session in Cottage Grove, I told him it was like he'd filled in all of the blanks for me. 
Laura Burhenn: He was so human about the way he recorded anything, and that was his sound
Damien Jurado: He wanted to hear some songs I'd been working on, just out of curiosity. He didn't even put on headphones. We recorded one song after the other. Ten songs in a row.
Laura Burhenn: He was open to anything. There was this moment in a song on Generals where I wanted a bucket drum. Richard indulged me and we went to a hardware store to get a 5 gallon bucket. It sounded really bad. He gave me space to be like "yeah that sucks." He didn't even have to say it. 
Damien Jurado: I remember, for the first time, hearing my voice in a totally different way. 
Jessie Baylin: I couldn't record without Swift in there. He just brought out the best in me.
Luke Lalonde: You get used to very anal retentive recording engineers and people who spend so much time trying to address something you can't even hear. We would do a take and have a mistake in it and Richard would just be like, "do you hear it?" We couldn't hear it. "Well no need to fix it then."
Jessie Baylin: That's how he worked, he didn't like to overthink and edit, just let people be themselves and capture it.
Greta Morgan: He had a Neumann, which is like a $10,000 microphone, and he had a $15 mic he'd bought at RadioShack. I recorded one take on the Neumann and one on the little RadioShack microphone and he's like "okay close your eyes, which one sounds better?" And I said "B." And he's like "okay, Shack it is." 
Kevin Morby: Getting to watch him record his vocals on "Dry Your Eyes" was just crazy. He didn't practice it, didn't work it out ahead of time, he just did it. This big burly guy, seeing that come out of him. 
Luke Lalonde: Our last day in the studio, I had a song that I couldn't get quite right. Richard sat at the piano and started doing this kinda saloon rag, it was beautiful. We started playing and jamming and then by the end of the day we had "Working Together." It was one of those things that you can't plan on.
Damien Jurado: The music I had been making did not reflect what I was listening to. Richard kind of nailed me to the wall by asking why I would try to emulate or be something I'm not? And it really stuck with me, and as a result we got weird with Saint Bartlett. And then we really got weird with Maraqopa.
Kevin Morby: Maraqopa wears the crown for me. The whole trilogy that Swift and Damien made together is untouchable, but that's the one.
Jonathan Rado: Swift played me "Reel to Reel" before Maraqopa was out. And I remember him being like, "The Jurado fans are gonna hate me for this."  
Damien Jurado: I walked into that studio, and I shed whatever I was at the time. I was never the same again. And that was a gift that he gave me. A tremendous gift. 
Laura Burhenn: Richard and I stayed so close over the years, but I kick myself for not making another record with him. The first two Mynabrids albums are the best things I've made.  
Damien Jurado: I will say that I started noticing a difference in Richard, around the time we did Brothers and Sisters of The Eternal Sun.
Laura Burhenn: His process required a certain amount of weed and tequila to free him from his anxiety, which was oppressive. But he could be unbound, completely free from the convention of how you're supposed to operate as a producer. 
Kevin Morby: I saw a certain side of him during the session. When I left it was a bit dizzying to be like, how did we only work four hours a day, and I'm watching someone wrestle with an addiction and meanwhile the project never suffered. 
Greta Morgan: Certain things we want to remember and certain things we don't. 
Kevin Morby: Swift had lost his mom and his sister within the same year or so. He really liked the last song on my record, "Downtown's Lights," which has the character Mother-Sister. He had two little steps in his studio and when we'd listen to the song he'd go sit on the steps and hang his head, and get really emotional. I remember he said "Kevin, I really love this song." And he kissed his hand and touched this photo of his mom after the song finished. 
Greta Morgan: When his mom and his sister died, I consoled him. Like I would with any good friend. And I really felt the depths of his grief. I had the sense that Richard was half in this world and half in the next, almost like his mom and sister were reaching for his hand.
Damien Jurado: I saw this text message the other day, it said "Deej", that's what he called me. "Deej. In London. My sister's dead. Gonna go to rehab when I get back." I took a screen-grab of that for some reason. It really haunted me. Everything I'd been denying, everything I didn't want to be true, was true.
Jessie Baylin: It's hard to even digest how it all went down.
Damien Jurado: We would start our days sometimes at 2 PM, cause Richard would sleep so late. And then I noticed he would start the session with just a little bit of whiskey in a mason jar. I felt something was a little off, something was going on inside of Richard. And we were brothers, we talked about everything. I felt he was starting to close off. But I loved him, that was okay, it was none of my business. 
Luke Lalonde: It's tragic how much people can hide when they're going through something severe. 
Greta Morgan: I remember, at some point, he was at a rehab facility in Washington, and he would call me and be super sober and talk about how he was walking ten miles a day. And he seemed to really love the simple pleasure of being clear, going for these walks and looking at the trees. That was the last time I can remember we really connected in a deep way. After that he stopped answering my calls.
Jessie Baylin: I wanted to keep him well as much as I could and encourage that experience. But it wasn't always easy to do.
Damien Jurado: I drove down to go see him. When I hit Eugene, he texts me "Deej. Not feeling great, not sure if it's stomach flu or what." I was in the parking lot of a grocery store, looking at this message. Not sure what to do. He was really insistent on me waiting it out. So, okay, I got a hotel for the night. And I think deep down inside, I knew. I just knew. He has a problem. But I didn't want to admit it to myself. In that hotel room I wrote, "The Last Great Washington State". There's a few lines about him in that song. Where I say, "the building was on fire, when I saw you step out. Afraid of your ghosts, and highly in doubt." I'm talking to Richard, and he's engulfed in flames. Four days went by, and I'm hearing from him less and less and less. And there I am three minutes from his house. So I said forget this, and I left. And I didn't hear from him for two months. 
Laura Burhenn: He'd been in and out of the hospital, and then he got really sick. Some people were making plans to go see him. It was unclear what was going to happen, we were in this horrible limbo.
Luke Lalonde: When the GoFundMe started, that's when we knew he was having health issues. I sent him a letter, it actually never got delivered. It came back, and I still have it. Never opened it.
Laura Burhenn: I just got in my car and started driving around, bawling. I'm slamming the steering wheel and yelling, "fuck you Swift! How could you do this to us?" Then I came around a corner and see this lawn care service, Swift Lawn Care. With this giant sign that said "Swift Finish!" and a lawnmower under it. I started laughing uncontrollably, like you motherfucker, even in this moment you're gonna make me laugh?
Damien Jurado: After a show in Los Angeles, I got the call from Chris Swanson. He said you may want to come up and see Richard if you can. I flew to Seattle the next day and drove straight to the hospital. And when I saw him, looking back, I wish I hadn't. 
Greta Morgan: Someone texted me from Richard's death bed, and told me if I wanted to send in a video saying goodbye, he would love to see me. It was right before one of my first shows playing in Vampire Weekend, so I went out to the parking lot to say goodbye to my friend who had changed my life. 
JB: The void is so real, not having him here.
Damien Jurado: What I saw in that hospital room was not Richard. He was trying to rip out his IVs so they'd put these oven mitt things on him. Dude was yellow as a highlighter marker. And I remember walking into the room and kneeling at his bedside and putting my arms around him. Crying and telling him that I loved him. He wasn't coherent but he was looking at me. And I knew that was it.
Jonathan Rado: I was working on [Weyes Blood's] Titanic Rising in the studio when I got the news. Only twice maybe in my whole life, I've had to leave a studio mid-session to go home. That was one of those days. 
Kevin Morby: Even though I've lost so many friends to addiction, I never think another friend is going to die the same way. So I had this defense mechanism like, maybe Richard will be fine, he'll get out of the hospital. 
Damien Jurado: The goodbye was not ideal. I'm not sure what goodbye's ever ideal when you're dying. I was in denial right up to the moment I walked in that hospital room. And I'm a realist, I pride myself on being a realist. But I couldn't when it came to Richard. 
Jessie Baylin: He's always been this sort of out-of-this-world person in my life. Like, where are you from? And now he's out of this world.
Greta Morgan: He was a very troubled person, but a person who felt the world very deeply and was deeply empathic. I just miss him.
Jessie Baylin: The grief didn't hit me until I tried to record without him. I felt all of the things I felt before I met him – I got scared, I didn't feel heard. But eventually I heard his voice in my head saying, "you know exactly what to do, sis." 
Luke Lalonde: Uncle, Duke & The Chief was very precious and dear to us even before Swift died. And when he passed away it calcified, this totally dreamlike experience that we could literally never do again. 
Damien Jurado: There's that part in When Harry Met Sally, where Billy Crystal says, "when you realize that you want to spend the rest of your life with somebody, you want the rest of your life to begin as soon as possible." I really felt that strong of a love for him.
Laura Burhenn: Richard created this church, this big spiritual space that we all got to walk into and sing in.
Greta Morgan: He played me Lonnie Holley records before they worked together. Lonnie was emblematic of making art out of anything and everything that happens to you, and being able to make beauty even in the most devastating heartbreaks.
Laura Burhenn: I saw Lonnie Holley play at the Ace Hotel [in Los Angeles], either right before or right after Swift passed. I was sitting there at the show, and all of a sudden Lonnie starts improvising, and I realize oh – he's about to sing about Richard. Lonnie starts this incantation "Richard, Richard Swift" and it was one of the most beautiful things I've ever seen.
Kevin Morby: I think of it like when you see a Velvet Underground documentary, and people say no one knew who the Velvet Underground was at the time, but everyone who saw them play started a band. Richard is like that. 
Laura Burhenn: His great joy in life was connecting people. I really felt that when we were at his memorial service in Portland. It was like Richard had planned the greatest surprise party for himself, and then left the room. Like, surprise! The gift is that you all get to have each other. 
Jessie Baylin: It always makes me smile when I hear "Lady Luck" in Nordstrom's or something. Like I'm hoping someone in this store is Shazam-ing this right now! 
Greta Morgan: His music is absolutely genius and brilliant, and I hope people continue to discover it for decades and decades to come, but I think what was even more special than the music was the quality of his presence. 
Kevin Morby: Everyone I've worked with. Brad Cook is a huge Swift fan. Sam Cohen is a huge Swift fan. Hamilton Leithauser is a huge Swift fan. All these people, I hear Swift in everything they do. A generation is going to come up saying that Jonathan Rado is our favorite producer, we want to sound just like him. Meanwhile, I think Rado would have no problem admitting his biggest influence is Richard.
Jonathan Rado: He was the most formative person in my life. 
Damien Jurado: I think about Richard all of the time. I'm never without him. But I miss him like crazy, man, it's insane. And right now, I'm sitting in a studio in Everett, Washington actually. Everything is analog. Echo chamber and tape machine and everything. I remember walking into this studio with my wife and I told her I feel Richard in this room.
For Heads, by heads. Aquarium Drunkard is powered by its patrons. Keep the servers humming and help us continue doing it by pledging your support via our Patreon page.