Growing up in Atlanta in the 1990s, Widespread Panic were something akin to the home team, and a fiercely independent cottage industry at that. Formed in Athens, GA in 1986, Panic notably eschewed contemporary musical fads, and instead pulled from the deep well of the region's soul, blues, folk and rock traditions. Like the Allman Brothers before them, the band were keen to stretch out when performing live, incorporating all manner of voodoo into their ever-evolving sets.
By the mid-90s Panic found themselves commanding huge rooms, playing to a dedicated audience reminiscent of the kind of fervor historically associated with the Grateful Dead. And like the Dead, they did all this without bowing to the constraints of traditional album and tour cycles. Now in their 37th year as a working outfit, we connected with founding member and bassist Dave Schools from his home in northern California to discuss the evolution of the band, the early influence of Athens, GA, collaborations, their DIY approach, touring, mentors and beyond.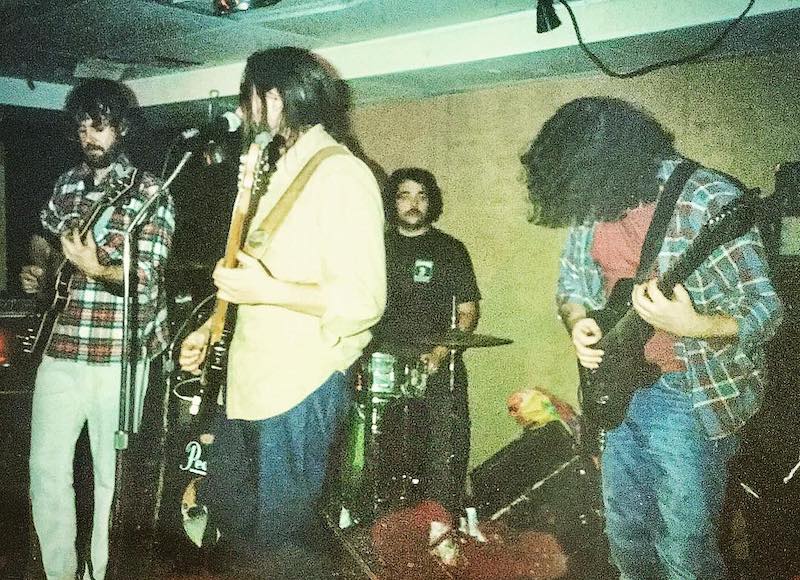 Aquarium Drunkard: Following high school in Virginia you moved to Athens, GA in the early 80s to attend the university. What was your musical diet like at that time? Do you recall some touchstone artists that were informing your tastes and listening habits?
Dave Schools: As a native of Richmond VA my musical tastes were limited to what the local FM stations foisted upon me. There was XL-102, a less commercial station, that played a wide assortment of what was then already being called "classic rock" as well as newer music (now considered classic rock). I remember hearing Tom Petty, Blondie, Elvis Costello, and Steely Dan on the same station. I was turned on to the B-52s when the station ran an interview with Debbie Harry in which she extolled their virtues.
More important in my developing taste was a guy named Tim Bookman who worked at Gary's Records and Tapes at Willow Lawn shopping center. Gary's was the kind of place that sold LPs, had a stereo sales department in the back, and in the front had a long glass counter that showcased marijuana paraphernalia which was manned by a couple of stereotypically opinionated yet disinterested clerks. Tim was one of the disinterested clerks with big opinions about music. He changed my life when I approached the counter to buy a live album by the band UFO. Tim made a deal with me saying, "Why don't you buy these two records instead and if you don't like them you can bring them back and I'll give you the UFO album for free." The two albums were The Ramones' Rocket To Russia and the infamous Stooges official bootleg Metallic KO. These albums opened an entirely different pandora's box that went far astray from my previous diet of Beatles, Who, Pink Floyd and Led Zeppelin. Needless to say I still have yet to buy the UFO live album.
Shockingly I owe a huge debt of gratitude to cable tv at the time. MTV of course was killing off classic rock acts while at the same time taking some pretty daring chances with weirdness from abroad both strange and wonderful as well as overhyped plastic acts with no redeeming features. I quickly learned how to tell the difference. The USA Network had a late night weekend show called Night Flight which went deep with artsy videos (Laurie Anderson) and concert films (John McLaughlin, Paco De Lucia, Larry Coryell's Meeting of The Spirits) which really flipped my world.
AD: Per your interest in attending school in Athens, was the (then) recent emergence of a burgeoning music scene a consideration?
Dave Schools: Honestly, the main reason I chose to attend UGA was that I could get early acceptance which meant that by Thanksgiving 1982 I knew where I was headed for college and could thus fuck off and chase girls for the rest of my senior year in high school. Also there was a secondary reason of the fact that UGA had been named the #1 party college in America by Playboy Magazine which sounded good to me.
On the night of our crazy graduation party I was sitting in a car with a classmate and her boyfriend who was a freshman at UGA (foreshadowing Matthew McConaughy's role in Dazed & Confused) smoking a joint and he popped in a cassette and said, "You should be aware of these guys…they are a band from Athens where you're headed in three months and they're getting popular." Those guys turned out to be REM.
When I arrived to my dorm as a freshman I met so many people who turned out to be part of the Athens music scene: Mercyland bassist and future producer David Barbe was the first person I met. Love Tractor was the first Athens band I heard on WUOG, the campus radio station. I regularly hung out with Laura Carter who became the singer of the BBQ Killers and Jack O' Nuts. Michael Stipe nearly ran me over with his bicycle on the sidewalk in front of The 40 Watt! It seemed like everyone was already in bands and playing and soon I realized that it had been a mistake to leave my bass guitar at home in order to be a "serious journalism student." Silly me. I brought the guitar back after my first trip home to Richmond and began looking for a band to join. The rest is, as they say, history.
AD: Athens has birthed an incredibly wide range of artists over the past four decades. While a number of these have become household names, an equally important slice of the contributing community remains relatively underground outside of true enthusiasts. As a longtime resident and participant, what is it about Athens that has long fostered such a thriving arts scene?
Dave Schools: Athens has often been called "Mayberry on acid," and I think that's an adequate description. There were other factors that made it easy to be in a band or even several bands in the 80s and 90s: Athens was an inexpensive town in which to live, the city council had not yet made it illegal for more than three unrelated people to rent a house, both the UGA Art school and the townie scene had a huge overlap with the local music scene, there was friendly competition between bands and plenty of gigs to be had. Even the fraternity houses put on shows where original music was encouraged. The constant influx of idealistic young matriculates kept things fresh. Nowadays, after the international success of so many of their bands, Athens has begun celebrating this legacy by installing an "Athens Music Walk of Fame" on the downtown sidewalks. The times may be different and, despite the capitalistic homogenization that has occurred downtown across the street from North Campus, the spirit remains the same because the spirit of a town is defined by the people who live (and often remain) there. In what other town could the Elephant 6 gang reside successfully alongside Hick Hop artist Bubba Sparxx? In what other town could a band like Hayride exist for almost as long as Widespread Panic? FYI Hayride is the only band I can think of that managed to be signed and dropped TWICE to Capricorn records and still somehow come out ahead.
AD: Outside of participating in the local music community as a fan, what marked your entrance as a player? Were you regularly gigging prior to the formation of Widespread Panic in 1986?
Dave Schools: I was lucky to participate with a couple of fun high school bands with folks who I am still close to these days. One was called Midnight Jam and I lucked into the bass gig when my friend Tom Crosby injured a finger and I covered for him. This band actually made money playing parties as well as performing at Mrs Donnan's Cotillion where we played Eagles and Stones tunes while our gifted singer, Mike Bland, had to stand back so the dance instructor could call the steps. Midnight Jam actually recorded a 7" with two original songs. One summer this band morphed into the sophomorically named Broken Cherry. Broken Cherry was influenced by all the members' tastes with the inclusion of a talented young guitarist named John Leedes. We played songs ranging from The Cars to The Clash to the Grateful Dead and we had a lot of fun. Keg parties were "de riguer" and so was trying not to arouse suspicions with those funny smelling cigarettes.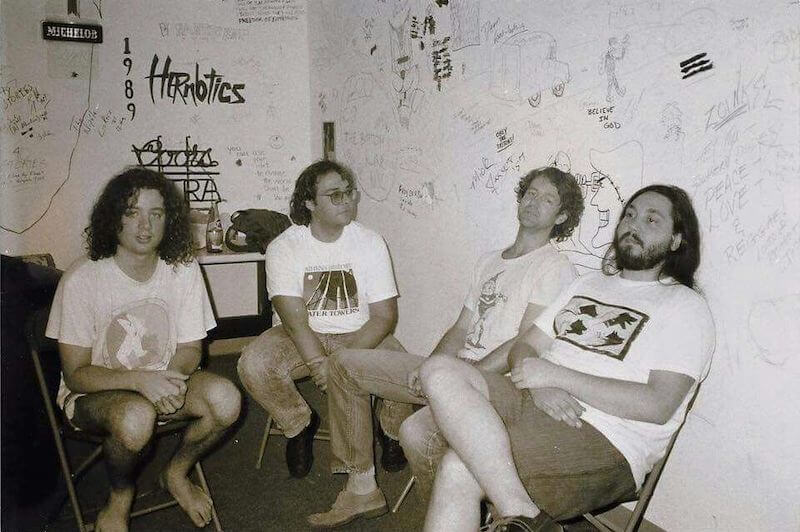 AD: In terms of the style of your bass playing, who were some of your early influences?
Dave Schools: My earliest bass influences were Paul McCartney for "Paperback Writer" and John Entwistle for "Pinball Wizard". The Beatles and The Who were the two bands that first made that instrument stand out to me. Tonally perhaps more importantly than the notes they chose…sometimes Sir Paul's bass lines sounded like a tuba playing show tunes while Entwistle's bass sounded like a giant buzzy bedspring and was, along with Keith Moon's maniacal drumming, often the lead instrument.
Later I became obsessed with John Paul Jones' nimble fluidity coupled with John Bonham's drum prowess and basically EVERYTHING about Led Zeppelin. Less so the classics that most bassists cite, like "What Is And What Should Never Be", and more so "In My Time of Dying" and "Achilles' Last Stand". Good grief!
Finally I was perplexed and amused by Phil Lesh. As I am to this day. His unorthodox classically trained methodology got me into trouble with my bass instructor when he asked my why I wasn't doing my homework of learning rudimentary scales. I told him I wanted to learn Lesh's bass line to the Grateful Dead song "Dark Star". His response was, "Are you sure you wouldn't rather be taking piano lessons?"
Mostly I learned the rudiments and blues based rock bass by playing along with whatever I was listening to at the time: Black Sabbath, Blue Oyster Cult, and The Allman Brothers.
Most important of all was the way Mike, JB, and Todd influenced each other with Widespread Panic's way of doing things. I thought I knew the right way to do things until I started jamming with them. I might have known things but it wasn't true creation as a unit until the four of us clicked together.
AD: The stuff that inherently binds a solid band together is a curious thing. Having met founding members John Bell and Michael Houser in the early 80s, do you recall what initially made you all think, 'hey, we've got something special here'?
Dave Schools: Our musical influences were basically all the same except John Bell leaned more towards the folksy acoustic singer songwriters whereas Mikey, Todd, and I liked Sabbath and YES. Since we learned more how to play as a group – warts and all – those influences were soon dashed against the rocks. As we wrote more original music those cover tunes we had cut our teeth on disappeared.
For me the real light bulb moment was the first or second time JB, Mikey, and myself jammed in the living room of the band house at King Ave. We had eaten what I thought was a light dose of mushrooms and we began working on an original tune called "Sleepy Monkey". Mikey had this bouncy riff that he played clean but with a little ping pong slapjack delay on his guitar. It was incredible and the more he played that lick the more lava I saw coming out of the heating vent on the floor. I knew then and there we had something different. That was an interesting ride back to my dorm!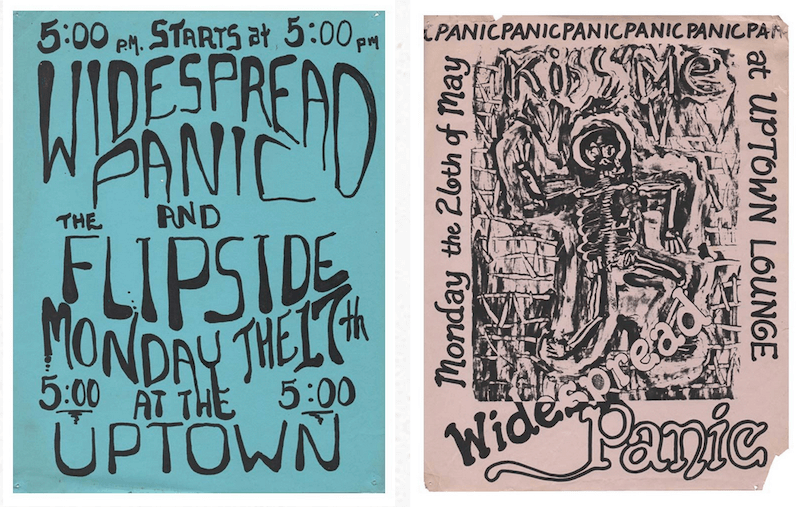 AD: In terms of opportunities for the nascent band to play around town, how were the gigs in those early days? Were there a number of rooms to perform in on a regular basis, or was it more of a house party circuit situation?
Dave Schools: Athens has always had a big house party scene where bands could play in muggy basements or on decks or anywhere they could cram their gear. It probably had something to do with bars closing at 1am and midnight on Saturday. After midnight it becomes "The Lord's Day," and there shall be no live music or fun on the Lord's Day. The first gig JB, Mikey, and I played was at an A-Frame house on Weymanda Court for about twenty of our most patient friends. We didn't even have a name yet.
Another oddball aspect of Athens was that the UGA Greek scene actually supported bands that played original music. We benefited as well as other early "jambands" like Indecision and The White Animals. And this support for original music found its way up the east coast and bled into the nightclubs like The Uptown where we wound up getting a regular Monday gig. I mean who wants to play on a Monday?
AD: Panic has been able to find and sustain success while existing wholly outside of the mainstream. Fleeting musical fads and trends have never been part of the equation. In regard to your DIY approach, the band seems to have adopted a number of the extra-musical aspects of the Grateful Dead. Early on, was this something the band and management consciously thought about, or was it more of an organic 'this is just how we do it' kind of thing?
Dave Schools: Certainly the Grateful Dead at their most punk (and they were very punk in ideology) managed to stick it to the man and get handsomely rewarded for doing things their way. Our big idea was to have fun and NOT have to work for some faceless corporation in Reagan's America. We succeeded at both.
But many of the DIY aspects of our ensemble were formed out of sheer necessity: in 1986-87 we were really going against the grain of what was not only popular on MTV, and thus commercial radio, but also the sounds that were already associated with Athens GA. We didn't sound anything like The B-52s or REM. We were friends with Love Tractor and and Time Toy but we didn't sound anything like them. It wasn't until we met the guys from White Buffalo and Bloodkin that we felt like we were cooking up our own little house party scene with those bands.
Then we met bluesman Tinsley Ellis who put us in touch with Atlanta indie label Landslide Records and its leader Michael Rothschild. Then we met Col. Bruce Hampton. That's really when everything started getting really weird and cool.
AD: I've long been impressed by the incredibly eclectic incorporation of covers into the fabric of your live sets. It's not uncommon for the band to riff on and, at times, wholly transmute material by the likes of General Echo, fIREHOSE, Talking Heads, JJ Cale and beyond. Could you speak to the inclusion of cover material? How does a tune work its way into the Panic universe? Are there any songs you're itching to one day incorporate into the mix?
Dave Schools: I think it all has to do with the relatively disparate influences we came up with. We brought those to the overall sound. But we also had some records (not really that many) at the band house that were favorites: JJ Cale's Troubadour ("Travelin' Light" and "Ride Me HIgh") and Neil Young's Time Fades Away ("Walk On" and "Last Dance") are some that clung to us. Talking Heads were a favorite on both the record player and video. We loved Stop Making Sense and True Stories (ergo "Heaven" and "City of Dreams"). We also liked the movies Barfly and Repo Man. To this day you can hear JB occasionally inject his own rap version of Emilio Estevez's desultory version of Black Flag's "TV Party". We also were influenced by a reggae band from Ohio called Ital and so we lifted their medley of songs that were rapped over the Stalag riddim with General Echo's "Arleen" being the namesake. As far as the fIREHOSE tunes all I can say is that we loved both their albums If'n and Fromohio and listened to them constantly in the van. I remember there being some discussion about doing either "Honey Please" or "Sometimes". I don't know why we didn't do them both maybe I was scared of trying to emulate a Mike Watt bass line. A word to the wise: never get involved in a late night card game with Mike Watt.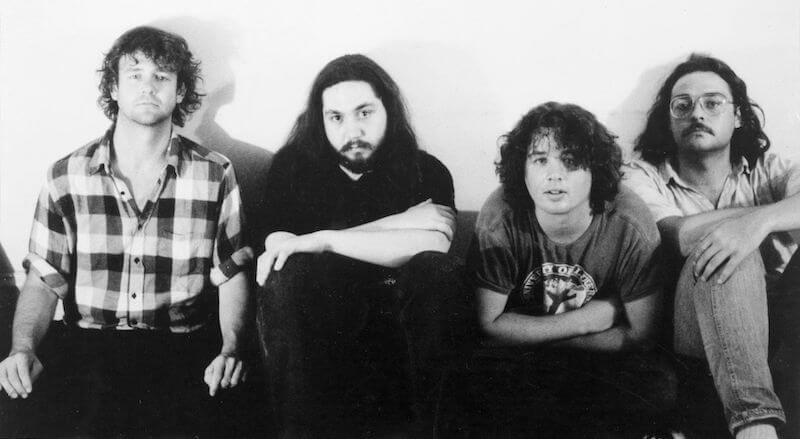 AD: In 1995, under the name Brute, the band released Nine High A Pallet – a collaboration with singer-songwriter Vic Chesnutt. It was followed up seven years later with the second, and final, brute album, CO-Balt. How did this ongoing collaboration with Chesnutt first begin? Did your own unique styles immediately converge and mesh?
Dave Schools: Basically it came down to our soundman Bill "Gomer" Jordan and longtime Vic Chesnutt friend and producer Scott Stuckey doing (what wasn't really) a hard sell on us. Everybody knew and loved Vic as an uncompromising and unpredictable songwriter and apparently he had a real hard on for rocking guitar riffs like those that Mike Houser could create. So it happened quickly and we recorded the Nine High A Pallet album in a day or two which of course featured songs like "Good Morning Mr Hard On" and future Panic concert staples such as "Blight" and "Protein Drink/Sewing Machine". It was fun as all get out.
We recorded the second Brute record CO-Balt the middle of making the Panic record Don't Tell The Band with John Keane at the helm. I think John thought we needed a break from ourselves and it was easy for Vic to get from his house to John's in his wheelchair (thank you Athens for sloped curbs and sidewalks). Vic was losing his dexterity at that time and many of the songs were composed on the Omnichord by Vic. We'd work up band arrangements and then Vic would sing. Watching Vic weave beautiful melodies out of SAT words was an incredible thing to see and hear. We all really loved working with Vic even if things got weird late at night on occasion. Mikey and Vic had a real mutual respect thing going on. He loved Mikey's heavy sound and Mikey loved Vic's song craft so it was no surprise that Vic sang "Expiration Day" at Mikey's memorial service.
There's a scene in the Panic documentary The Earth Will Swallow You where I'm telling Vic how my shitty punk rock friends even liked the Brute record and he says something like "punk rockers suck" right into the camera. That was Vic – he was always gonna give you the straight dope no matter how brutal. And it was hard to tell if he was mad at you or happy with you when he asked you to help him go to the bathroom. I guess it could fall on either side because we all have to go. Luckily there is some great Brute footage posted on Youtube…
AD: Speaking of collaboration, the band tagged up with Billy Bob Thornton in 1991 for the autuer's directorial debut, Widespread Panic: Live at The Georgia Theatre. Shot in black and white, its thirty minute runtime serves as a fantastic snapshot of both the band and the town of Athens. How did you all connect?
Dave Schools: Phil Walden not only had resurrected Capricorn Records in the early 90s but he had also been managing actors. One was Jim Varney (of Ernest fame) and the other was an unknown named Billy Bob Thornton from Arkansas. We met Billy one day and he seemed a lot like us…we really liked him right away. He was also a dummer in a ZZ Top cover band called Tres Hombres so that made him even cooler.
We shot the short form documentary at The Georgia Theatre and had so much fun. It was Billy's directorial debut so he was having fun and trying all kinds of ideas. The audience got what was happening and had a ball too. The bonus about this was that Billy also shot the ARU video for "Basically Frightened" which featured a truly great performance by Col. Bruce Hampton and his cohorts. Billy has such an engaging way about him that even the interviews he did with Athens citizens on the streets elicited charming responses.
The Thorton directed "Aunt Avis" video came immediately after Billy won the Oscar for Sling Blade. He had brought his then girlfriend Laura Dern back to Arkansas to escape the paparazzi in LA. But they haunted them even there. We shot the video at his friend's barn outside of Little Rock and was amazed at how down to earth Billy and Laura were. Billy had a vision and I think it captured what writers were calling "Southern Gothic" at the time. We had a great time with Vic and some of the local actors that were featured in the video and even managed to have a jam session with Billy Bob and some of his other Tres Hombres bandmates.
One time he called us at Muscle Shoals when we were making the Everyday album and told us he had just made a film called One False Move. He reminded us that "he was just acting and not be weirded out" because his character Ray Malcolm was one of the most violent and scary characters he had ever played. Turns out Billy had co-written the screenplay too. Just acting! Billy is still a great friend.
AD: Going back to the early 90s, Panic has recorded and/or performed over a half dozen songs by fellow Athenians, Bloodkin. More than any other artist in your catalog. You all obviously connect at a very core level with this material. How did this ongoing relationship begin?
Dave Schools: We met Danny Hutchens and Eric Carter of Bloodkin when they arrived from somewhere in West Virginia and began sharing the rehearsal space we had been using along with another Athens band called The Perforated Squares (later White Buffalo – their singer Samantha can be seen in the aforementioned Billy Bob documentary singing "Mercy" along with JB). This rehearsal space was the best hangout in town and we all learned how to play together there. We could loiter in the parking lot and party. We'd listen to each other rehearse and we all became great friends.
There was immediately something special about Bloodkin: the point of view that Danny Hutchens took for his songwriting was sassy and intelligent at the same time. Eric was a great partner and together they created a unique weave that was present no matter who their ever fluid rhythm section might have been. They, like us, did not fit the sound Athens GA was becoming known for so we cottoned to them instantly.
Danny, along with another great songwriter, Jerry Joseph, came to the attention of Capricorn Records' Phil Walden via the label signing us. They wrote some songs together as sort of a spec deal and Danny came up with one song, "Makes Sense To Me", that he literally tried to give us. We recorded it and placed it on our first Capricorn release and it, along with several other Bloodkin tunes, remains in our setlist.
One of my favorite production experiences was returning to Athens and making Danny's solo record The Beautiful Vicious Cycle Of Life with David Barbe at Chase Park Transduction studios. In addition to Danny, David, and myself the band was dream team of Duane Trucks, Thayer Serrano, and a wide ranging assortment of guitarists ranging from Eric Carter to Jesse Aycock. I was really proud of Danny for making the choice to experiment with sounds on this record and it remains one of my favorite productions.
Both Danny and Jerry Joseph became band muses and writers for Widespread Panic and have both contributed key songs and vibes for over 30 years.
AD: The late Col. Bruce Hampton penned the opening notes to your debut studio album, Space Wrangler, and is seen holding court with the band backstage in the aforementioned Billy Bob Thornton film. You all seemed close. Who was Hampton to the band throughout the years? Friend, spirit guide, mentor?
Dave Schools: This is one of those questions where I will inevitably say, "I could write a book." Truly the man the myth the legend the landfill and his influence over not only Widespread Panic but also decades of southern musicians cannot be overstated. A publicist once described Col. Bruce Hampton as "Atlanta's only living work of art," and while that may be true he was so much more. He was a mentor and a spirit animal guide but also a wrecking ball, little league baseball coach, and a prankster found of what he called "lowjinks." Parlor trickery was his specialty as much as his music, and when he was truly ON the freedom onstage was palpable because he was giving permission for the talents in his band to exploit it fully from within their own hearts. The importance of this man cannot be put into words….or if it could it would take a lot of words. Please try to find the excellent documentary called Basically Frightened to learn more. I miss him more and more with each passing day and am truly grateful for the greasy mark he left on my soul. Thank you sir.
AD: As the band's fanbase became, well, enormous, I'm curious if there are any key moments that come to mind in which you thought to yourself, 'wow, this thing has really taken on a life of its own.'
Dave Schools: There are always key moments that stand out. Here a few: When we finally made enough at the door playing The Uptown Lounge to cover not only our bar tab but also to buy late night breakfast at the Waffle House. An event called Super Jam that was held out at the Athens Fairgrounds that featured Blues Traveler and Gov't Mule. We headlined and the biggest summer rainstorm delayed our set but when we finally returned to the stage NO ONE had left. Felt like a victory. The time we played the Leno show and paid fealty to guest Carl Reiner. Also Jamie Lee Curtis grabbed my ass on national TV which greatly impressed my mother. Win! Headlining the very first Bonnaroo. Everyone knew Mikey was suffering from pancreatic cancer and the courage he displayed in touring was incredible. We were joined onstage by the gospel star Dottie Peoples and her People's Choice Choir towards the end of our set. But it became something other than a concert when we segued from our song "Tallboy" (summon the holy ghost) into Dottie's tune "Testify". I swear on a stack of bibles that we pierced the veil and 80,000 people levitated. It was crackling and remains one of the experiences I am most grateful for.
AD: I've always described Panic as a song based mutant rock 'n roll band that stretches out in a live context, not unlike, say, the original Allman Brothers Band. At the root of it, at the core, are the songs. How do you feel about the often lazy 'jam band' tag that is at times applied to your music by those with only a cursory awareness of your music? I'm curious, as it never rang particularly true to me.
Dave Schools: I've always hated labels as I think they tend to limit us to what critics think are the boundaries of what we can achieve artistically. All of the cohorts mentioned above (Bloodkin, Vic Chesnutt, Jerry Joseph, Col. Bruce) had a huge influence and helped us become what we were. We were lucky to have four distinct songwriting voices in the classic 90s version of the band and those voices along with various disparate influences affected what we did. I felt it was always growing but more importantly there really weren't rules applied to our music. No one ever asked "does this sound like us?" Which isn't to say there was no head butting about material but we were a group and we were dedicated letting things evolve and grow. If they worked onstage they were free. If they weren't successful onstage then they simply disappeared. By avoiding conventional tagging we allowed ourselves the freedom to mine any genre to our own end. True freedom.
AD: Let's talk live shows. If fans think of, say, Huntsville (4/3/96) as something akin to Cornell '77, what does the band think? Revisiting it now, do you feel like the group was particularly tight then? Are there some other shows/years that stand out in your mind as peak performance? Or do you even remember or think of it that way, in the way that Bob Weir doesn't particularly remember playing Cornell, specifically.
Dave Schools: I really can't think of it that way after almost four decades of being in Widespread Panic. There was a time when particular shows would stand out for one reason or another and I might earmark those show for further examination. I did go through many of the summer '97 recordings in an attempt to single out great performances for the live record Light Fuse Get Away. Nowadays I just feel gratitude for being able to play. I am thankful that rest of the guys in Panic still find it fun and elevating to stand. On stage and play this music.
There's something Jerry Garcia said specifically about bootleg recordings but I think it applies to this discussion as well: "Once we are done with it then it belongs to the fans." In that spirit we've allowed our fans and some of our closely trusted crew to choose the archive releases. I think it's a good plan because there are six people who have never ever seen Widespread Panic and I am one of them. I'm uniquely unqualified to pass judgment from my place inside of the bubble.
AD: In the winter of 1996 the band embarked on the mostly acoustic Sit & Ski tour in and around the ski towns of the western United States. David Blackmon would often sit in on fiddle, and the overall vibe was a special one. What was the original impetus for this run of shows?
Dave Schools: I'm not sure why we chose to attempt an acoustic tour of Colorado other than we had been playing all of the towns we loved and made friends we wanted to maintain connection with. Mostly I think it was an excuse to ski, snowmobile, and hang out with friends. David Blackmon came along for the ride and brought his fiddle and sense of humor. For a minute (read: half a show) we attempted to be truly acoustic. We decided to change the name to "Acoustic My Ass" but then settled on the more palatable moniker of "Sit & Ski."
I can recall one of the shows at a place in Vail called Garton's. It was up on the third floor of a building and there were so many people stomping and dancing that Sunny's chimes never stopped ringing from the constant motion of the dance floor. It felt unsafe which gave the performance a shade of real danger. I remember Todd and Sunny taking a drum break and I walked one floor down to the parking deck to smoke a cigarette. As I approached the door it swung open at me and then slammed shut. I walked into the parking deck and noticed that the movement of the dance floor above was causing a bellows like effect and was blowing open and then slamming shut all the doors of the parking deck. Acoustic my ass!
AD: I am also curious about the band's regional experience, as it pertains to how you make tour/show decisions. Does your approach to setlists, set vibes, etc. differ when performing on the east coast versus the west?
Dave Schools: None of that matters really. We've always taken a selfish approach to setlists for our own sanity. I believe this benefits the audiences as well. If we had to play the same show every night I do believe we'd have given up decades ago. Once Capricorn started giving us shit for not playing the "emphasis track" from the record every night we knew were doing something correctly when it came to setlists. We do maintain a master list so we can keep track of what we played over the preceding gigs. It helps us to keep more songs in the rotation and keeps us on our toes.
I do believe that there was a time when the audiences differed in vibe from one region to another. Some were crazier, some were more attentive, some seemed more demanding, some knew all of the words. And while that still remains true to a certain extent the more recent touring model we've adopted has allowed all of those qualities to be exhibited regardless of the location of the gig. People come from all over to see us because now we go out once a month and do multiple nights in places we love like Red Rocks or The Fabulous Fox Theater in Atlanta.
AD: You relocated from Georgia to northern California some time ago. What prompted your move out west?
Dave Schools: I moved out to Sonoma County in 2008. I had wanted to live in the Bay Area (specifically San Francisco) since I became aware of the music that came from San Francisco. One of the first tunes I became obsessed with was Jefferson Airplane's "White Rabbit". Next came a youngster's understanding of how the effects of the Summer of Love and hippie culture trickled down into my sheltered world of Richmond, VA in the mid 70s culminating in me seeing a midnight showing of the movie Woodstock. I went to see the Grateful Dead play a new year's eve show in Oakland in 1985 and somehow by a simple twist of fate managed to stay at 710 Ashbury. Incredible to wake up in that house and be greeted on the sidewalk out front by Dead Head tourists wanting to take pictures of the infamous stoop and facade of the former Grateful Dead house.
Basically every time I visited San Francisco I fell more in love with the city. The cultural grime was everywhere and Bill Graham had become enamored of Widespread Panic so we found ourselves doing multiple nights at The Warfield and The Greek Theater in Berkeley. We made a lot of friends.
I dated a local gal for awhile and stayed with her in Pacifica at first and then a little house in the Sunset. When we broke up I was determined to find my way back to The Bay Area.
AD: Has the move out west informed and influenced you creatively?
Dave Schools: I had some great friends who were lifelong Bay Area residents and they made it easy for me to locate my place in Sonoma County. I was intending to slow it down once I moved out to West County (as we call the western part of Sonoma County) but pretty quickly my manager hooked me up with Mickey Hart and thus began that particular iteration of Mickey Hart Band. Through MHB I met all kinds of beautiful souls with unique musical gifts not the least of which was talking drum master Sikiru Adepoju who has become a very close friend. Others included Inxx Herman and Gawain Matthews both of whom I have worked with since not to mention my sister Richmonder (VA) Crystal Hall. A beautiful soul with an amazing voice.
Working with Mickey is an oddball combination of the militaristic and the deeply creative. Those who don't get Mickey's tempermental artistic struggle will falter and fail…those who do get it will be rewarded with a close window into the process of an alpha dog sonic craftsman who respects the world of vibration that came before. What an amazing entity he is.
That all led to working with Bob Weir at Talmalpais Research Institute or TRI studios as we called it. We did a little web based talk show not unlike Jools Holland's show but only with more acid drenched flashbacks from host Bobby and cohorts like John Barlow and Steve Parrish. It was a great and creative bunch of people and we put an amazing house band together of Jay Lane, Jeff Crosby, Steve Kimock, Jeff Chimenti, and myself to back up artists like Jonathan Wilson, Beth Orton, John Doe and Leslie Mendelson. It was a great time and the studio was filled with a lot of the gear that I had witnessed being used onstage with the Dead.
It wasn't a stretch that I would wind up producing a few records there: Hard Working Americans, Jerry Joseph, and Kimock. TRI was a very special place and I'm always happy to work there in any respect and certainly happy to keep Jerry Garcia's mic and Brent Mydland's Leslie cabinet (dubbed "The Growler") exercised and in use.
When Phil Lesh opened Terrapin Crossroads it was a godsend and gave many local younger players a chance to fraternize with each other under the guiding hand of Phil. I met many of my local music friends there and played and saw some amazing shows not only in the Grate Room but also in the restaurant/bar area. Alex Koford, Adam MacDougall, Grahame Lesh, Ross James to name but a few. You never knew who might show up. Yes, I'm talking to you Luther Dickinson and Neal Casal! Plus the food was good. Sadly Terrapin has closed it doors which has really put a dent in the available chill venues and some of my friends fled to LA in search of actual work.
Living in California has not only given me the opportunity to work with heroes but also reconnect with old friends like Tim Bluhm and Greg Loiacono of The Mother Hips. Fantastic people and great artists.
AD: During the pandemic you took over Kitaro's home studio, Spacecamp, which is a big metal barn. What all did you get into studio-wise? Were you recording a lot, both personally and otherwise?
Dave Schools: The whole thing with Spacecamp started with Jason Reed, an engineer I frequently worked with, telling me that Kitaro was selling his house near Occidental and might be letting go of some cool gear. The next thing I know Jason and I are mixing the FDWOW record there and slowly converting it to our own space. Kitaro left a ton of cool analog synths and gear and once we sold his Neve console for him Jason put his own Studer 36 channel desk in (which used to belong to and was modded by the Dead's recordist Bob Matthews) and we began to record some folks there. Greg Loiacono's record Giving It All Away for the Blue Rose label was the first session we did. I played bass while Scott Hirsch produced and Jason engineered. Greg has produced the forthcoming Kareeta record (with me playing bass) and I have produced the forthcoming Jeff Crosby record there as well as the new Abby Bryant & The Echoes record. On Abby's record I put together a badass team featuring myself, Johnny Kimock on drums, and Adam MacDougall on keys. Abby has a remarkable voice and her record is being mastered right now. Several tracks from Jason Crosby's solo grand piano records were recorded at Spacecamp as well as the finishing of his brother Chris' posthumous recordings for Blue Rose and to benefit a foundation created in Chris Crosby's name.
One of the coolest things about having a studio is the ability to slowly build my own forthcoming project, tentatively called Bass Mountain. This features some of my favorite musicians in improvisational settings and then a lot of editing and shaping. I won't reveal who is performing on it yet but I am honored to thump bass alongside these heroes, friends, and legends in such a peaceful place amongst apple orchards and redwood trees. We even have a bobcat that likes to visit pretty much every day.
AD: You're a musical omnivore, as evidenced by the wildly inspired sets you put together as part of your two-hour show on Radio Free Aquarium Drunkard during the early days of the pandemic. In 2023, how do you find yourself discovering music, both new and old? Are you digging digitally, hitting up the shops, or some combination of both?
Dave Schools: I have a batch of trusted sources who give me great recommendations on music both new and old. I mentioned my record store guru Tim Bookman above. Tim not only turned me on to all kinds of new and obscure music but also had me reading music and culture magazines like Creem, NME, and Trouser Press that seemed to go deeper than established mags like Rolling Stone. More recently I had a treasured subscription to the great Wire Magazine but people began stealing mail out where I live so I cancelled that and went online.
There are local record shops like Next Record Store in Santa Rosa and Red Devil in San Rafael as well as certain places that I always hit up like Low Yo Yo in Athens, GA and Dusty Groove in Chicago.
I get many audio research prompts from online sites and blogs like the one you are reading now. And streaming titles picked by some amorphous algorithm which occasionally pan out with a pleasing new discovery. But I have to say that it remains trusted people in my life that make the best musical pickers.
AD: And lastly, per contemporary artists, what are some recent finds over the past decade that have caught and held your attention?
Dave Schools: When I was recording at Compass Point Studios in Nassau, Bahamas I found myself with a brand new laptop and a bunch of spare time. I discovered a ton of music blogs that allowed for downloading of obscure or out of print reggae, dub, and soul jazz records. I went nuts and wound up with gigs of mp3 needle drops. It really deepened my connection to some of these artists who only seemed to exist in the hands of deep collectors. Of course the majority of these sites have been shut down but in some cases the artists may have been reissued by cool labels like LITA and Numero and most can be streamed. There are some Japanese labels that are doing a great job of repressing obscure dub albums too. I also spent a lot of time and money tracking down copies of some of this stuff I downloaded because I am a vinyl FREAK!
Some bands that are impressing me lately are Circles Around The Sun. I really dig their vibe and the gusto it takes to march on and evolve after the death of a founding member.
I am always keeping an eye on what's happening in the SoCal world with groups like Mapache and FDWOW. Basically anything that Curation Records or Mexican Summer is releasing is going to get a first listen.
I've been watching Billy Strings for a very long time and he impresses me not only as a singer/guitar hero but as someone who respects the past in a way that enables him to break the rules and to innovate in what is traditionally a very closed system. His heart is in the right place too.
Kenny Roby is an incredible singer/songwriter who deserves more attention. Aaron Lee Tasjan is coming on strong and getting better with every new song he writes. Leslie Mendelson is a truly strong and impressive vocalist. Hayden Pedigo is the new John Fahey, and William Tyler and Ryley Walker continue to push electric guitar boundaries while Daniel Donato's Cosmic Country seems to be thrilling audiences everywhere. And beware of Andy Frasco and the UN: take shoulder pads and a raincoat to the show.
I first encountered many of these folks in the wake of Neal Casal's suicide and the subsequent recording of the tribute record Highway Butterfly. I couldn't be happier to have met them even under such mournful circumstances. I have always found that getting to know an artist personally gives me more insight into their work and therefore more appreciation.
The best music transports us and I always try to remain open to new forms of music but it's most important for me to listen to the close friends who help me continue to learn. It is one of the reasons I love working with young bands in the studio. I can offer them some of my experience in exchange for hearing what they have created and also what they think is worthwhile listening. I hope I never grow tired of it.
Even in the midst of an avalanche of new music sooner or later I'm gonna drop a needle on The Who's Live At Leeds or Iggy Pop's TV Eye and bash my head against the wall until the anxiety stops. Old favorites never lose their potency. header photo | joshua timmermans
Aquarium Drunkard is powered by its patrons. Keep the servers humming and help us continue doing it by pledging your support via our Patreon page. Only the good shit.