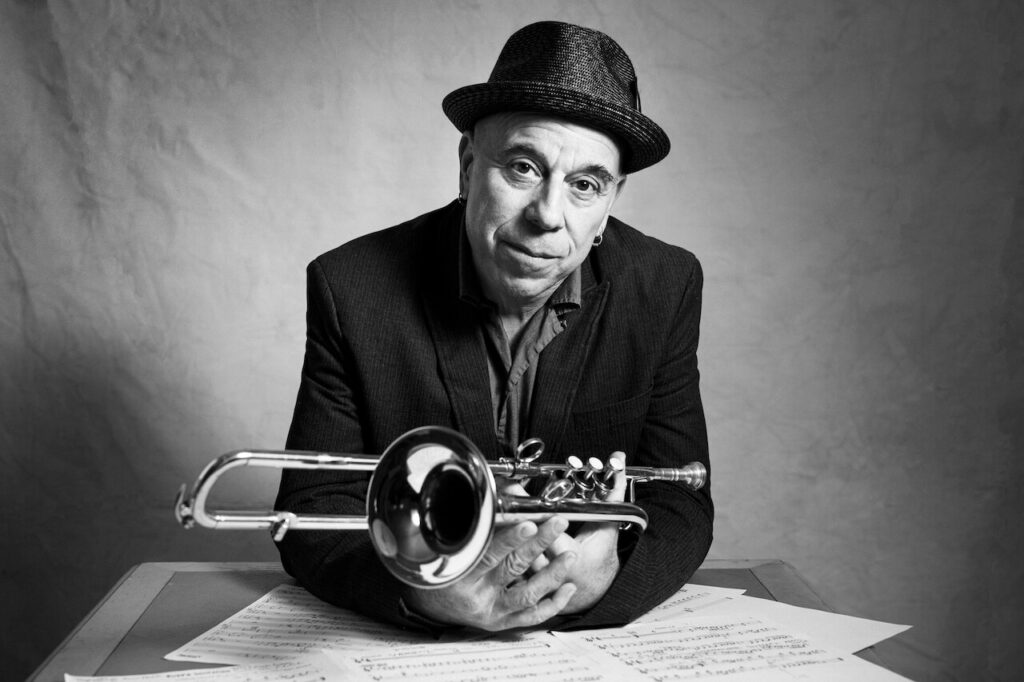 Steven Bernstein has played trumpet with everyone from Lee "Scratch" Perry to Lou Reed to ANOHNI, contributed to diverse film and TV soundtrack projects like Get Shorty and The Venture Bros, and generally been part of the fabric of the creative music scene in NYC since arriving there in the late '70s. Making a name for himself alongside fixtures like John Zorn, Bill Frisell, John Lurie, and the late Hal Willner. Bernstein's light on his feet approach and musical willingness to try anything has served him well, both as a sideman and a bandleader.
He's been especially busy in the latter mode. Between 2021-22, he released a four-album series titled Community Music with Millennial Territory Orchestra, and now, The Hard Way, the latest from his longrunning Sexmob combo. Joined by bassist Tony Scherr, saxphonist Briggan Krauss, drummer Kenny Wollensen, and electronics and bass player Scotty Hard, along with guest spots from John Medeski on the Hammond organ and Mellotron, DJ Olive on synths and turntables, and Vijay Iyer on piano, it's a dense, electronics-augmented jazz punk excursion. Fresh off the road supporting Laurie Anderson, he joins Aquarium Drunkard to discuss the new album, uniting the Sun Ra Arkestra with U2, the one time he had to tell Hal Willner "no," and share what working on Lou Reed's final solo rock album was like. | j woodbury
Aquarium Drunkard: The Hard Way is a really tremendous listen. I especially love "Fletcher Henderson." What relationship does that composition have to its namesake, IE, what inspired the title?
Steven Bernstein: The track that Scotty sent was a through composed electronic hip-hop musique concrète piece with multiple tempo changes and four basic sections. I wrote a a composition that moved through all the speed-ups and slow-downs, with the different sections being in different keys and flavors. We rehearsed the different sections in the studio and then just ran it once and did it in a single take. The feeling of the band vibing and playing along with speed-ups and slow-downs creates a kind of natural tension and elasticity. Listening to it, I'm reminded of the great Fletcher Henderson "warhorses" like "Nagasaki," that are so wild and exciting.
AD: You've worked with Scotty Hard plenty with Sexmob in the past, but this album finds you collaborating on a really intimate level, with him providing beats and a heavy electronic element. What excited you about working more heavily with drum programming?
Steven Bernstein: I loved Scotty's last album, and I've always loved the Hector Zazou/Bikaye album Noir Et Blanc. I've always wanted to something with that vibe…its been part of my DNA since the early '80s, dancing to Afrika Bambaataa spinning at Danceteria. I've always wanted to make something with that vibration, and Scotty made some magic that only he can do.
AD: You're someone who clearly possesses wide ears, and you are unafraid to jump around stylistically. What kind of relationship do you have to beat driven music? What are some of the pivotal hip-hop, rap, and/or electronic albums that are crucial to your taste?
Steven Bernstein: I'm 61, so I was hanging when a lot of this was being gestated. Early influences were Talking Heads, Fear Of Music, Byrne/Eno, My Life In The Bush of Ghosts, Sly & Robbie with Material, Afrika Bambaataa, Public Enemy, De La Soul, Digital Underground, Tricky's Maxinique, Dr. Octagon, Wu-Tang, Bony Bikaye and Hector Zazou, among them.
AD: "You Can Take a Myth" is another stand-out. Vijay Iyer makes for a great guest; were you able to be physically in the studio with him to cut that one? If so, what were your impressions of his approach?
Steven Bernstein: No, this was pandemic times, so he recorded it at home. I first met Vijay when he still lived in Berkeley—I believe he was a graduate student. It's the first time we've had acoustic piano with Sexmob. He found some magic, that's what he does.
AD: Anytime an artist who's even jazz adjacent uses the word "myth" in a title, it makes me think of Sun Ra, an artist Corbett vs. Dempsey has released great work by. When U2 played with members of the Sun Ra Arkestra, you were called into arrange charts for the performance. What did you think of that combination of artists?
Steven Bernstein: It was another fantastical and perfect Hal Willner moment. He called me on a Tuesday night—Wednesday morning—around 2:30 AM. "You around Sunday and Monday? I think we have something with U2 and the Arkestra at the Apollo." The Arkestra came straight from a gig in Australia to make the Sunday rehearsal. We had the seven-piece "Sexmob Orchestra" and sux members of the Sun Ra Arkestra, so 13 horns. U2 loved it…we had a big "Arkestra moment" where Marshall and Michael Ray went into the cosmos, and a great Sexmob-style R&B from outer space moment where James Carter took us to the church of the cosmos. Bono and guys were all welcoming and I think the size and power of the 13 horns fit great with the incredible U2 sound. It's available on a U2 fan club CD dedicated to Hal.
AD: What kind of experiences did you have with Sun Ra? Ever meet him face to face? If so, what were your impressions?
Steven Bernstein: I first heard him live in Berkeley when I was in high school (1978), but I used to hear him a lot of Friday nights at the Squat Theatre '79-81. Two of my favorite shows were in the summer of 1981 at the beach that used to be be on the West Side Highway. You had to scuttle over some dunes, south of Leonard Street. Full band, with surdo, electric guitar, and a greased body-builder in a speedo with a snake around his neck. Also, the show in Central Park summer 1984 at the bandshell. I never went up to speak to him, but the evening at the beach I was hanging with Lester Bowie, so I kind of got my ear in as close as possible while he was talking to Sun Ra.
AD: As you eluded, another longtime collaborator of yours was the late Hal Wilner. He seemed to have a magical touch, but he was also very game to try things that didn't make sense on paper. Did he ever suggest a project to you that just seemed too impossible to work?
Steven Bernstein: Everything seemed possible to me. That's why he called me! Sometimes the short amount of time to get a project done seemed impossible, but that was part of Hal's way. I'm sorry we never got to do the record he wanted to make with Solomon Burke and Diamanda Galas singing Jewish prayer music. Oh yeah, when Robert Smigel (Triumph The Insult Comic Dog) showed up at the Apollo 45 minutes before curtain, right after Donna Summer had just died, and he wanted to do "Last Dance" with the Kansas City Allstars big band (from the Robert Altman movie), with no chart and no rehearsal, I had to tell Hal that was impossible.
AD: Your session work CV is extensive and impossible to fully cover, but one album that really sticks out to me is Lou Reed's Ecstasy. It's my belief that's going to be one that people really connect to as the years go on, and that it's going to be remembered as one of Lou's masterworks. But it's not always easy to listen. What was the experience of recording that like? What was Lou like as a collaborator?
Steven Bernstein: So cool that you say that. Hal felt that was Lou's last true "rock and roll album," and was a masterpiece that didn't get recognized. It was the first time I met Lou, but he knew that Hal trusted me, so he gave me a chance. I knew he had strong opinions and a definite musical viewpoint, so I went in ready to do whatever was needed to make horns work in that context. Lou was not sure he needed horns, but trusted Hal. The very first piece we did, he cut it off. I had written a horn hook with a little funk on it, a kind of funky hit with a syncopated pop. Lou sang what he needed—bam—right on the beat. We played it like that, he got what the song needed and I learned a valuable lesson about respecting every distinct rhythm for what it is.
Then we did the second tune while he was taking a nap—Hal's idea. He woke up, listened to the second piece and said "Willner, I love this" I ended up working with him a lot. There was a great moment near the end of his life where he showed up at a rehearsal for a Jazz Foundation benefit at the Apollo—a different year than the Smigel one. He had been sick, and didn't show up until the last 15 minutes of rehearsal. We ran Ray Charles' "The Right Time" with Macy Gray and Dr. John on piano. I had to run over to Mac and discreetly ask him not to play the giant NOLA V chord on the turnaround—I knew that Lou liked the more basic rock & roll drone feel of the I chord. Mac looks up at me and growls, "I didn't play no V chord." Hal had asked me to also prepare a big band arrangement of "Perfect Day." The Apollo is a "union house" and break time is an absolute. There was three minutes left. Hal turns to Lou and says, "Steven wrote an arrangement of 'Perfect Day.'" Lou said, "OK, let's hear it." The band had just enough time to play it once. Lou looked at me and said, "You almost got it right, the trombones should follow the bass part on the bridge." So I went back stage, wrote the new trombone part, and we played it with Lou that night. He was an amazing spirit to be around. And he loved [saxophonist] James Carter. We had been talking about making a big band record with Carter and Derrick Hodge on bass. That would've been a wild one!
Only the good shit. Aquarium Drunkard is powered by our patrons. Keep the servers humming and help us continue doing it by pledging your support via our Patreon page.