We last checked in with Taper's Choice days before their first annual "Choice Fest" here in Los Angeles. Now, on the eve of the eagerly anticipated second annual event [Choice Fest, August 5th at Spoke Bicycle Cafe in Los Angeles], we reached out to the band to chart how things have grown and expanded, both in terms of fans and for themselves. If starting a jam band in your mid to late 30s sounds like a jump from a high dive, Taper's Choice themselves make it sound like a blissful day at the beach in a year full of warm summer days. | b kramer
Aquarium Drunkard: What is the state of Taper's Choice, right now, two years into the project?
Chris Tomson: "The fundamentals of the economy are strong." It feels like we've had a lot of paternity leaves already! So it has been almost two years – it just feels like less time somehow. We've had a lot of stuff cooking, maybe not as publicly, in the first half of this year. So now that stuff is kind of hitting simultaneously in these next several months, several weeks – all before we have another paternity leave.
It feels great. It's been a lot of fun having it just be a band name and a concept, and live show tapes – now I think we're defining a bit more, we're going on a tour, putting out an actual slab, as Dave calls them. It feels cool that we've had a couple of years to figure out what we want this world to be, and now we're starting to widen it out, and show a little bit more of it.
Alex Bleeker: I am both proud and excited of where we're at. We're about to throw our second annual festival. Second of many. We've got some other Taper's traditions we're looking forward to continuing in the coming months. We just announced we're going to be at Outside Lands, and we just played Peach Fest. So we've got a wook-fest and a serious indie-rock, Dave Grohl-adjacent fest under our belts, all in under two years as a band, without a single note of music on any conventional streaming platform other than Bandcamp.
Dave Harrington: I heard a rumor that Dave Grohl wanted to do "Sugaree" with us. He wants the Billy slot. Actually, I heard he wants the Mickey slot. That's what I heard.
Alex Bleeker: As a percussionist I think he'd be a great addition to the band. Chase that down.
Dave Harrington: Yeah, he said he'd only do it if I played bass . . . I don't know what that was about.
Alex Bleeker: You know, it's a Double Dave Test.
AD: Speaking of Choice Fest – what can attendees expect from Year 2?
Chris Tomson: Last year's Choice Fest was an awesome way to see and feel how our set went down within a larger context. And we had so much fun that we had to make it a yearly thing! Also, we read all the comment cards so now there will be a dedicated beer line and one more bathroom option, so it will basically be a perfect LA summer afternoon.
AD: You guys definitely have a great sense of humor about you, externally and internally. And you mention tradition – there's a certain amount or lore or story building you've done. But how has what you've envisioned, or saw as possible for this project, evolved over these two abbreviated years?
Alex Bleeker: From moment one, we set out to be a Jam band with a capital J. And the scale is quite large in that, pun intended, arena. We're doing it the only way we know how: lovingly, from within the jam community. It's guided our entire approach as a band.
Chris Tomson: It started with an email from Dave that said something like, "Are we starting a jam band or what? What's going on here?" Very explicitly. So, from before the jump, having that constraint – it's not a constraint – having that point of view, I thought made the explorations and entry point very fun and easy, very interesting to me. "Oh, that's what we could do here." I mean, I could talk for hours about what I think a jam band is or is not, but this idea felt really strong.
Dave and I are in L.A., so we did a get-to-know-you jam. After that I thought, "this is gonna be good!" And then, more on my end, could I do this? Because my musical history so far has been very arranged, parts, at least as a performer-player. Just feeling in those first 20 or 30 minutes, , "oh, wow! There's a whole world here." I called Alex, "come on, when you getting down here, man?"
Alex Bleeker: That sort of story illustrates the trajectory and feeling of this thing for me. Which was, I got an email or text from Dave, with Chris on it, asking if we wanted to start this. And when you play in bands, you get a lot of texts like that – not necessarily jam band, just, "Is this a band?" "Should we start a band?" People like to throw that around a lot. So I was like, yeah, awesome idea, but then got a call from these guys the next day, "No. For real. When are you coming down to L.A.?" That tells you something about this band: we might have a sense of humor, we might be funny, but we're not a joke.
AD: Is there something throughout this time that you've uncovered about your own playing, about what you like to play, or where you can stretch your limits, that has perhaps been a boon or surprise in your own creativity?
Dave Harrington: I can say that – Chris writes very challenging music. I do a lot of improvising, but I don't do a lot of learning other peoples tunes. And so one of the great things for me has been learning the challenging proggy stuff Chris – and Bleeker – writes. It challenges me technically, being in this band challenges me in ways that improv stuff that I've done doesn't. And there is a whole other approach to the collective jamming that has made me think about the other improv things that I do in different ways. It's definitely not the "You take a solo. Now YOU take a solo" sort of, jazz-tree approach. Even as someone who improvises a lot, being in this band has challenged me technically and made me think about improv in new ways.
Alex Bleeker: What Dave's trying to say is that he never knew how to strum guitar chords rhythmically before.
Dave Harrington: Still don't!
Alex Bleeker: But we're bringing him along with this band.
Chris Tomson: Sometimes we'll say we need a "Ripple" or whatever X example of that type of song. And like, "Is Dave gonna play that chord? Is he gonna strum? What's he gonna do here?" Those are questions that have come up a number of times.
Dave Harrington: There's this scene in The Doors movie where John Densmore, he goes, "Hey guys, I really think this would be greeeaaat with a Latin beat on it." I'm like that with a slide – like, "what if I played slide on it man? You know, it's got a lot of chords in it. Maybe this is a good one for slide!"
Alex Bleeker: I will say, I think this band has substantially challenged the three of us technically and made us grow. I know when I go back to Real Estate stuff – like for a weekend, as I did recently – it's like, "this is it? It's written out? No problem!" For Zach [Tenorio-Miller, keyboard maven for Taper's Choice], none of this is difficult for him at all. He's a prodigy. I said to someone the other day: I think he's probably the most technically skilled musician I've ever . . . seen. Let alone played with. Hands down. It's truly wild. I just want to shout him out for a second. Like, he toured with John Anderson of Yes doing Yes keyboard parts.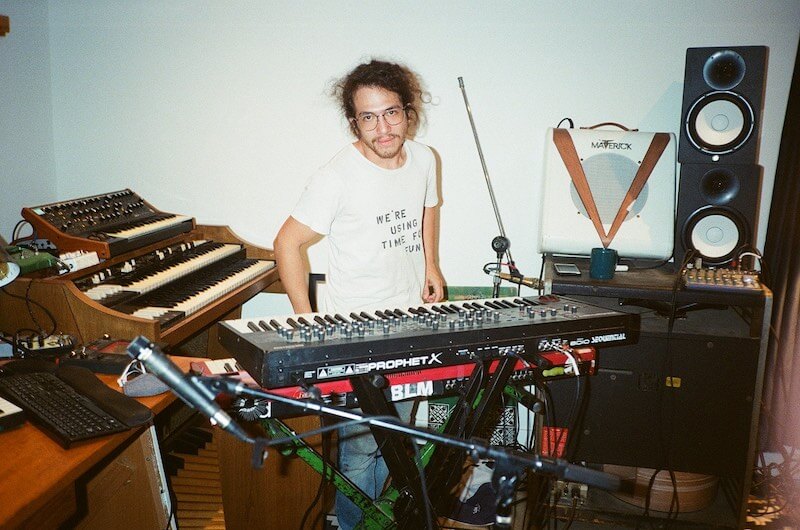 CT and DH: As a teenager! When he was like, 12!
Alex Bleeker: And so, Chris will bring in these really proggy things that – I'll come in having done my homework and be like, "I know exactly how to play this." And [Zach] is like, "Let me see? Ok, got it."
Chris Tomson: The funny thing – Dave met him and said, "I think this is the guy." And then we sent him the "Doner Wrap" demo that I was sending around to everyone, and pretty quickly then he sent back a video of him playing all the parts. Like, "Uh, ok, cool . . . I think this'll work!"
AD: Alex and Chris – you've have had an interest in the jam scene since you were teens. The jam scene of the late 90s, early 2000s – it transitioned along with greater culture, but it adopted digital, the web, early on. Be it the abundant message boards, tape-trading moving to .shn and .flac files, be in streaming. It was often at the vanguard of the wider music scene. It's not something that went away. As you have come back into jam, its scene – what do you think carries through?
Chris Tomson: The great thing for me, I think the window dressing and the mediums through which you can consume this music, like everything, is more direct. You hear the show that night, the next morning. As a general old-man thing, I could say "When I had to go search out shows it was more special" which is maybe true, but also just my personal perspective. I think the thing about the jam scene – having not been super deep in it for a while, and now being really back in, is that the in-person experience is very similar, with all of its attendant good shit and bad shit.
When we played Night 0 at Dicks last year [the band played the night before a three-night run by Phish at Dick's Sporting Goods Park in Colorado], and then just walking around Night 1, the parking lot scene – like, if you're in this lot, you're there for Phish. It's not New York City, MSG, in a city thing. It really felt like what I fell in love with as a teenager. That to me felt really cool. Yes, nugs.net has changed since I was downloading to burn shows on my external CD burner in 2001. But the core experience was the same, and that's what will always be awesome and why you see teenagers now getting into it. It allows the scene to remain strong, vibrant, and fucking cool. It's that an in-person show experience is the basis, and you can't change that.
Alex Bleeker: I'll piggyback off that and say: it's the same, and that online culture does exist. What Chris is saying is true, and it is what made us all fall in love with this world in general. When you're a young person and realize there's already an established community there, it's bigger than yourself. There's a history there. And so we've been actively welcoming that. And seeing people all over the country – and it's not that big obviously – but it's there and it's growing. People understand that we want to be a part of that tradition and are participating in it – we couldn't have done that without the internet. We're not on Spotify! For jam, it's quite traditional what we're doing, but for everything else it's really non-traditional.
That we can play a show and when it goes up on Relisten, it's almost like us putting out a new Choice Tape, or even a record. Every time we play is an opportunity to communicate with the people in front of us, and also the people who will hear it but are not at the show. That feels really cool. "Jam Community" still exists in the hellscape of online social community, and there can be some meanness- "Dead & Co. sucks" "Goose sucks" – but it's mostly naval-gazey, fun culture. And some of them are with us, and we love them. Even a bootleg shirt may be a part of that – it translates in-person. It's an area online where the cool, in-person element is emphasized. I don't think we could do this if we were a garage rock band, we couldn't find the same community.
Chris Tomson: And just for the record, the Dead & Co. and Goose quotes are apocryphal – like "people are saying . . ."
Alex Bleeker: Oh, we don't think that! Taper's Choice is not saying that.
Dave Harrington: Our hearts are open!
Alex Bleeker: I went to the not-last Dead & Co. show the other day and I had a fantastic time.
Dave Harrington: I heard a rumor that Mayer was coming to Choice Fest.
Alex Bleeker: I mean, if he's not resting in Montana, he's probably in Malibu …
Chris Tomson: I heard Dylan has an AirBnB in Frogtown, he's been getting coffee.
Dave Harrington: I've heard that.
Alex Bleeker: That is true.
AD: Oh, you guys aren't seeing this news today? They're starting a jam band with Grohl. They're hosting a fest in L.A., it's the same day as Choice Fest.
Alex Bleeker: It's John Mayer, Bob Dylan, . . . and Grohl?
AD: Yeah, but it gets worse: your keys player Zach is playing with them, too.
Chris Tomson: They poached Zach!
AD: You're young guys, but you have had and have careers in music already. Some have families, and presumably larger responsibilities. And yet . . . you've chosen to start a jam band.
Alex Bleeker: Full stop.
Chris Tomson: Yes!
AD: Vaguely . . . how has that been? There's a lot of love in this. How've you balanced starting a new project, building it, having to travel to play shows and be together . . . with some of you having kids, settling down? The path you're on will take you into your 40s as you try to grow this organically.
Alex Bleeker: I will say, as the one here without kids, this may not seem like this isn't our shoot your shot, world domination musical attempt – but it really is. This is just the only way we know how to do it. I don't think Top 40's gonna work for us, so we gotta shoot for three nights at Red Rocks or something.
Dave Harrington: Second. Strong agree.
Chris Tomson: It's a calculus that we all will have to do anyways with our various . . . side projects, as they are. [Everyone laughs]. Those things take time too! I can only speak for myself on this – and I've got two kids! – I think to be a good person, a good parent, I have to be the best person I can be. It's what I think is very powerful about it. In my experience, in this band and as a fan of this music in general, there's a lot of humor and good-naturedness on top, but there is something very serious, very heartfelt, that I deeply love about it. And I think that, for me, being in Vampire Weekend: the most we ever improvised – the last tour was a little different, but – in the first 10 or 12 years of our career, was we added eight bars to a song at Bonnaroo. We were like, "Ahh!! What are we doing?!" That was really stressful for all of us.
So to also do this, where these guys want to jam with me behind the kit – it's very meaningful to me and it is something that I would not take lightly. It's a very cool opportunity, and we're all gonna balance the best we can, and I feel it's also – we're not 23 anymore, we're not gonna be going on a 100-date tour . . . anytime soon. But the music, the universe we're tapping into is very powerful, and I love doing it whenever we can. It's something that is important enough that I want to. I'm only speaking from my own experience, but I feel like that's a shared feeling here.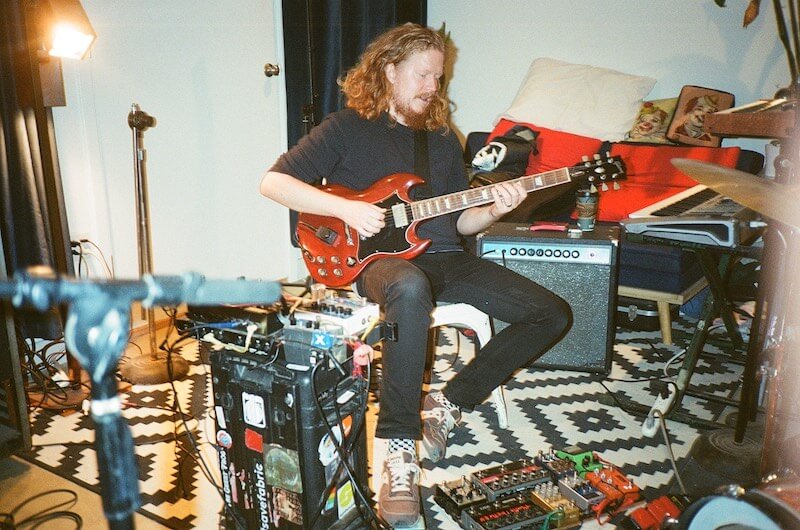 Dave Harrington: CT makes fun of me sometimes for acting like a "humble jazz man."
Chris Tomson: Dave is . . . but a humble jazz man.
Dave Harrington: But that is . . . kind of . . . When I first tapped into this scene, it was going to things in New York City like at the Knitting Factory or Tonic. Or The Beacon Theater, like when Phil [Lesh] was playing it, after he spent how many decades playing in arenas and stadiums. If you're just in it for the music, any day where you can play music instead of dig a hole is a good day, and this is a good way to do it. There are graceful and ungraceful ways to age as a musician, and I've chosen my path. This is definitively part of it, there's no expiration on the jam. You're never too old to jam!
Alex Bleeker: The scene is filled with old men!
Chris Tomson: And we're just slightly less old than them, which is good.
Alex Bleeker: I will say, very simply, that it is super fun. Everything about this project is fun. It's not difficult. With whatever buzz or community we've created for ourselves, I think it's all because you couldn't manufacture this. It's funny, I'll be transparent about this – my therapist was like, "What are your transferable skills from marketing this project?" And I'm like, "I don't know, because this is just real." You can't recreate this. I've had managers of gigantic bands be like, "how'd you get your stuff on Relisten, I've written and they won't write back." They're selective, not everything that goes on Archive.org goes on Relisten. And I have to say: "Frankly, I don't know. I didn't do that. That's a community thing." There's an organic joy to it – the thought of it being a slog is so far from my mind. The idea that we have to put in "work" here – it doesn't feel like that.
Dave Harrington: When we're rehearsing, it's like, "ahh, we gotta get back to rehearsing, we just spent an hour and a half eating sandwiches and talking shit." If we weren't having a good time together, then no one would do this.
AD: How have you found a communal language or your own footing in terms of what you write and contribute to this project, perhaps versus the other outlets that you may have?
Chris Tomson: It's all felt very natural. Some stuff has been very specific – like the "Doner Wrap"'s of the world – "I want to write this type of song, for this band, because I love this sort of song for this band". But other things – like the song "Darkness on the Edge of Midtown" was really within the first 10-minutes we played together. That was a loop I pulled out of a one-mic recording. We wrote some other stuff, added it on top, etc. Or it has been a demo or recorded solo that comes in, we all like it, and we work on it in the room but it stays like the demo. All the different ways have felt very natural – the end results has always felt Taper's in a way that has made sense. So far, we haven't forced one that hasn't just worked naturally.
Alex Bleeker: We found out that we're good at writing collaboratively together. We found that out very early on. Our catalog has been growing slowly and is about to grow a lot more.
The first show we played – we had to have enough songs to play the show! So we did a very intensive, "we need at least eight songs" writing session together. Early on, I was moved by the fact that there was very little ego. There is a truly a lot of the three of us writing together – I'd bring something, and say "Here's a part of this song that I've had for a little while. I like it but when it goes to the five it kinda sucks. How do we fix that?" And it turns into a thing that I couldn't have written myself, by definition. It's been the three of us contributing to this thing, and I feel that since early on – setting the intention that it is a shared creative project – it has worked really well. Everybody wants it to be the best it can be, for all of us. Nobodies precious about it. A careful match of egos is really important. I've always been in projects where, "We're a band, but it's really this person's band, really . . ."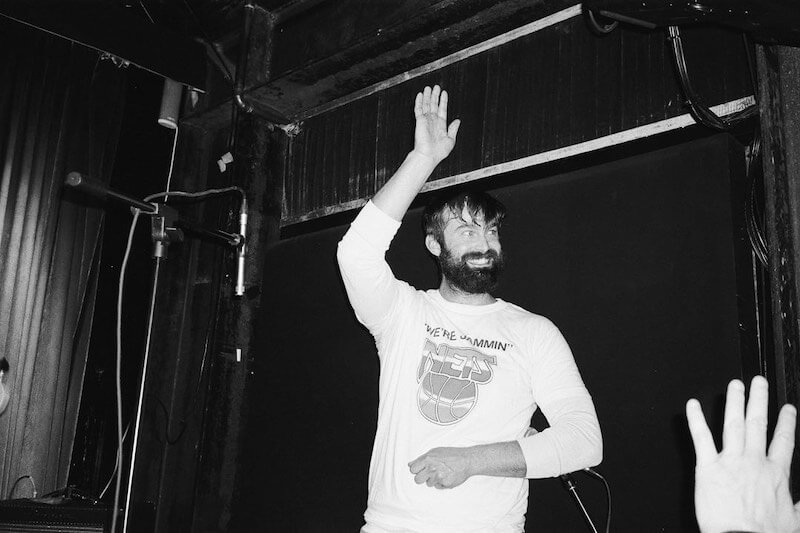 Chris Tomson: And none of us are that person.
Alex Bleeker: That's true, and that's the fun thing. You could call us a supergroup, but we're all sidemen. [Everyone laughs]. It serves us in our collective writing. We just have different modalities as a band – there's what we do live, there's what we release on the Choice Tapes series, and now this LP that's coming out. And Dave's particularly skilled at constructive production, which is a whole other mode that feels like this band has and can explore, which is really fun.
AD: Is there music you were not previously hip to or interested in that either this project or working together and becoming closer friends has exposed you to?
Alex Bleeker: Really been trying to get these guys into Yo La Tengo, I don't think it's gonna take, though. But I would say yes. Zach is into Brazilian music and Brazilian jazz of all stripes and is constantly bringing that to the table. It's a music that I'm predisposed to liking, but my knowledge of it has gotten deeper. We're all coming with a certain appreciation for the Dead, but obviously this band, largely, doesn't sound like the Grateful Dead at all. But I'm coming from that universe, having been in bands that have done Dead tunes. The prog-jazz fusion of this band – I like Yes, early Genesis, Herbie Hancock, but it's pretty surface level – these dudes have pushed me deeper into that which has been cool for me.
Dave Harrington: This has just brought me back to a deeper appreciation for The Phish. I seem to get given that every five to ten years. Last time it happened was when a friend had a spare ticket to the Lemon Night during the Baker's Dozen (Phish's 13-night residency at Madison Square Garden in 2017). And that was a very beautiful experience for me. And then it happened again happening with the fellas here. We all went to see The Phish at the Santa Barbara Bowl.
Alex Bleeker: They played a very scary musique concrète second set just for you, Dave.
Dave Harrington: Yes, speaking my language, reminding me that anything's possible under the Sign of the Jam.
Playing with these guys, and listening to that music, knowing how deep of a connection they have to it, made me understand it better, and understand other ways to jam that are very specific to what they do. I'm going a little musicologist on it – but as someone who comes at it a little bit more from an Allman's, or [John] Scofield, or partly a Jerry perspective, hearing how Phish does it, it's very different, especially in the extended jams. It's definitively brought a me a deeper desire to understand and chase that.
Alex Bleeker: They've always been an impressive band to see, but actually trying to do something like that, it makes me more locked in: "What's their methodology here?" Because there are methodologies. It makes it more of a study. I just saw six Phish shows in California, which is the most I've ever seen in a row – I'm fully back in. I've always been into the music, but it's been fun to pay attention from that kind of perspective. They just get more and more impressive.
AD: It's been awesome – personally, as someone who likes all we share here on Aquarium Drunkard, as well as the larger jam scene – to see people at shows of yours whom I did not know I had a commonality with in terms of being open to whatever "jam" means to them or me. And maybe they came to it from that background, or because they're fans of other things you do. How has your experience been to watch this small community develop around Taper's Choice?
Alex Bleeker: What small but growing Choice community is out there is just . . . bless those people. It is giving us so much life. It's so fun. It's so amazing that any of it even exists at this stage at all, this early stage. There shouldn't be so much division between someone who is a fan of the band and the band itself. To sort of Dave's point there: "Join us." It really is "us." There are names of fans whose social handles I can espouse here who are more than just fans of the band at this point. Who've taken it upon themselves to be archivists and proselytizing. People have flown for shows! And people have made bootlegs – I have four or five bootleg Taper's Choice shirts in my closet right now and I'm definitely collecting all of them. One is just a shirt from a thrift store with an iron-on that says "100% Sold on Taper's Choice" on it. And I love it. There's a spark of a real community here, and that's the whole thing for me. I love it so much. Bootlegging strongly encouraged – strongly. Of all varieties.
Chris Tomson: I've had a couple of cool moments where, largely at jam events but sometimes randomly in Los Angeles at large, I've seen Taper's Choice shirts, and it thrills me to no end. I saw one at a Best Buy once, like two days after the inaugural Choice Fest last year – couldn't believe it. Here's a Taper's fan at Best Buy! I went to a Goose show at the Greek, and I saw three Taper's shirts.
If I could describe the goal and intent of this band – it's to be a part of this community. Both embracing it, critiquing it from the inside – it's a community I deeply love and care about. To see that naturally take root – and come about when I'm in that community as just another person – has been so awesome. I hope that community grows. But even if it doesn't, it's still been a massive win for me personally both as a fan and an artist. [Jokingly chokes up] It's the pleasure of a lifetime to play with these fellas, man.
Dave Harrington: It is!
Alex Bleeker: It is! I will say, I still go to a lot of Phish shows. I went to the big Grateful Dead community event in San Francisco a week or so ago . . .
Chris Tomson: As already noted, he's the one who doesn't have kids.
Alex Bleeker: That's true! There used to be maybe one person, one time, when I was at a three-day run of shows, where someone might come up and say, "Hey man, Real Estate is cool! Thanks!" And now, a lot more "Taper's Choice!" That's just . . . that's it. It truly is our intent to be a part of this community and it's so cool to see it happening in whatever small way.
Chris Tomson: We met a gentleman from Florida who was walking into night one of Dead & Co. in San Francisco. The show had started, Shakedown was quieting down, and we were headed to our soundcheck [for an after-Dead & Co. performance in S.F.]. And he goes, "The Taaaper's Choooice brooos!" He'd flown in from Florida, sees Zach, and was like, "this guy, are you for real, dude?!" The perfect guy to have both heard about us and be into it. It was a truly special moment. And then we played a great show that night. Not sure if those two things are connected, but I'd like to think so.
For heads, by heads. Aquarium Drunkard is powered by its patrons. Keep the servers humming and help us continue doing it by pledging your support via our Patreon page.