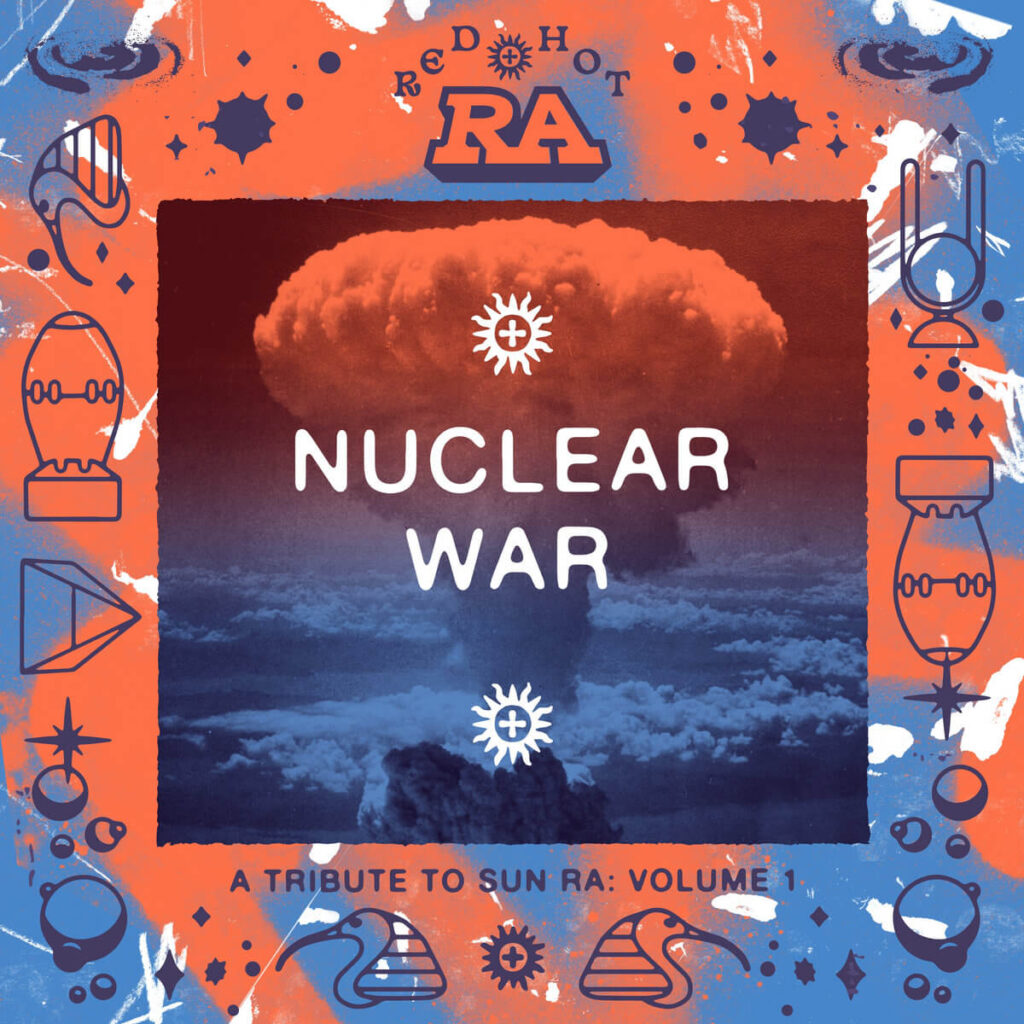 The Bomb is in the air. Credit Christopher Nolan's Oppenheimer, with its visions of atomic annihilation at Los Alamos, and its offscreen depiction of the horrors of nuclear death at Nagasaki and Hiroshima. Those twin detonations may have ended the second world war, but they ignited a new age in which people around the world, but especially Americans, projected their fears onto the sky. After all, UFOs first entered the mass-mediated American consciousness when aviator Kenneth Arnold saw nine unidentifiable silver spinning disks over Mount Rainier, Washington, on June 24, 1947, early in the newly christened Atomic Age. It was a new era, and UFOS and atomic weapons were intertwined in the American imagination. The sky was now the domain of the unknown threats.
But for some, the Space Age had arrived early. Like the Theosophists and other outré spiritual adventurers in the literature he consumed voraciously, Sonny Blount didn't even need a spaceship to journey off world. Blount was 33 years old when Arnold's sighting properly ignited the UFO Age, with sightings and abduction stories to follow. But Sonny, who legally christened himself Sun Ra in 1952, had been abducted a decade earlier, selected by extraterrestrial beings for his "perfect discipline" while studying in Huntsville, Alabama in 1936 or 1937. 
He was transported to Saturn, where the limits of human imagination were unlocked to him. Like Christian mystic Emanuel Swedenborg before him, who traveled via astral planes to far-off planets, what was revealed to him in this outer zone would fuel his prodigious artistic work flow to follow, resulting in a mammoth archive of recordings—live, studio, and other—plus lectures, poetry, visual art, and films, all suffused with mystic and technological imagery, Afrofuturism informed by the notions of space travel, creative freedom, and an apocalyptic worldview.
Ra's band, which he ran like a mystery school, continues on without him under the direction of the 99-year-old Marshall Allen (Ra passed from this realm in 1993), but moreover, his work remains profoundly influential. And few single songs yield themself to new life his "Nuclear War," Ra's 1982 X-rated underground cult hit "Nuclear War," a song inspired by Ra and the Arkestra's proximity to the Three Mile Island power plant, affording a close view of the plant's partial meltdown in 1979. The closeness to the event yields first hand urgency, but Ra had been considering the magnitude of atomic weaponry for years. In the Kicks Books edition of This Planet Is Doomed: The Science Fiction Poetry of Sun Ra which collects poems written between 1957-1982, Ra ponders:
And so the world
Comes to its end
But what is the end?
The wide cast gathered here, including avant-R&B singer Georgia Anne Muldrow, trumpeter Josef Leimberg, punk jazzers Irreversible Entanglements, cosmic reedist and vocalist Angel Bat Dawid, vocalist Malcolm Jiyane Tree-o, Grandmaster CAP, and remixers Dennis Bovell, Rich Medina, Moon Medicin, Sanford Biggers, Joel Tarman, and the Kronos Quartet unite to explore, expand, and reinterpret that question on Red Hot & Ra: Nuclear War and Red Hot & Ra: Nuclear War (Remixes), the first two installments in the Red Hot Organization's Red Hot & Ra tribute project.
The approaches slide to the side of reverence, often using Ra's sardonic song as a jump-off point for original music. With "Nuke's Blues," Anne Muldrow croons a laidback future-blues, her vocal hovering over a churning groove and Leimberg's hazy trumpet bursts. For her contribution, Angel Bat Dawid creates a layered, three-part symphony, opening with a gospel-style ode, "The Cosmic Bypass," before segueing a piano-led recitation of the Ra source text, and finishing up with another mournful wail titled, tellingly, "Kiss Yo Ass Goodbye." South African bandleader Malcolm Jiyane Tree-O brings a sense of deep time to his "We're Not Buying It," which recounts nuclear tragedies, from Hiroshima and Nagasaki to Chernobyl and Three Mile Island. There's a ranting, unhinged quality to his work here, contrasted by tight, in the pocket funk runs.
The Remixes expand on these themes while introducing more novelty into the mix. Dub titan Dennis Bovell remixes "We're Not Buying It," adding ghostly pulses and washes of echoing vocals. Best of all is Joel Tarman and Kronos Quartet remix of Sun Ra's original, which utilizes vintage atomic bomb instructional films created for 1950s school children and choppy drum breaks. "You'll know when it comes—we hope it never comes, but we must be ready" warns the disembodied voice of post-war authority.
To be sure, there are no UFOs and UAPs on Red Hot & Ra: Nuclear War, but even as historic hearings discuss "non-human biologics" and people flood theaters looking to escape the summer heat for three hours of Oppenheimer, it seems the topics remain stubbornly entangled. Consider David Lynch and Mark Frost's intimation that the atomic bomb tore open a hole in the fabric of reality, or noted UFO researcher Jacques Jacques F. Vallée's work on the connections between the Trinity testing ground in New Mexico and extraterrestrials; or stories of UAPs shutting down nuclear warheads. If the universe is much bigger than we know, big enough to encompass untold kinds of outside intelligence, perhaps it's time to let go of the kind of mutually assured destruction security promised by the bomb, to embrace the kind of gnosis, knowing, that Ra speaks of existing in his music. "There's a right road, they're going the wrong direction there," he promises over Bat Dawid's pulsing "Oui Ennui Cosmic Off-Ramp Ouimix."
Listening to Red Hot & Ra: Nuclear War, it's easy to imagine it all ending in fire and ash, especially when Irreversible Entanglements embark on a nearly 20-minute maelstrom of apocalyptic noise. "If they push that button," Camae Aweya (aka Moor Mother) repeats as the band represents fallout ash underneath her recitations. But the Sun Ra presents many possibilities, other potential outcomes. "Out of every nation, they shall rise," Bat Dawid promises, over swelling Twin Peaks style synths. "To journey through the darkness..to the intergalactic dawn." Perhaps the end, as Ra might say, is just another kind of a beginning. | j woodbury
Oh, and if you're looking for more "Nuclear War," the ever reliable Yo La Tengo has you covered.
For Heads, by heads. Aquarium Drunkard is powered by its patrons. Keep the servers humming and help us continue doing it by pledging your support via our Patreon page.