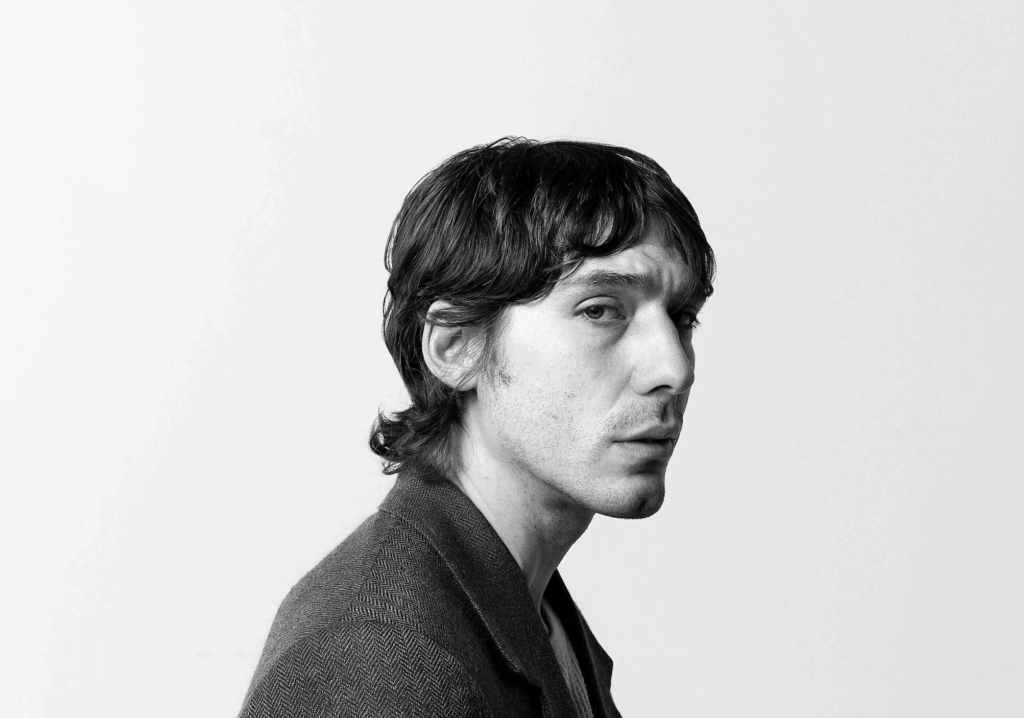 Los Angeles singer/songwriter Sam Burton isn't trying to "reinvent the wheel" with his sophomore album, Dear Departed. Crafted in collaboration with Jonathan Wilson (Margo Price, Angel Olsen, Father John Misty) in Laurel Canyon, the follow-up to 2020's  Jarvis Taverniere-produced I Can Go With You incorporates familiar and trusted elements—think Nick Drake at his most windswept, Leonard Cohen in a slightly sweeter mood, or a less rhinestoned Glen Campbell—but Burton presents his own vision, an unhurried and gentle sight at that. "I took the long way around," he sings on the beautiful "Long Way Around," a soulful, George Harrison-styled ballad that served as the record's North Star. Burton joined us to discuss teaming up with Wilson, his roots in rural Utah, and finding a newfound appreciation for the '90s pop country he grew up hearing. | j woodbury
Aquarium Drunkard: You played a residency at Gold-Diggers in July. Something I really like about Gold-Diggers is how it maintains all these ties to the past. It feels historical but modern too. With Dear Departed, you and Jonathan Wilson evoke the sounds of the past, but feel tied to the current moment. Could you tell me a little bit about the vision you had for the sound of this record? 
Sam Burton: I bet a lot of people say this, but I'm honestly not trying to necessarily make "retro" music. I take nods from the stuff that I listen to and it just so happens that I mostly listen to older stuff, you know? If I heard the strings on Nick Drake's "River Man" or something, it's like, "Damn, that's amazing, I want to try and do something like that." It's funny, when I talk to my contemporaries or whatever, they'll say, "I wanted to make [my music] more modern, so I added some synthesizer to it." And I'm like, "There's just gotta be another way." [Laughs]  I'm not necessarily trying to reinvent the wheel. Rock, folk, and country music—it's all self-aware of the fact that it holds hands with the past. I didn't necessarily have a concrete vision for the record, because I didn't want to get in the way of what it would end up being. I kind of let the band do their thing on it, 'cause it was recorded live, you know?
AD: When you say you kind of wanted to let the album reveal itself, does that mean you came to Wilson with the songs mostly written but not arrangements? Or just lyrics or chords?
Sam Burton: All the songs were written. I decided to give them to him in the most stark form possible because I wanted him to be able to have a vision for it as well. Any time I share something with the label or anyone, I try to present the song as bare as possible. I feel like if they can get it where it's just the song on a cell phone recording, then they're gonna get it, you know?
AD: Obviously Jonathan Wilson is a great collaborator. What drew you to working with him?
Sam Burton: It was suggested to me by the label, I think. I didn't know who I wanted to work with, I was talking to a few people, and everyone I was talking to was more than capable of doing it [but] I just didn't know, 'cause I'm pretty green with it all. I didn't know what the process would be like or what to expect. So I just kind of based the decision off of the vibe of the conversation that [Wilson and I] had. He was just chill, confident, and cool. He's incredibly smart musically. I had no idea how vast his knowledge is and how capable he is. 
AD: Were there moments early in the session when you knew, "OK, yeah, this is going to work?"
Sam Burton: I showed up there and I hadn't met him before. He had like six people there as the band. I showed up and they were ready to go. It was so immediate. He was like, "Well, let's start." I was really intimidated. I don't like to use headphones when I'm tracking, so I was in an isolated room and he pumped the drums through a guitar amp so I could hear the rhythm. I just sang, played the song live, and I couldn't actually hear what the band was doing on it until I went into the control room. I heard it back and I was like, "This is amazing." [Laughs]
AD: I imagine some producers would be like, "No, you're wearing the cans." It's cool he was down to accommodate your approach. 
Sam Burton: He's a songwriter first, honestly. He's an artist, so I think he understands that every artist is goofy. We all have their own little peculiar way of going about things.
AD: I wanted to ask you a little bit about growing up in Utah. You grew up outside of Salt Lake City?
Sam Burton: I was born in Ogden City. It's a cool city with tons of immigrants. It was a railroad town. My mom's side is from Italy, and they moved down there for that, to work on the railroads back in the day. It's a kind of different culture than the rest of Utah, at least from what I've experienced. Then we moved north of Plain City, into the middle of nowhere when I was a bit older. It was a basic small town. Everyone had riding lawn mowers they would name. There were horses around. It was cool, I just played outside all the time. My parents wouldn't allow me to be inside, so I would just go explore, spending a lot of time by myself too. II didn't know a lot of the kids and stuff, so I would just kind of wander around. 
AD: Do you think that all that wandering around increased your capacity to spend time in your head or your imagination? IE, the place where songs come from?
Sam Burton: It must have. My parents were extremely strict. I was always grounded, 'cause I did really bad in elementary school and junior high. So I was constantly stuck in my room—and if I wasn't grounded, I could go outside. I spent tons of time alone and music ended up being a really therapeutic thing for me. I found a lot of my identity through that.
AD: You found your stepdad's guitar, right?
Sam Burton: I found it in the closet and I asked him to play it, and he said no. But I would sneak it out while he was gone. And I started to kind of carve an identity out through that.
AD: What do you remember about that guitar?
AD: It wasn't a Silvertone, but it was like that shape.
AD: An electric?
Sam Burton: Yeah, he didn't even have an amp. I just played it unplugged. He was actually a touring drummer before, but we never talked about that. He never played the drums until they were getting divorced. But I was just snooping one day while they were gone and I found it. [Laughs] It was actually a lefty guitar. He said not to play it but I did, I figured out some chords—funny ones, cause they were upside down. And eventually I showed him, and confessed I'd been sealing it. I think he was actually impressed by that, because I hadn't shown any discipline or direction at all. So they asked my uncle, who had a few guitars, if he had a kid guitar. He gave one to me and I started writing songs immediately.

AD: What kind of stuff did you first learn to start playing? 
Sam Burton: It was back before you could look up YouTube videos and stuff and I didn't go buy song books or anything like that. My stepdad got me a book on theory and but it felt more like school, so I kind of rejected it. Growing up, there were times when I lived with my grandpa, and he was always playing records in the house. He'd play 'em really loud and like jam 'em: The Eagles, Fleetwood Mac, Jim Croce, The Beach Boys, that was always playing, so those songs were in my mind. My mom listened to nineties pop country—there are some bangers in that genre. 
AD: I think we're just in the zone now where everybody's starting to recognize that a little bit. We all grew up hearing those songs, and then one day you realize, "That was like a really well-written song." [Laughs]  
Sam Burton: No doubt. I heard this Randy Travis song pop up the other day. I was like, "Damn, this is really good," you know?  But as I got older, I got into more alternative things. My brother took me to a Bright Eyes show and that really gave me a sense of direction. 
AD: You've played with other people too, with Jess Williamson and with Sylvie. Do you find that after working a session or playing a tour, you get charged up to work on your own stuff? 
Sam Burton: It can work both ways. Sometimes you're working with someone else, you're serving their project and collaborating, and you think, "My stuff is so boring! Maybe I want to try something like this." And sometimes it works the other way, where you're excited to work on your own stuff. It was only when I parted ways with Sylvie that I decided to put my own stuff first.
Only the good shit. Aquarium Drunkard is powered by its patrons. Keep the servers humming and help us continue doing it by pledging your support via our Patreon page.