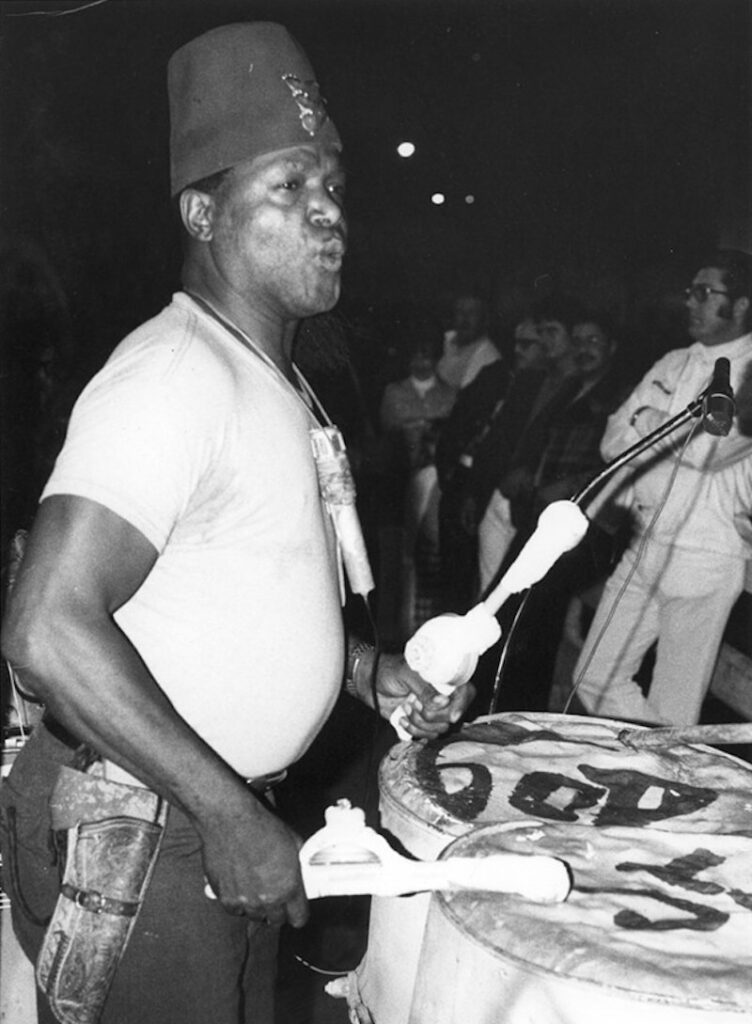 Though seemingly lost to history, 'Bongo Joe' was one of the best street performers to have ever graced a sidewalk – a musical genius, true outsider artist, DIY instrument builder, and poet-philosopher whose legacy has gone painfully neglected save for those lucky enough to witness his performances. Using a set of discarded oil barrels, a DIY PA system, and custom mallets, Bongo Joe transfixed street audiences across Texas, first performing in Houston, then Galveston, next Fort Worth, and finally San Antonio, where he set up in front of the Alamo for decades.  While primarily known as a street performer, Coleman also played New Orleans' Jazz Fest nine times, including a performance with Dizzy Gillespie.
"He had these metal pipes with various sizes of BB shot inside," recalled Quint Davis, director of the New Orleans Jazz and Heritage Festival, in Coleman's 1999 San Antonio Express-News obituary. "They were taped onto his drumsticks, and he also had soft heads on his drumsticks. He could hit the drums, which were 55-gallon oil drums, and maintain a maraca rhythm with the pipes. He was a real talent. He wasn't just a curiosity. Since he was such an unusual character, I think people didn't realize how good a musician he really was. Dizzy Gillespie obviously did. Bongo Joe had this incredible drumming, incredible social commentary and this weird whistling. It had a real quality and depth to it."
Accompanying himself using this unconventional percussion technique, Coleman improvised songs fusing humor and philosophy — withering critiques of hypocrisy, ruminations on human foibles or comments about random passersby. "I rap — but not that bullshit they're putting down now. I play fundamental beat music," Bongo Joe told researcher Pat McMullen in 1991.
Bongo Joe, born George Coleman, traveled the country during the Great Depression, eventually landing in Detroit, where he backed up a pre-fame Sammy Davis, Jr. After a stint in the Air Force, Bongo Joe landed in Houston where, like numerous others before him, he was 'discovered' by legendary TX folklorist Mack McCormick — the one who actually cut the power on Bob Dylan at the 1965 Newport Folk Fest (not Pete Seeger with an axe, as is the legend).
McCormick's field recording of Bongo Joe, "This Old World is in a Terrible Condition," released on 1960's A Treasury of Field Recordings. Vol. 2: Regional and Personalised Song, is a field recording masterpiece. "An accidentally postmodern rant on the state of the world that would have made Rahsaan Roland Kirk proud, and the kind of neighborhood that Tom Waits has been renting a place in for years," gushes Allmusic.
Chris Strachwitz, founder of Arhoolie Records, was also smitten by the track. Strachwitz sought out Bongo Joe and recorded his only album — live in folklorist Larry Skoog's living room (with Skoog's two children the audience.)   "Nobody took him seriously," Arhoolie's Strachwitz said. "He was just a street entertainer. But he was absolutely brilliant."  The resulting album is an absolute classic and even had a surprise hit, with "Innocent Little Doggie" receiving significant play on BBC radio.
In 1972, San Antonio filmmaker George Nelson shot Bongo Joe, a 22-minute 16mm short film that shows Bongo Joe performing at the height of his powers and talking about his craft. Long presumed lost or damaged, the clip was recently unearthed from the Institute of Texan Cultures' archives.
"If a thing is not elevating or progressing, it ain't alive," Coleman said the 1972 film. "You ain't living if you ain't doing … and if you ain't progressing, you ain't living. And, of course, if you ain't doing, you're dead. You'd be surprised at the walking dead we stumble across daily." | b baird , photo via Institute of Texan Cultures
Only the good shit. Aquarium Drunkard is powered by our patrons. Keep the servers humming and help us continue doing it by pledging your support via our Patreon page.