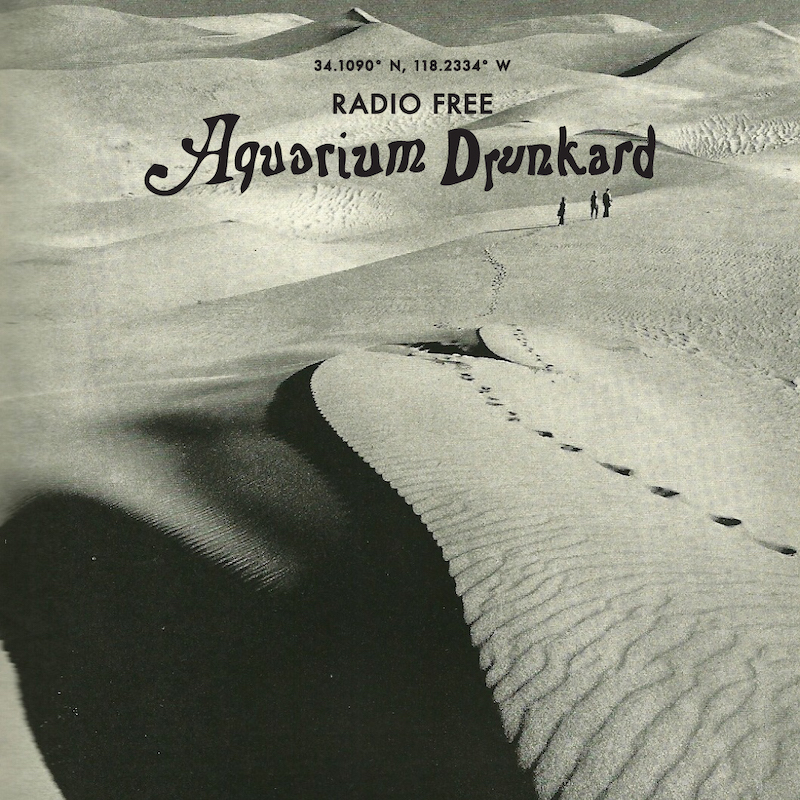 Frequencies in flux, it's Radio Free Aquarium Drunkard on dublab. This month, Chad DePasquale drops in with New Happy Gathering, featuring a blend of rustic sounds, lo-fi gospel, and electronic psych-pop. Then Jason P. Woodbury's Range and Basin, featuring slo-mo rock & roll, surf-tinged pop, and spaced out psych. Then Tyler Wilcox arrives with Doom & Gloom from the Tomb, indulging the "tune in/zone out" region with about an hour's worth of one of Wilcox's favorite songs: "By This River" by Eno/Moebius/Roedelius. Hypnotic! To close, The Vacant Lots share a mix of songs that influenced the chrome plated retro-futurism of their album Interiors. 
New Happy Gathering with Chad DePasquale: Harmonic Sounds Band, "Untitled Studio Moves ++ Shirley Drumgole & Magic Touch, "My World of Fantasy" ++ Norma Tanega, "Now is the Time" ++ Coleman Family, "Peace on Earth" ++ Sylvester, "God Bless the Child" ++ Gloria Ann Taylor, "Tough Suzanne" ++ Rikki Ililonga, "Musamuseka" ++ Sarah Webster Fabio, "If We Came As Soft Rain" ++ The Holy Light JR's, "Love Hides All Faults" ++ Little Ed & The Soundmasters, "It's a Dream" ++ Blossom Dearie, "I Like London in the Rain" ++ The Rising Storm, "A Message to Pretty" ++ Donnie & Joe Emerson, "Take It" ++ The Durutti Column, "G & T" ++ David Vorhaus, "The Jamaican Digital Blues" ++ Kid Creole, "Off The Coast of Me" ++ The Roches, "Come Softly to Me" ++ Marine Girls, "A Different Light" ++ Wire, "Outdoor Miner" ++ Blind Dead Timmy + Lee Baggett, "Just a Minute" ++ Pep Laguarda & Tapineria, "Alceu-Vos, Xe, Que Ja És De Dia / Sent"
Range and Basin with Jason P. Woodbury: Michael Krassner & the Basineers, "Theme From Range and Basin" ++ Maximum Joy, "Let It Take You There" ++ Alexander Ortolan, "Elsa la rose" ++ Wildflower, "Seabirds" ++ Hataalii, "Male Rain Days" ++ Psychic Temple, "Don't Try" ++ JPW, "Wealth of the Canyon" ++ Acetone, "No Need Swim (Demo)" ++ Steve Roach, "Flatlands" ++ Rainer, "Oasis" ++ Prairiewolf, "Lunar Deluxe"  
Doom and Gloom from the Tomb with Tyler Wilcox: Brian Eno, "By This River" ++ Hans-Joachim Roedelius, "Skizze 4 von By This River" ++ Mari Samuelsen & Konzerthausorchester Berlin, "By This River" ++ Mary Lattimore, "By This River" ++ Sergio Sorrentino, "By This River" ++ Martin L. Gore, "By This River" ++ Elena Somaré, " By This River" ++ Console, "By This River" ++ Bruce Brubaker, "By This River" ++ Speed The Plough, "By This River" ++ Giampaolo Capelli, "By This River" ++ Jefre Cantu-Ledesma, "By This River" ++ Alva Noto + Ryuichi Sakamoto, "By This River (Phantom)" ++ Roedelius & Jean-Benoit Dunckel, "Silencio, Pt. 7 (By This River)" 
The Vacant Lots: Sounds of Interiors: Oppenheimer Analysis, "Subterranean Desire" ++ Earth to Mickey, "Brace & Brit" ++ The Human Leagues, "Seconds" ++ Vera, "Love Comes Easy" ++ Cold Caves, "Night Light" ++ Iggy Pop, "Family Affiar," Depeche Mode, "A Question of Lust" ++ Donata Dozzy/Anna Caragnano, "Parola (Rework)" ++ Zongamin, "Underwater Parymid" ++ Marie Davidson, "Exces de Vietesse" Shawty Pimp featuring Reddog, "You Better Recognize" ++ DUI – Slim Guerilla, "DUI" ++ Media Mutante, "Frozen City" ++ Sisters of Mercy, "First and Last and Always" ++ Iggy Pop, "Hideaway" 
Only the good shit. Aquarium Drunkard is powered by our patrons. Keep the servers humming and help us continue doing it by pledging your support via our Patreon page.