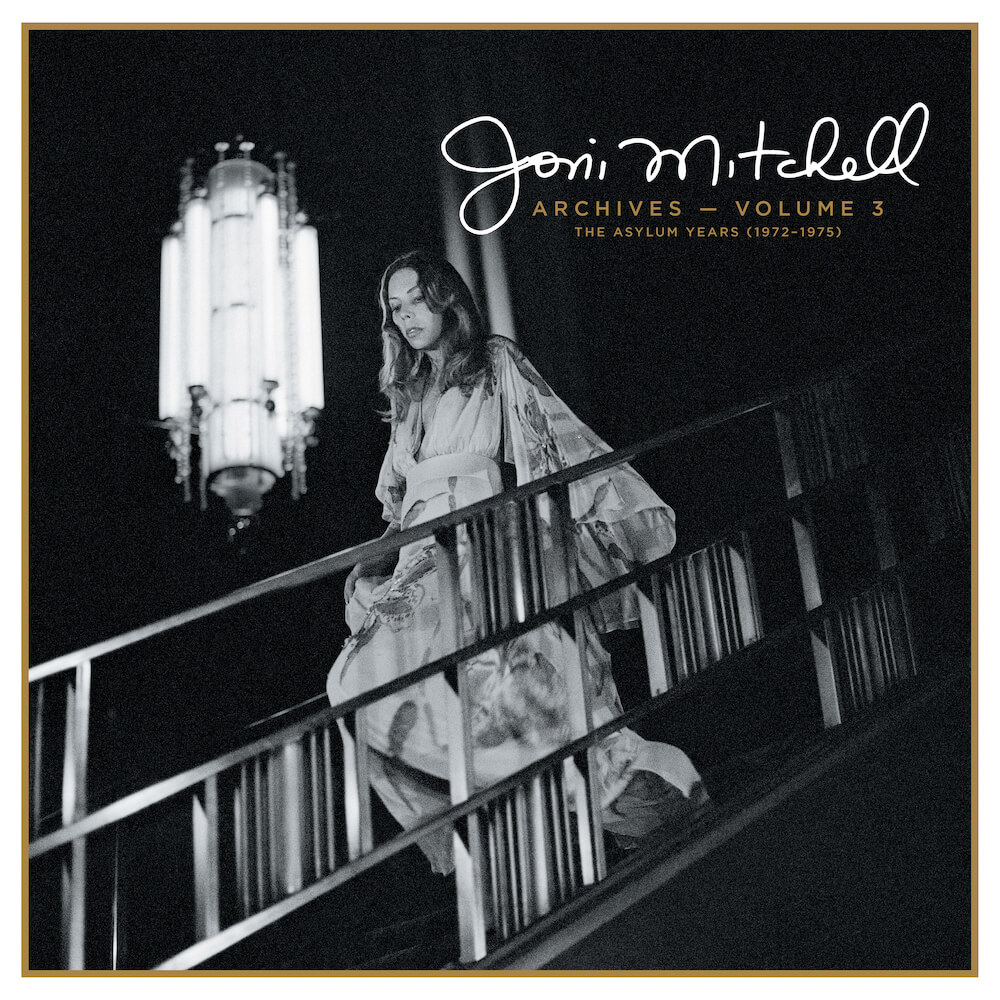 The early '70s mark a high point for Joni Mitchell. Riding high off the success of 1971's Blue, Mitchell followed up with 1972's For the Roses and had a crossover smash with '74's Court and Spark before starting her turn to jazz-informed rock with '75's The Hissing of Summer Lawns. In some ways, we're still feeling the impact of this run: without this path, could Taylor Swift have made a similar move with records like 1989 or Midnights? What about Liz Phair or Madeleine Peyroux?
By dabbling in outtakes, demos, and live cuts, Archives Vol. 3 tracks this evolution, right down to the dead ends and paths not taken. The studio tracks offer fly-on-the-wall glimpses into Mitchell's working process. She dabbles in styles, from a country-fried version of "Raised on Robbery" she recorded with Neil Young and the Santa Monica Flyers, to her experimenting with jazzy vocals on an early version of "Twisted." Meanwhile, the demo version of "Help Me" shows one of her most familiar songs stripped down to its bare essentials—Mitchell was never as far from her folk roots as it might've seemed at the time.
Speaking of folk, this set opens with her returning to Carnegie Hall on Feb. 23, 1972 after a short break from live performance. It shows her fully in command with a strong set of material even if she's quickly growing away from her folkie roots. She runs through most of Blue, goes hits a few of the earlier songs ("Woodstock," "The Circle Game," "Big Yellow Taxi") and even previews new material: "For the Roses" and "Cole Blue Steel and Sweet Fire" are previewed here.
But by 1974, Mitchell had almost completely moved on from being something you could theoretically see at a coffee house. That March, her and the LA Express hit the road, giving her music a kick in the pants. Bits from two shows show up here: an energetic set at the Dorothy Chandler Pavilion in Los Angeles and one from a few months later in London, England. And by September, she was playing Wembley Stadium alongside CSNY. Quite the change from the more intimate venues she'd been playing even just a few years previous.
Where the set works best is the weird moments that couldn't have made it onto an album proper. Like her goofing around in the studio with James Taylor, trying to remember lyrics to old songs, the East-meets-West instrumental "Sunrise Raga" that pairs her guitar with Indian percussion, or the wordless vocalizing on "Bonderia" and how it feels like her sketching in the studio. Throughout the mid '70s, Joni was pushing at boundaries and seemed game to try almost anything, and these experiments show how creative she was.
The set finishes up with demos and alternates from 1975's The Hissing of Summer Lawns. While some of these have been bootlegged before, here they're presented in a larger context, one showing a record slowly coming into focus. The demos are polished, with layered vocals and Joni accompanying herself on acoustic guitar. Stripped down like this, they show her songs in sharp focus: one's more easily able to pick up on her turns of phrase and melody. Where "In France They Kiss On the Main Street" can be a little too much like a Steely Dan track, with fretless bass and layers of guitars, here it's just Joni and her guitar.
As noted above, not everything here is brand new and previously unheard. The Summer Lawns demos are well circulated, as are the 1972 Carnegie Hall and March 3, 1974 shows. But then, the hardcore fans will want this for both the sonic upgrade and for all the new tidbits and odds and ends. The more casual might wonder if they need all these versions of "Raised On Robbery," "You Turn Me On I'm A Radio" or "Cold Blue Steel and Sweet Fire." A fair point. But then, sets like this aren't for the already converted, either.
Still, over the course of five CDs (or eight vinyl sides), Archives Vol. 3 shows Joni Mitchell not just coming into her own, but transitioning from folk to jazz/rock, charting a course that many other musicians would follow. And more than that, it's packed with some great music. It may be a little much for the casual fan but anyone who's listened to Court and Spark enough to feel it in their mind will love this. I know I did. | r milner
For heads, by heads. Aquarium Drunkard is powered by its patrons. Keep the servers humming and help us continue doing it by pledging your support via our Patreon page.