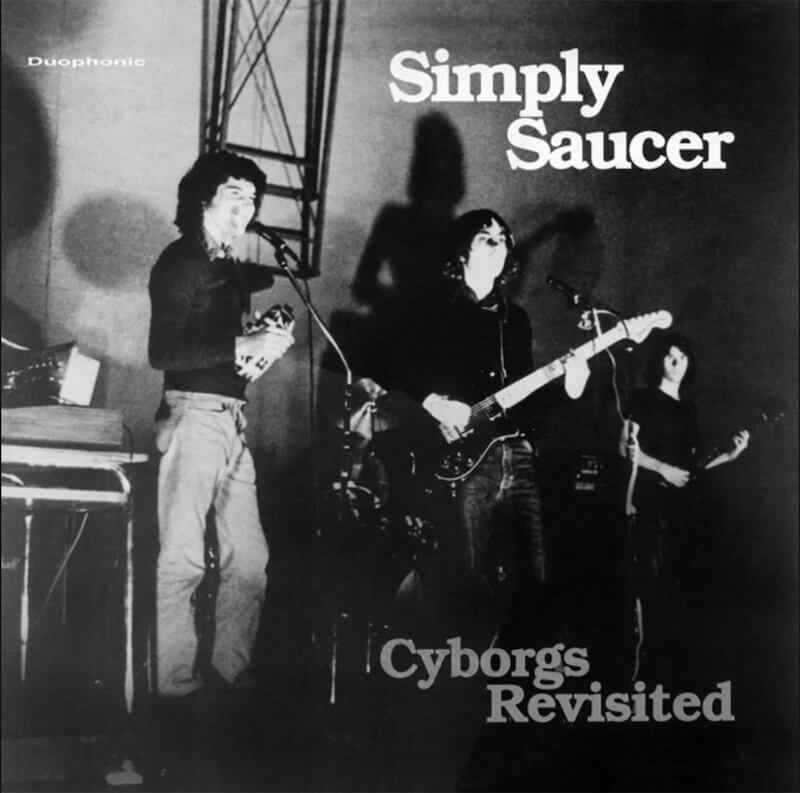 In the summers of 1974 and 1975, one of the great Canadian cult rock 'n' roll groups left their mark on musical history. Yet despite how far ahead their electronically enhanced songs may have sounded at the time, the scorching recordings captured on Simply Saucer's Cyborgs Revisited would not be released until 1989, thanks to the tireless efforts of their champion Bruce "The Mole" Mowat. Formed in the humble hometown of Hamilton, Ontario, these sci-fried proto-punks created a sound fusing Hawkwind, The Kinks, Pink Fairies, Syd Barrett-era Pink Floyd, and the omnipresent Velvet Underground.
As a means to escape his oppressive experiences living in a practice space surrounded by biker gangs, singer and fretboard-shredding guitarist Edgar Breau dreamed up dystopian visions of the future. Simply Saucer's earliest songsconjured metalloid thugs, Eva Braun's cyanide love affair, and the Mole Machine drilling through subterranean tunnels. With nimble-fingered bassist Kevin Christoff, clatterwauling drummer Neil DeMerchant, and electronic cosmonaut John "Ping Romany" LaPlante (Breau's foster brother and the band's answer to Pere Ubu's Allen Ravenstine), these lyrics were launched into a sonic supernova.
The six songs that fill out side one of Cyborgs Revisited (recorded in the teenage basement of brothers Bob and Daniel Lanois) are some of the most unhinged post-Velvets / pre-Voidoids proto-punk expressions ever laid to tape. Initially intended as a demo, these live off the floor takes burst from the seams with blitzkrieg guitars, submachine snare drums, and the electronic dreams of Simply Saucer's own metal machine maniac. Naturally, label interest for the band's demo tape was non-existent, yet it's shocking how anyone could have overlooked "Bullet Proof Nothing," an undeniably catchy VU-swiping anthem for the used, abused, and confused.
On June 28th, 1975, Hamilton's residential blocks of Beechwood Avenue and Balsam Avenue North were transformed into an unwitting Woodstock. On that fateful day 55,000 revellers camped out on front lawns, piled onto porches, and climbed up trees with little to zero regard for private property.
The source of the clambering hordes was Pink Floyd's first appearance in the city (minus Syd Barrett) for the final stop of their North American Wish You Were Here tour at the former Ivor Wynne CFL stadium. Predictably, nearby homeowners were less than pleased with the explosive onstage pyrotechnics providing the climax of a boozed-up bacchanal at the wildest tailgate party this side of Heavy Metal Parking Lot. Not so predictably, the public outcry resulted in a concert ban at the stadium for the next 33 years.
In an alternate history of Canadian music, this date could be considered a landmark for an entirely different live performance. In front of a diminutive but dedicated number of fans, June 28th, 1975 also found Simply Saucer (now featuring 15-year-old drummer Tony Cutaia) blasting off from the outdoor rooftop of the Lloyd D. Jackson Square shopping mall.
Thanks to the fortunate forethought of a soundboard recording, three standouts from this set were salvaged to fill out the second side of Cyborgs Revisited. The quasi-title track / inspiration "Here Come The Cyborgs (Part Two)" provides a frenzied follow-up to its studio session counterpart, while the jagged-edged twang of "Dance The Mutation" kicks up the dust at a sinister hoedown, like Henry Flynt jamming with the Hell's Angels.
Of course, the 10-minute tour de force "Illegal Bodies" is Simply Saucer's perennial peak. Before launching into a steamrolling out-rock rave-up from the school of "Sister Ray," Breau's spoken introduction can be considered one of the band's most epochal moments: "Here's some heavy metalloid music. It's called 'Illegal Bodies.' It's the song of the future. Unless you have a metal body, they're not going to allow you to walk the streets." Nearly 50 years later, his fears of a technological singularity have never sounded more prescient.
Jesse Locke is the author of Heavy Metalloid Music: The Story of Simply Saucer, published in 2016 by Eternal Cavalier Press. The deluxe reissue of Cyborgs Revisited was released in 2018 by In The Red Records.
Only the good shit. Aquarium Drunkard is powered by its patrons. Keep the servers humming and help us continue doing it by pledging your support via our Patreon page.