The multi-nuanced philosophy of de-evolution, fifty years later. This early seventies concept would fuel an Ohio arts collective (aptly called Devo) to launch their lavishly offbeat music career. The band's half century-spawning trajectory is collected and expanded upon in a Rhino's new anniversary boxset, the 4xLP collection overflowing with resurfaced rarities and exclusive ephemera. Summarized in 50 Years of De-Evolution's extensive liner notes, the group consisted of "socially and politically aware counterculture artist-musicians". As anyone familiar with the mythos of Devo's conspicuous splash in the music industry knows, the group's avant-garde musical origins predate major label debut Q: Are We Not Men? by a number of years. Per Mark Mothersbaugh's commentary, "This box set represents a great cross section of early experiments and later creations". From 1973 to the present, the band's vision is still firmly locked in on the future and beyond.
When examining the prolific artistic career of Mark Mothersbaugh, one begins to wonder what medium he hasn't dabbled in. Originally an art student (where he was exposed to visiting artists like Morton Subotnick), Mark's interdisciplinary visual art has ranged from simple postcards to a plethora of major museum exhibitions. Mothersbaugh founded his production company Mutato Muzika in 1989, a bright green mid-century oddity in the heart of Hollywood's Sunset Strip. Equal parts studio and museum-quality preserver of synthesizers and other analogue relics, it's where the tireless musician composes soundtrack work for film, television, and everything in between: a recent estimate is that he has scored over 170 variations of assorted media (and counting).
On the eve of this new Devo retrospective, Mothersbaugh caught up with us from his Los Angeles studio. We discuss the experimental beginnings and future of Devo, the group working with Brian Eno and David Bowie, his fascination with early animation soundtracks, auditioning for Mick Jagger, the NYC scene that brought the band's breakthrough, the death of the album format and much more. | m neeley
Aquarium Drunkard: You did artwork for a brand new Moebius record. Did you meet him when Devo was recording their first album in Germany?
Mark Mothersbaugh: That's how I met him, yeah. Before that he would have no reason to have any idea who I was. He just showed up because he worked in that studio a lot. Eno and Bowie were both there so that's probably what piqued his interest. Roedelius and Moebius showed up over there, it was interesting. There were a lot of German electronic artists during that period that I really, really loved, like Der Plan but even before that, Neu! I mean, Bowie even just, with no shame, lifted a piece of a Neu! Song and put in the middle of "Funtime" on the Iggy Pop album. And it sounded so cool. 
AD: And side two of Low is very reminiscent of those sounds. 
Mark Mothersbaugh: Matter of fact, I remember every night at dinner at the farm house. We were at Conny Plank studio, we'd have dinner there. Every night Eno was taking potshots at Bowie and they were bickering about how Eno felt he was undercredited on the Low album. We got to hear them be irritated with each other [laughs]. But they were both into Devo, and they both recorded electronic guitar and voice parts over top of our songs and some of them we used. Brian would get the mix up and we'd all agree; let's put that on the album. But then as he'd hit the two-track tape that would be the master recording, but before he hit the 24-track, I'd slowly pull down the fader of this part where David Bowie is singing that we didn't want, or this part where Eno is playing a synth that wasn't necessary. It's like a room full of dogs, and we're all pointed forward, and my peripheral vision was always bad but I remember, I'd pull the fader down and he'd [imitates quickly turning around to look to the side]. But you know, I think he felt that that was my oblique strategy.
AD: Was it shocking to have all of these people from Iggy to Bowie all interested in producing the first Devo record?
Mark Mothersbaugh: We felt that we'd been trapped in Ohio for years before we got out. We'd already made a single and a film, and our film had won first prize at the Ann Arbor Film Festival for shorts. We had been working really hard at it for years before we started playing in New York. To our advantage, we had our show really worked out and we had our look and our aesthetic was really honed. You know, in that time period in the summer of 1977, for a year or so people had been coming to Max's Kansas City and CBGB.
They'd see Talking Heads changing keyboard players with Jonathan Richman or something. Or like, Jonathan Richman traded his bass player with Blondie. They're watching all these bands starting and figuring out what they were, and hear Blondie songs as they were in-progress. And Devo just kind of showed up out of nowhere. And because Jerry and I were visual artists, we knew that you could make big posters. Like, Talking Heads would put up little 8×11" xeroxed sheets that said come see us at CBGB. Devo would show up, and using a blueprint copier, I could make these posters that were like 2×3', they were giant.
We'd put a row of them up in Manhattan the day before we were going to play, and people would steal them if they could. People would say whoa, these guys have their shit together. And then they'd come see the show and we'd hang a sheet in front of us. We'd rent a 16mm projector from the Akron Library and drive to New York City. We'd put the projector out in the middle of the club, and we'd project the first film we made on the sheet. So they'd see our first film with "Jocko Homo" and then "Secret Agent Man", then we'd take the sheet down and play. I remember hearing people go okay, there's this band you have to see: they show a film of themselves playing these songs, then they come out and play the songs! Then they rip their clothes off and finish the show. I can't really tell you what it sounds like, it sounds like nothing I've ever heard before.
We went from being the band nobody wanted to see in Ohio, people paid to have us get off stage. They'd say, here's your fifty dollars, and we'd go no, we have another set. They'd say no that's okay, don't need the second set [laughs]. We went from that to New York, we became the band to see. We'd have a guest list – we were supposed to get $100 from Max's Kansas City, but they would put VIP people on our guest list. And everybody they put on took like two or three dollars away, so we'd only end up making forty or fifty bucks, just enough to get a tank of gas to drive back to Akron. They'd say, your guest list has Jack Nicholson, Mick Jagger, Keith Richards, Ian Hunter, John Lennon. And we'd say, why are they on our guest list? They can afford the six bucks to get in the place.
AD: You mentioned Jagger, did he ever talk to you about "Satisfaction?"
Mark Mothersbaugh: Back in those days we had to get permission, you don't anymore. You can cover a song and you don't have the same restrictions. Especially because we changed it, we had to play it for them. So Jerry and I went to New York and we met Peter Rudge who was their manager at the time. We sat in a room with Peter and waited for Mick to arrive and when Mick showed up, we played "Satisfaction" for him. He's listening to it for about 10-15 seconds and then he jumps up and starts dancing around the room just like Mick Jagger, going "I like it, I like it, yeah, yeah". 
For us it was all kind of surreal and unreal to go to New York and meet all these people. Whenever they showed up in Ohio they were on a stage really far away and you were never interacting with them. I remember going to see Bowie doing Spiders from Mars and I just thought he was like some alien entity, it wasn't even like he was a human. Then, I'm in a crummy little stinky backstage dressing room at Max's Kansas City, and he's sitting across from us going "you know, I'd like to produce you guys". We said that sounds good to us, we're gonna be sleeping in an Econoline van tonight. New York was like a dream for us.
AD: The Hardcore Devo compilations are a great sample of the early material. Did any more of those songs almost make the first couple records?
Mark Mothersbaugh: Well you know, before we did our first album we had at least thirty songs already, and we could play any of them live. So you know, we chose the first album songs just based on how we were doing our sets, the songs kind of flowed together. And for me, I wanted "Satisfaction" and "Uncontrollable Urge" up at the top of the album, because I felt those were clues as to what we were trying to do with music, because people would go, this isn't really rock 'n roll, I don't know what the fuck this is. You'd hear our version of "Satisfaction" and you'd know the original version and to me, I still to this day feel like that's ground zero for the best rock 'n roll song that was ever written, both lyrically and musically.
I love that song. And so we thought when we did it in '74, it had been ten years so we'll update it. And "Uncontrollable Urge" had these references to The Beatles, who were the first band I saw when I was twelve. They were on Ed Sullivan and I thought, that's what I wanna do. If you listen to it, there's the deconstructed "yeah yeah yeahs", a reference to "She Loves You", which was the first song I heard on Ed Sullivan. I was sold, that's why I'd been tortured learning piano for five years so that I could eventually do that.
AD: I saw you do a concert with a six-sided keyboard, part of your Myopia exhibition at the Contemporary Arts Center. Where is the keyboard now?
Mark Mothersbaugh: It's in a warehouse. I have a couple of them, just to be clear. I could go on tour anytime if I thought there were enough venues to play. It's kind of an energetic endeavor because I need to get six players from the area that are willing to come in and read really simple sheet music parts, listening to a click in headphones and play in time with the other people. Before that tour I was writing kind of beatnik graffiti square dance music. How that happened was, I had started collecting square dance records. I was fascinated with this weird looking dance where you move like robots on a pickleball size area or something, or smaller. I wrote these songs that were for square dance music, and the Contemporary Arts Center in Cincinnati, they were the only ones who would help me find real square dancing. 
So on the night of the opening, there were all these kids wearing Devo hats or dressed like punks but had their kids that liked to watch Yo Gabba Gabba. No one was expecting that when you came in the lobby, there would be ninety year old square dancers wearing red and white skirts and the guys had on cowboy outfits that looked like they were from a Gene Autry movie. And they were dancing to songs that were half traditional, half electronic. These little old ladies looked so damn cute square dancing. I had two big experiences in the Queen City, the other one was Queen City Records, where they pressed our disc. I remember pulling it out of the box in front of the place and holding it up in the air, I couldn't wait. It just felt like that gave me a place on the planet to have this disc. It was a miracle record pressing plant as far I was concerned.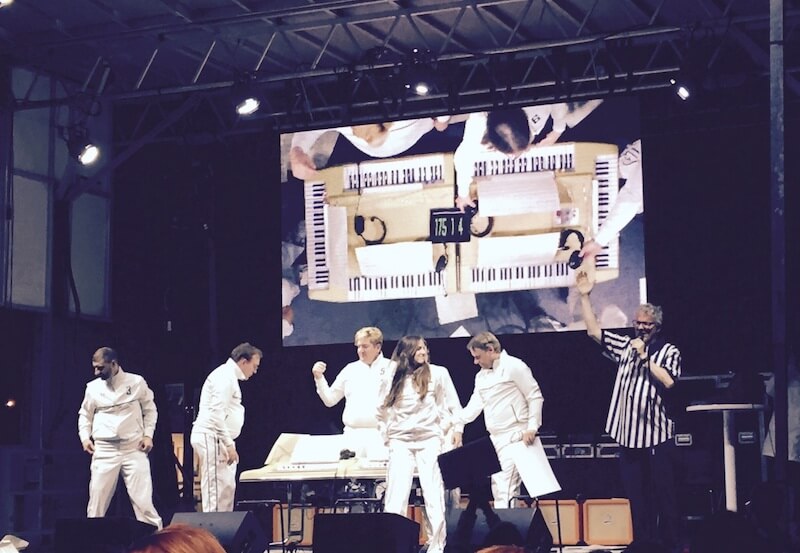 AD: I wanted to ask about when you began doing music for animation. Were you always a fan of old cartoon scores?
Mark Mothersbaugh: Oh yeah. I'm old enough that I grew up on Looney Tunes and stuff like that, and that's Raymond Scott. He was kind of like the Frank Zappa of 1935, 1940 in Hollywood, an experimenter. I loved the scores on Looney Tunes because they were so important, it created the characters' emotions. It was very beautiful animation but it didn't look like real humans or real stuff at all. It was like this other world, and so music was one of the ways that you could bring stuff to like. Music was so important in animation. I guess it's also important in things like horror movies to make people jump, but it's more minimalist and murky. It's always morphing and changing in Looney Tunes, very complex. I always loved it. 
AD: I'm a huge fan of the Muzik for Insomniaks tapes. Have you ever thought about re-releasing them?
Mark Mothersbaugh: Thanks. Yeah, people are talking to me about it now. But you know, it's not … my audience for that material is much smaller than Devo, which is much smaller than Foo Fighters, which is much smaller than Taylor Swift. These records are very … Muzik for Insomniaks, there weren't many ever printed up.
AD: Was it originally a Japanese exclusive release?
Mark Mothersbaugh: Yeah, originally it was a Japan exclusive. I used to go to Japan and produce and write music for art bands over there like The Plastics and Hajime Tachibana and Ryuichi Sakamoto. I worked with all these people over there and in the process of that, these people came up to me called Tokyo Radical Artists. And they said hey, can we put out an album of that stuff you play when you're not doing anything? I wrote Muzik for Insomniaks just as music that I could listen to when I was home. Yeah, Rhino should put it out. I didn't want to listen to lyrics, and I kind of wanted this stuff that sounded like M.C. Escher wallpaper. Stuff that was melodic and kept morphing and coming back on itself, and it served a purpose. 
Originally, in those two albums, the main instrument is a Fairlight [synthesizer]. I loved the Fairlight because even back then in the eighties, you could tell it sounded like … you know like fake wood paneling? Where it looks like you have a pine or walnut wall but really it's just thin paneling? You had all acoustic instruments, you had guitars and horns and woodwinds and strings, and they sounded pretty good. But in reality, if you listen very long, you realize it's like the wood paneling of real instruments. And something about that I loved. So that's where it came from. Some other label that was part of the Enigma family put out a couple in a limited release, they were just doing it as an art project family in a way. So a few of them made it out. You can find them on eBay now and then. But I would like to release it again.
AD: I think there would be enough of an audience for a limited release.
Mark Mothersbaugh: Yeah, but it's like records are almost irrelevant in a way though now, you know? I was thinking about doing some new Devo songs. In the process of searching out things to put on this Rhino release, I started paying attention to the fact that I have thousands of tapes underneath this room that I'm sitting in. I have thousands of tapes of Devo rehearsals, songwriting experiments, and things like that. I started listening to them again as we were getting them archived, and there is some cool stuff that sounded totally different than what we sounded like when we started putting albums out. We used to be much more experimental.
We kind of backed off a little bit when we went to Warner Brothers and Virgin for our first album. We kind of thought we might be freaking people out a little too much. There were too many things for people to handle in all of one bite, so we pulled back on some of that. When I heard that music again, I remember calling up my brother Jim. Back in 1970 or something, he bought this thing that had just come out in 1969, it was called Acoustic Reverbrato. It was this thing like an oil can that was like a tremolo echo unit. That's the sound you hear on "Gut Feeling" on the electric piano, like an underwater wobbly sound. And I couldn't get it with any other effect, we never made another sound like that. But I told Jim I found it, and he said oh, the jelly bomb thing. He made a homemade set of electronic drums back in like 1971 and he ran them through the Reverbrato.
It was all rubbery and you hear a little hint of it in the "Jocko Homo/Secret Agent Man" film, but not like we used to do in rehearsals. But it was impossible to do that live because you'd have to spend like five minutes between songs trying to set each song up and we wanted to fly through them. We took a little inspiration from The Ramones after we went to New York. We liked what they were doing, it was succinct and a great presentation. It was better than our slow, kind of weird Captain Beefheart meets some lab technicians or something. So I started pulling those records out and sampling them, and thought about doing another Devo record. But the more I think about it, I think we should do like one song and a video with it. That's kind of what people do now. And then when you get a response to it you do another one after. Albums … do people even buy an album anymore? I don't think they do. 
AD: The closest thing we have is the broadscale vinyl resurgence of the last decade or so …
Mark Mothersbaugh: Oh yeah, I love vinyl, but the reality is, it's still a small market for hipsters. It's a hipster market, there's nothing like … the music industry is so different than it ever was. And now the only people making money are the big corporations up at the top who have the big streaming facilities and none of it trickles down to the artist. 
AD: It's interesting that with streaming, much of your soundtrack work gets automatic releases now, whereas prior to that it would be difficult to actually listen to most television/film/game scores. 
Mark Mothersbaugh: It's not all bad. Economically, it's bad. But artistically? With the internet, you can take three words: Latvian … dogs … tango. And you put those three words in and some band will come up. Those words will come up in a review or something you'll hear the music and say oh, I can see how they came up with that. And kids do that, they think that I grew up in the Model T era or something. I remember years ago, my kids would smirk when my wife would say okay, the film noir is at 8:30 tonight. That's in forty minutes so just get ready so we can watch. And they're laughing because anything they wanted to see, they just pick up their laptop or phone and just watch it then. They couldn't believe we were waiting until 8:30 to watch what we wanted to watch.
AD: Right. I think artists themselves will be the ones carrying on the tradition of the album format.
Mark Mothersbaugh: If you're making music to get rich or be a pop star, good luck, too bad. But if you do it because you love art or have something to say, which I think so many people do? I remember being in Ohio, and I wanted to do our music before we did. I just had no idea what a record label was, I was sure there were none in Ohio. I wasn't even certain there were recording studios in Ohio. The idea of going into a recording studio was a lot of money, it was like the price of buying a car. Of course, I never owned a car that cost more than $150 up until I was thirty. I always thought people who spent more than $150 were suckers [laughs]. I was a hardcore artist and I wanted to put all my money back into that.
AD: When clients approach you at Mutato, do they ever reference Devo music, or is it primarily previous soundtrack work?
Mark Mothersbaugh: It's funny that you said that. Literally just yesterday somebody called me because they don't know who they're going to have to compose this video game. So we had a meeting and in their presentation package, they had music that they wanted. And two of the songs were Devo songs that they picked, and then there was a Misfits song and a Ramones song and some other stuff in the same style. My favorite part of the conversation was at the end they said this sounds really good, now are you willing to do demos? [laughs] I said, well I think we could call "Gut Feeling" and "Jocko Homo" demos, you couldn't get any closer than those for temp music since that's what you are saying you want it to sound like. It was kind of funny that they would then ask me for a demo. More often when I'm scoring things, they put in music from movies that I've already scored.
For heads, by heads. Aquarium Drunkard is powered by its patrons. Keep the servers humming and help us continue doing it by pledging your support via our Patreon page.