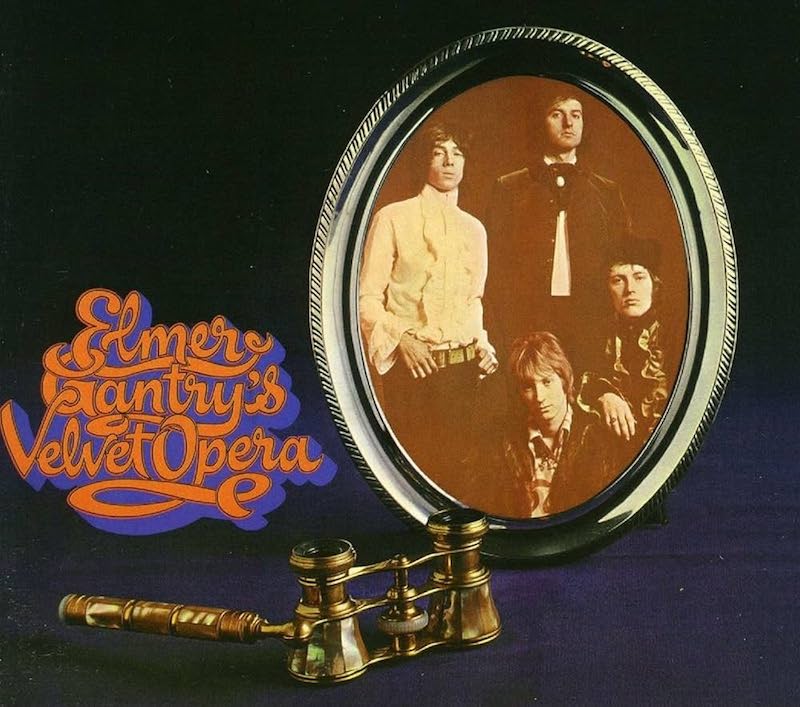 "I was definitely known. I mean, I may not have been famous, but I was notorious." Elmer Gantry didn't want to speak to me at first.
For decades, he's been best known as the frontman of "the bogus Fleetwood Mac," a band that toured America in 1974 as Fleetwood Mac but featured none of the original members. In a new episode of the podcast Snap Judgment, Elmer tells the story of how he was duped by Mick Fleetwood into joining the tour.
"The almost unbearable damage that it has done to our musical careers will never, I believe, be healed," he told me in an early email.
But I didn't only know him as the fake Fleetwood Mac guy. To me, he was Elmer fucking Gantry. I loved the self-titled album released by his band Elmer Gantry's Velvet Opera and told him so. The prospect of talking about something other than Mick Fleetwood appealed to him. Elmer and I spent a lot of time in the weeds with the Velvet Opera, but I wasn't able to get a lot of that into the podcast. So here, for all the heads, I'd like to expand upon EVGO and the demented charm of their sole record.
Think the first Soft Machine Record. Think the Zombies's Odyssey and Oracle but with the budget constraints of Black Monk Time. This is an album that deserves to be mentioned alongside those but also stands on its own. It's psychedelic pop with punk rock energy that's pushed over the top by Elmer's ecstatic vocal performances. Start with "Flames."
What starts off as a Chuck Berry tribute revs its engines and takes off screeching when the drums come crashing in behind Elmer's "FLAAAAAAAAAAMES" … It feels like a lost Nuggets track and took England by storm. The singer Ross MacManus (aka Elvis Costello's pops) covered it. So did an early version of Led Zeppelin. Robert Plant thought so highly of the song that when Elmer ran into him at a film premiere in the 1990s, Plant excitedly introduced Elmer to his whole family and started singing the song's lyrics. Plant subsequently began performing the song live again in the early 2000s, as this terrible recording can attest.
Elmer joined the group back in '66, when they were known as the Five Proud Walkers. It soon became clear that his birth name, Dave Terry, didn't suit him. "I bought a fur coat from somewhere and then turned it inside out and dyed the skin on the inside like, bright orange," then added a pair of green suede boots for good measure. "Anything that was going to create an impression or create a shock."
After Elmer showed up to a gig with a flat brimmed preacher's hat and cape, the band named him Elmer Gantry (after the Burt Lancaster movie) and added "the Velvet Opera" because that was the vibe. They all shared the same fashion sense and roved the English countryside like highwaymen. At one gig, a bunch of women came out of a nail salon just to stare at them. "They all had curlers in their hair covered by a scarf … They looked as bizarre to us as we probably did to them!"
Their shows were a musical riot, leading off with shouted band introductions that descended into musical cacophony. Elmer climbing the curtains, throwing himself into the crowd. Dingy halls filled with the smoke of incense, weed, and cigarettes. The band applied ferocious energy to primitive songs, written by Elmer while plucking one string on a guitar. They were banned from four or five college campuses.
After "Flames" became a turntable hit, played on pirate radio and John Peel's "Top Gear," the band recorded their first album in the basement of Southern Music. There, the songs lost their 60s jamminess and became tighter, meaner. The band stayed up into the wee hours creating Whoaaa maaaan psychedelic effects, running fifty yards of tape down the corridor for analog phasing and maxing out the limiters.
On the road, the band's reputation for anarchy continued to grow. They rubbed shoulders with Pink Floyd, The Who, Fairport Convention. At one show, Jimi Hendrix came up out of the crowd and picked up a guitar. Elmer watched as, while soloing with just one hand, Hendrix held his guitar out into the audience, "and Jeff Beck came up and put his hand above Hendrix and started playing the same figure." They shared a bill with Fleetwood Mac.
This last association came to haunt Elmer. After being given the sack by his Velvet Opera vandmates, Elmer partnered with Kirby Gregory, a 17-year old guitar wizard from the band Curved Air, and the pair gigged around London. In 1974, Mick Fleetwood asked them to form a new lineup of Fleetwood Mac. But when they began a tour of North America, not only did none of the other members of Fleetwood Mac show up, but Mick Fleetwood started calling them fakes and phonies in the music press.
His motivations remain a mystery. Was Mick Fleetwood trying to cover his ass after forming a new lineup without telling anyone else in the band? Was it a canny move to break away from Fleetwood Mac's crook of a manager? We'll never know. Mick wouldn't comment on my story and Elmer has never spoken to him since he received that fateful offer. "The last time I heard anything from the Mac was when Mick Fleetwood was sitting in my living room."
Hilariously, Elmer and the remnants of the fake Fleetwood Mac lineup turned the experience into a hit song. "Why Did You Do It?" took direct aim at Mick Fleetwood, telling the tall posh drummer that "the damage is much deeper than you'll ever see." Their new band was called Stretch, and their first album, Elastique, is like a lost setlist of glam rock hits. Close your eyes, crack a beer and imagine the stadium tour that never was.
My Snap Judgment story is about Elmer's triumph over a cynical, callous music industry. But its scope is limited – in reality, the industry won. After Stretch, Elmer slid into heroin and obscurity. Mick Fleetwood slid into private jets, mountains of cocaine, and Stevie Nicks. The business doesn't care who it elevates or who it crushes. It rewards the aggression of liars, sociopaths, and creeps. That doesn't mean we can't enjoy their music, but it adds urgency to our job as true heads – to give those artists who have been left behind the audience that they deserve.
Not that Elmer gives a shit. He kicked his drug addiction years ago, has a rewarding career in recovery, and loves his wife of many decades. He and his former music partner Kirby Gregory are getting together to play music soon. "Who knows what will come out of it, if anything." Elmer shrugs. "For me, being in the music business has always been about being in a room with a bunch of geezers, sweating over hot amplifiers." | j fecile
Thanks to Elmer Gantry and Mike Stax, who covered Elmer Gantry's Velvet Opera extensively in the Summer 2021 issue of his magazine "Ugly Things."
Only the good shit. Aquarium Drunkard is powered by its patrons. Keep the servers humming and help us continue doing it by pledging your support via our Patreon page.