You hear Daniel Villarreal's band before you see them. The sounds of bells (African, brass, tin) arrive chirping and fluttering from backstage before the band proceeds, shaman-like, to their spots. And while the set that follows will feature thumping bass, organ ballads, and skyward guitar, the opening tells you that percussion is at the heart of this band. And Villarreall's drums never let you forget. They come at you from all sides, via his bandmate Danjuma Gaskin's congas and Villarreal's cymbals, snares and bells. And while the drums on Villarreal's recorded output are wound pretty tight, powerful but never overpowering, live he goes full Keith Moon.
We recently caught up with the artist backstage before his show at Yoshi's in Oakland. His new album, Lados B, came out last month on International Anthem — its nine tracks drawn from sessions from his first album, Panama '77, a tribute to his homeland. A truly epic trio of Villarreal, guitarist Jeff Parker, and bassist Anna Butterss improvise around compositions originated by Villarreal, mostly live with minimal overdubbing. | j fecile
Aquarium Drunkard: Panama '77 kind of feels like it's a culmination of a lifetime of work and this album feels more like a flex. What's the difference in how these albums came together?
Daniel Villarreal: Panama '77 was done during the pandemic in the fall of 2020. I did four sessions in Los Angeles and before that I did a few day sessions out in Chicago with some of my band members that are playing with me tonight. And then there were also some live sessions that, actually, Jeff Parker was also playing on that we did at the lobby of the Freehand Hotel in 2019. The best of that became Panama '77. Then, for Lados B, it's just like a zoom in on very specific sessions that I did in two days with Anna Butterss and Jeff Parker as a trio.
AD: Can you describe the space where these sessions took place?
Daniel Villarreal: Yeah, these sessions were recorded outside at [International Anthem co-founder] Scottie McNiece's backyard. He calls it Chicali Outpost.
AD: That's my favorite track on the album.
AD: September of 2020 was the craziest fucking month of the pandemic, if you were out here, because there was a heat wave and there along with all the wildfires.
Daniel Villarreal: Yes, there was a wildfire. That's the reason there's a song called "Cali Colors" [from those sessions on Panama '77]. Because I saw these crazy sunsets that were orange and purple and red because the fires were happening. And the air quality wasn't good. We had a little window, like four hours, to record.
AD: It's amazing that music came out of this moment when you guys are so separated and you're in this bizarre dystopian hellscape that sounds so chill and tropical and lush.
Daniel Villarreal: We were surrounded by nature, there were a lot of beautiful fruit trees and the hills of Highland Park. Flowers and orange trees, lemon trees. You know, it was surrounded by green.
That's the cover of Panama '77. The house is kind of on a little hill, and they have a little patio on the bottom. It's a concrete patio. I'm sitting there with a rug. And then Jeff has his station with a guitar. And there was a station for Anna. And we all were like six feet apart from each other. Just to be safe, and that's the reason that we did it.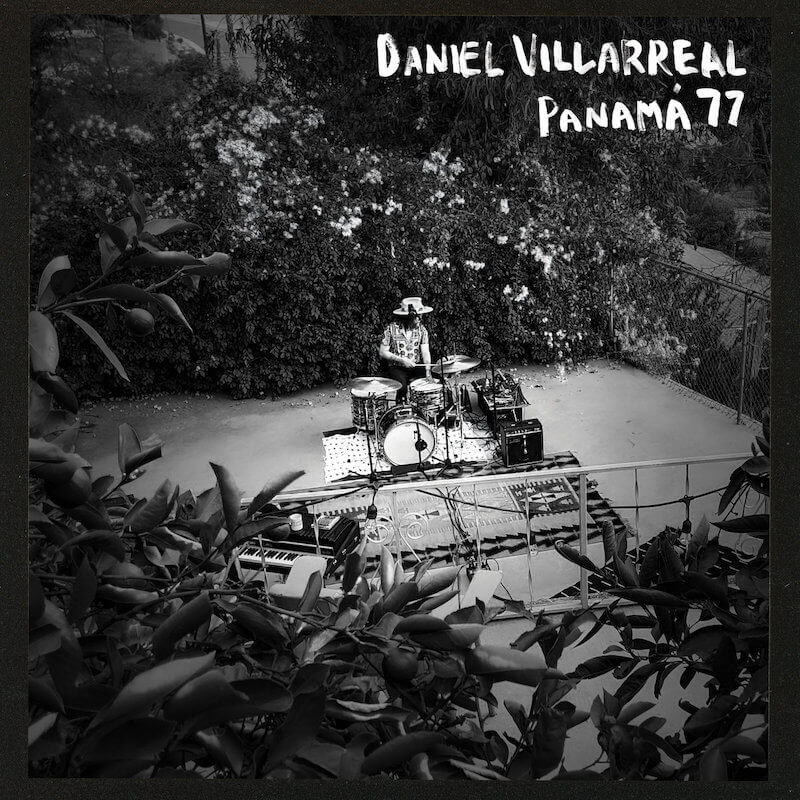 And we were lucky to capture a very good recording, even though it was outside. Well, there's like a helicopter flying, some birds and a dog barking. Like, if you listen deeply, you might hear some stuff in there.
That was the first time that Jeff Parker came out of his house to do a session and play. He was ready, like, let's jam, you know? And I was ready too. I hadn't played with anybody for six months.
AD: The alchemy and relationship you guys have on this album is so strong. Let's start with Jeff Parker. When did you first meet him?
Daniel Villarreal: I knew about him because he plays in this big band in Chicago called Tortoise. And they're phenomenal. Hanging out with Makaya McCraven, I saw some of his shows, and Jeff Parker played guitar with him. And, you know, like, we were in the same friend circle, and I kind of reached out. "Come to these sessions." I invited him over.
He's such a nice guy and such a humble person and a great player. It's very easy to be around him. He's very zen about playing and very soft spoken. We just hung out and played some music that I think came very organic and naturally for us.
AD: What do you think is special about his playing?
The tone of his guitar, I think, is very unique. He has his own sound. And also he's so diverse because you hear him playing like, some very distorted stuff, very cinematic, and then you hear him playing some jazz, very different styles of music. He can do a lot of things and that's also very attractive to me.
AD: Let's talk about Anna. How did you first meet them and how did they end up being on this?
Daniel Villarreal: Scottie recommended them for the session because they already were playing with Jeff in Highland Park at the ETA. I actually went to see them a few times when I was in Highland Park in Los Angeles. And they're a phenomenal player. They're a monster. Like, they play upright bass, they play electric bass, and they're very deliberate and super assertive in everything they do.
AD: Did you notice anything special or unique about their playing? Because there's such a close interaction between the bass and drums.
Daniel Villarreal: To tell you the truth, I was kind of nervous, like, "Okay, let me start this rhythm here." It was kind of a little bit of Afrobeat or funky – but they were right there, man, like matching my kick drum and my bass drum and some of the things I did on top.
In Lados B, there's a lot of conversation. Like, Anna just lays out a beat that is locked in with me. And it's just kind of like, wow, that's amazing.
AD: Whenever people write about your music, it's always like an avalanche of genres.
Daniel Villarreal: I know, it's so crazy. We were joking about it because, when we were coming here, it's like psychedelic! Soul! Cumbia! Hip hop! Afro Cuban! Jazz! And I'm like, what didn't [the venue] list?
Also, I'm a DJ too. You know, I DJ vinyl music. Mainly world music. Things that are kind of abstract. Also, I like dance music. Techno, disco, and, and house music, of course, from Chicago. My ears are so, like, open, and I'm very open minded about all kinds of music.
People try to box me into something. They throw everything that they know about me in there. Which is kind of like, it's true, I play in a cumbia band. It's true, I played some indie rock in the past, you know. And I played in a punk band when I was growing up and, you know, and I play with players that play in the Latin jazz scene, but I don't play Latin jazz. I don't play salsa.
People tell me, like, "Oh, this is an Afro Cuban band." But I don't even play any Afro Cuban! Maybe because I'm Hispanic, they think that – but then, you know, you listen like a real Afro Cuban band like Chucho Valdés or Dafnis Prieto and those guys. They're really playing Afro Cuban music. It's kind of, like, terrifying to me, it's like, "Uhhh don't put me in that," because there are really players that are doing that already, I'm not trying to be in that category. But it's a blessing. I find all that very interesting. And I'm not mad at all or anything, it's good. And there's interviews like what we're doing where I clarify things.
AD: Why do you think they do that?
Daniel Villarreal: Well, it's probably because it's hard to categorize the work. You know, mainly International Anthem is known for being more of an experimental jazz label, which I think is not the case, some of the time. But we can get boxed in that way.
International Anthem is such a progressive label. I mean, like, they are so much. You listen to Irreversible Entanglements, for example, they are super out there. And they're friends to Aquiles Navarro. He's a trumpet player. I'm born and raised in Panama, he's also born and raised in Panama. We have a lot in common. We play together. And, you know, I play with Jaimie Branch. I'm on Jaimie Branch's album doing auxiliary percussion. You know, we're all, like, in the same family, but we are so different.
AD: I did want to ask you about Jaimie Branch. You worked with Jaimie?
Daniel Villarreal: Yeah, man. She was a very good friend. Always so thrilled about hanging out. She was very curious about Latin American music. She's part Colombian. She was very curious about the South American sounds.
Every time that she came to Chicago, she'd hit me up and I'd meet her for a drink or go to her gig. And even when I was in New York, she took me to Red Hook and then she took me to Pioneer Works, she had like a little studio there and she showed me her work. She was always playing me some ideas, from Anteloper or her own thing and when we did my album release [show] for Panama '77, it was like Jeremiah Chiu and Marta Sofia Honer, Anteloper, and me. That was a great showcase from these three albums that came out around the same time a year ago.
Very close before she passed, she came to Chicago. It was raining and she came to my house and we jammed for like 30 minutes, just drum and trumpet, and it was kind of amazing. I was showing her this donkey jaw and she's like I want you to record on my album and I ended up recording on the last record.
AD: Which part are you on?
Daniel Villarreal: I think I'm on five tracks. I'm on the first track, doing all the claves, the caxixis, and the congas. That's me. All percussion and congas. Of course, like, Chad Taylor is such a great player and a monster, playing along with his drumming was so easy and so nice, you know.
But yeah, she'd have me over like, "Hey! Do some bells in this song!" I'm like, "Okay." She's like, "Oh, this part is in 7/4 and it's a change in 5 here," and I'm like, "Oh my God, I didn't even notice that." But she guided me. She was so in tune with her music and she was also about the spirit. She wanted to make it fun and hang, you know, and be free to it. She'd say, "Oh, let's play, let's play. What do you hear here? Just play it, play it. Go ahead!"
Aquarium Drunkard is powered by its patrons. Keep the servers humming and help us continue doing it by pledging your support via our Patreon page. For heads, by heads.