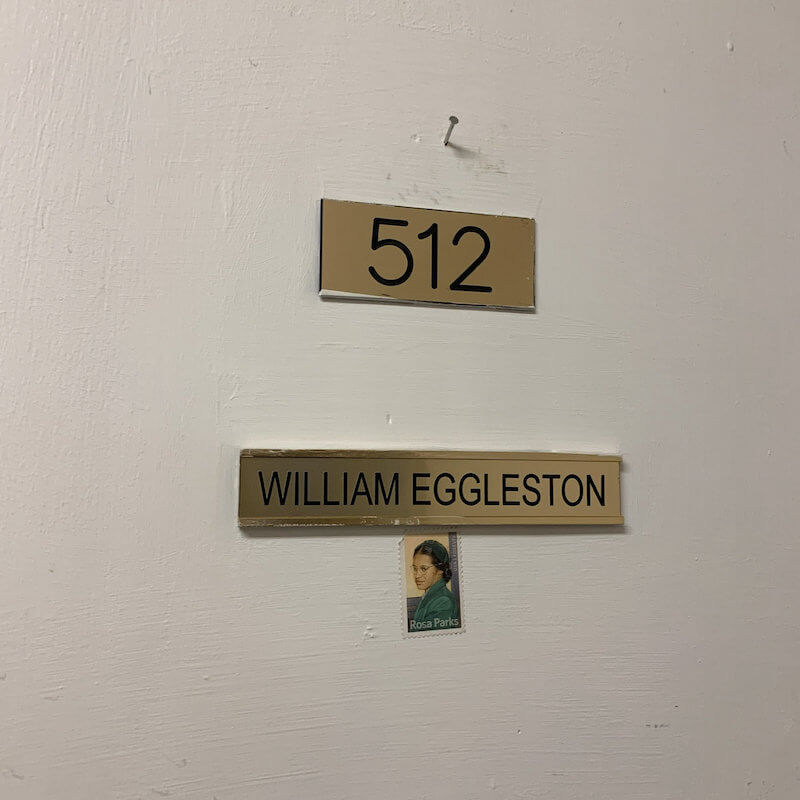 William Eggleston, one of the world's most celebrated photographers, first turned to music in 2017 with Musik, an improvised album performed entirely by the artist on a Korg digital keyboard. His follow-up, 512, shifts the main field of action to a Bösendorfer grand piano and invites like-minded collaborators—Sam Amidon, Leo Abrahams, Matana Roberts and Brian Eno among them—to deconstruct beloved standards.
The tone of the piano is marvelous throughout, lucid and resonant, against a velvety background of contemplation. Eggleston plays simply, without pyrotechnics, letting fragments of familiar melody drift in and evaporate as he pursues mood and atmosphere. It's mostly just him on the opening "Improvisation," plucking chords and runs of notes out of whatever's going on his head, against the hiss of background tone. Brian Eno gets some eerie vibrations out of bells near the end, a very subtle addition. Likewise, Sam Amidon puts some haunting, nearly subliminal fiddle tone under the fluid bursts of piano in "Ol' Man River," which sounds only glancingly, if at all, like the Showboat showstopper. Matana Roberts plays, very quietly, in the background of "Smoke Gets In Your Eyes," but even at low volume the sax lends mystery to the tune.
There's more of the tune you know in Eggleston's rendition of "Somewhere Over the Rainbow," in amongst the distant throb of fiddle, the pensive progression of piano chords. It emerges, way up on the scale, and does the song's plaintive ending couplet before disappearing again into abstraction. Yet it's a lovely abstraction, one that clears periodically, to allow the song to come through.
These cuts run together if you let them, one leading seamlessly to the next, little bits of hummable melody bubbling up briefly and then receding. It ends with a long meditation on "Onward Christian Soldiers." The hymn, in its original version, is one of Christianity's most militant anthems, a backdrop to all manner of church-approved violence. Yet here, Eggleston finds the ambiguity in its marching certainty, an elegiac grace in its faded melody. It's the one that runs closest to its original material, and also kicks freest of its history and baggage. Eggleston finds the spiritual struggle in it and also resolution. | j kelly
Aquarium Drunkard is powered by its patrons. Keep the servers humming and help us continue doing it by pledging your support via our Patreon page. Only the good shit.