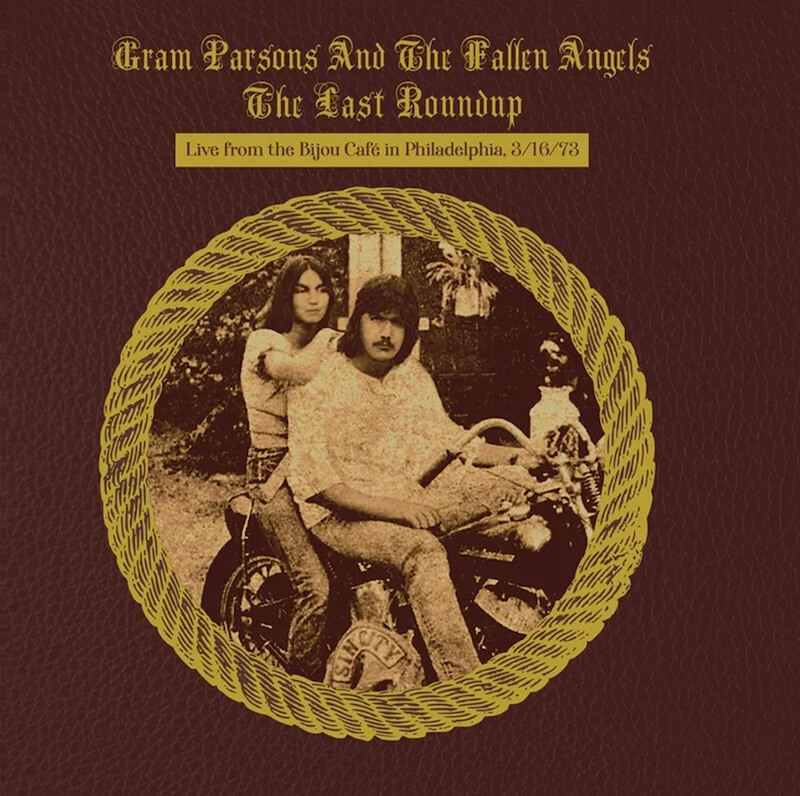 We complained in a Bonus Tracks column a few months back about the Gram Parsons archive series, which had kicked off with a Vol. 1 way back in 2007, leaving us hanging for Vol. 2. Someone must have heard our prayers for more unreleased Parsons. The Last Roundup offers an unearthed soundboard tape of Gram and his short-lived Fallen Angels band playing Philadelphia's Bijou Café in the spring of 1973. The recording comes from just a few days after the Fallen Angels' previous/posthumous live LP, so there's quite a bit of overlap here — but no one's going to complain, considering the dearth of pro tapes from Parsons' all-too-brief solo era.
The main draw, of course, is hearing more of Gram and Emmylou Harris. Their perfect vocal harmony still stands as one of the great wonders of modern music, whether the pair are plumbing the depths of "Love Hurts" or rollicking through Merle Haggard's "California Cottonfields." The Angels are very much on point as well, with Neil Flanz taking top prize, proving himself worthy of Parsons' previous pedal steel pals, the mighty Sneaky Pete Kleinow and Al Perkins.
In early 1973, Gram's country rock peers were taking the sound that he helped pioneer to the top of the charts and into arenas. Ironically, he was playing spots like the Bijou, which — to judge from the tape — was a pretty small club. It's hard not to listen to The Last Roundup and wonder what might've been had the songwriter not met his end in that Joshua Tree hotel just a few months later. With a partner like Emmylou and a band like the Fallen Angels, the sky was almost surely the limit. | t wilcox
Only the good shit. Aquarium Drunkard is powered by its patrons. Keep the servers humming and help us continue doing it by pledging your support via our Patreon page.