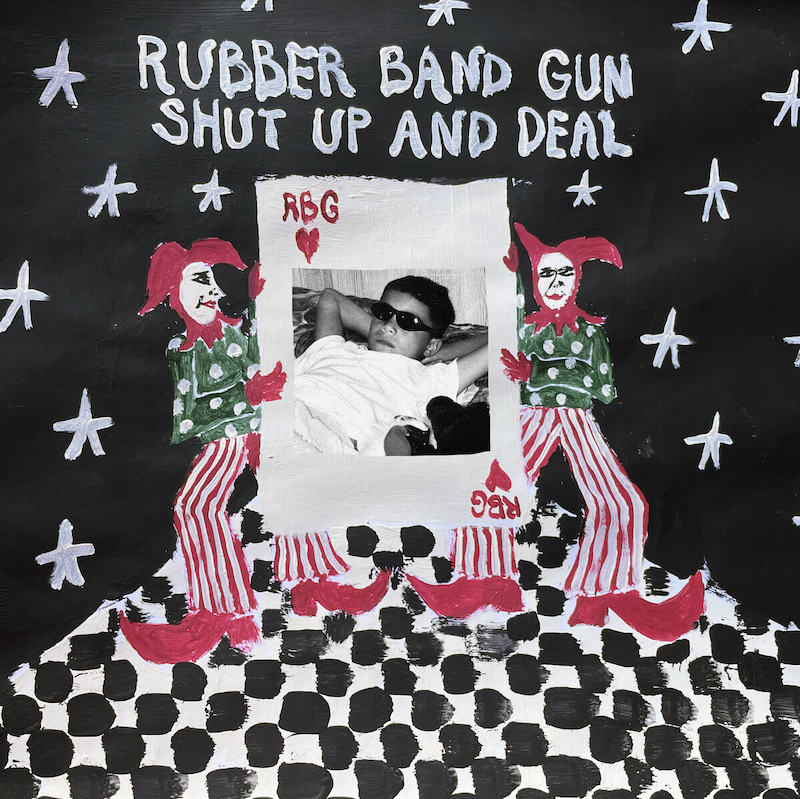 Shut Up and Deal welcomes us back to the world of Rubber Band Gun, the solo vehicle of musician, sound engineer and producer Kevin Basko. Recorded in his own studio, Historic New Jersey, the album's soundscapes weave a double image that evokes the careless whimsy of a Vegas casino—but also said establishment's shadowy corner booths. The album art—hand-painted by John Andrews—mirrors that atmosphere, featuring two grinning jokers holding up either side of a signature RBG playing card.
Following 2021's shorter but similar collection Cashes Out, Shut Up and Deal sprawls across 16 tracks incorporating '60s rock, funk, psychedelia and indie-pop balladry. The image of the casino is less literal here, as well. The lyrical content doesn't make direct references, but rather the casino setting acts as an emotional go-between to express the oscillating highs and lows of Basko's narrative.
In "Ready or Not," Basko brings on those highs with tastefully spunky falsettos and sparkling keys as he sings, "Ready or not, give me a shot." On the other end of the spectrum, "Opening Up," balances that throw-it-to-the-wind attitude with a shot of feigned content and optimism, in which Basko repeats in a mantra-like manner, "My life is opening up without you." Eclectic and playful, Basko plays with distraction and noise, balancing personal sentiments with boisterous sounds, which cleverly turn the title into a self-command to cope rather than a simple instruction to a card dealer. The wins and losses are all laid out in the soundwaves. | m e bryan
Aquarium Drunkard is powered by its patrons. Keep the servers humming and help us continue doing it by pledging your support via our Patreon page. Only the good shit.