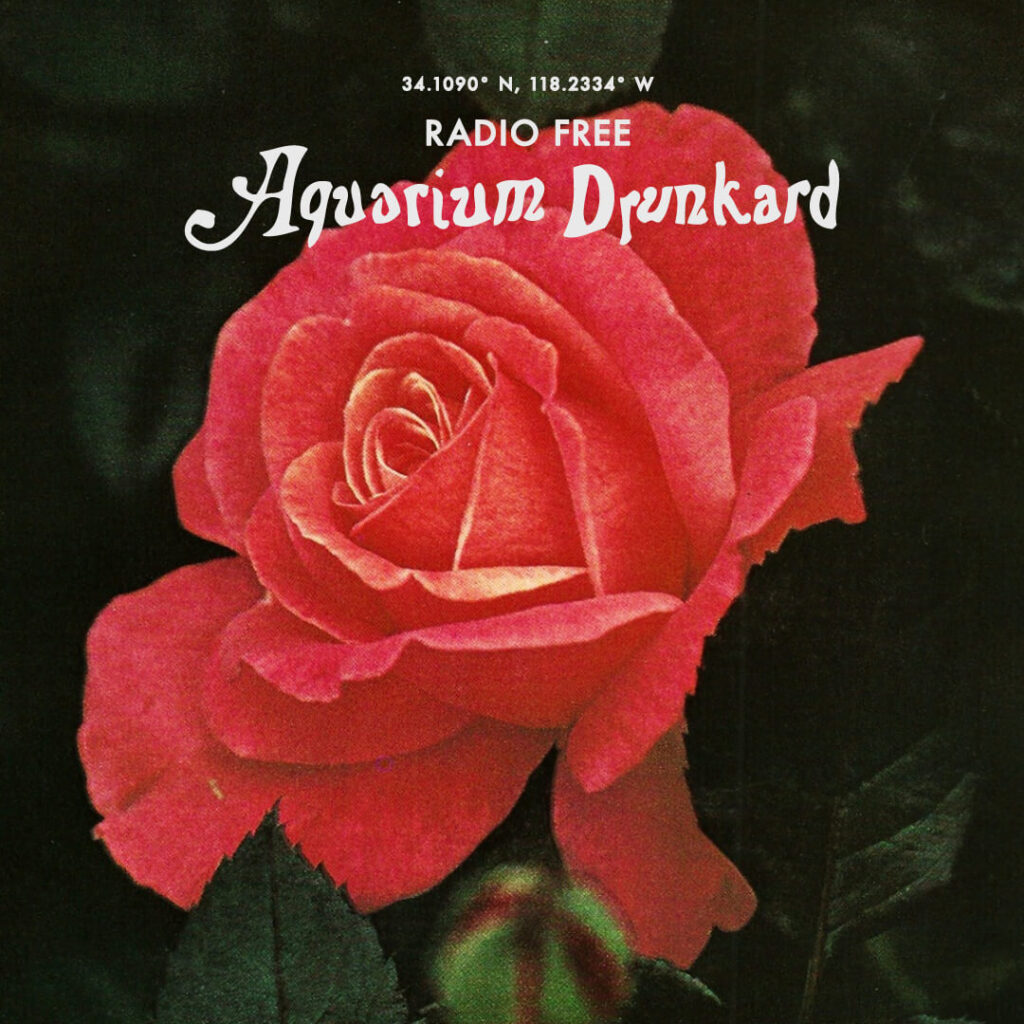 The leaves are cascading down and the sound is growing in intensity. It's time for another installment of Radio Free Aquarium Drunkard on dublab, four hours of sounds from AD selectors and friends. Up first, Chad DePasquale shares The New Happy Gathering Holiday Special: crunchy leaf folk, woolen country, and a palm wine-jazz cocktail. Then, Jason P. Woodbury concludes Range and Basin with a longform instrumental drift, encompassing digital soundtrack jazz, lunar epics, and synths. Then, Tyler Wilcox shares a special Doom and Gloom from the Tomb, featuring tunes heard in his CD-focused Bonus Tracks column. And to close, Gabriel Birnbaum shares a broadcast of his Foxy Digitalis Mix.
New Happy Gathering with Chad DePasquale: Bob Dylan, "Cantina Theme (Workin' for the Law)" > "Mary Ann" ++ Maybel, "Passing Through" ++ Jimmie Dale Gilmore, "After Awhile" ++ Neil Young, "Love/Art Blues" (full band outtake) ++ The Byrds, "I Am A Pilgrim" ++ Daniel Bachman, "Happy One Step" ++ Robert Stillman, "It's All Is" ++ Thandi Ntuli with Carlos Niño, "The One (first part) ++ Instrumental Trio (Conducted by George Williams Aingo), "Chidei Wydul" ++ Popul Vuh, "King Minos II" ++ Fairport Convention, "Come All Ye" ++ Moby Grape, "I Am Not Willing" ++ Jim Sullivan, "Highways" ++ Jennifer Castle, "You Don't Have To Be" ++ Daniel Hecht, "Autumn" ++ Ramblin' Jack Elliott, "If I Were a Carpenter" ++ Vashti Bunyan, "Rose Hip November" ++ Matthews' Southern Comfort, "Road to Ronderlin"
Range and Basin with Jason P. Woodbury: Michael Krassner & the Basineers, "Theme From Range and Basin" ++ Gil Melle, "Swamp Girl" ++ Chris Forsyth & the Solar Motel Band, "Solar Motel Part 1" ++ Maston, "Strange Rituals" ++ J.R. Bohannon, "Christmastime Is Here" (Vince Guaraldi cover) ++ Prairiewolf, "Lunar Deluxe" ++ Boxhead Ensemble, "An Illuminated Afterthought" ++ Bex Burch, "You Thought You Were Free" ++ Jeff Phelps, "Excerpts From Autumn"
Doom and Gloom from The Tomb with Tyler Wilcox: The Byrds, "Universal Mind Decoder" ++ Curtis Mayfield, "Underground (Demo)" ++ Talking Heads, "Born Under Punches (Live)" ++ Neil Young & Crazy Horse, "Born To Run" ++ Gram Parsons, "Thousand Dollar Wedding (Demo)" ++ John Cale, "Sylvia Said" ++ Fleetwood Mac, "World In Harmony" ++ "Robyn Hitchcock & The Egyptians, "Airscape (Live)" ++ John Martyn, "Small Hours (Instrumental)" ++ Dusty Springfield, "Have A Good Life, Baby"
Foxy Digitalis Mix by Gabriel Birnbaum: Dinah Washington, "September in the Rain" ++ Kolumbo, "Evening Time" ++ Jeremiah Chiu & Marta Sofia Honer, "By Foot, By Sea" ++ Ben Lamar Gay, "Oh Great Be the Lake" ++ Kafari, "Way of the Intercepting Fist" ++ David Michael Moore, "Cottonwood Night Coming Down" ++ Eiko Ishibashi, "Drive My Car (Hiroshima)" ++ Maxine Funke, "Lucky Penny" ++ Bill Frisell, "858-7" ++ Loren Connors & Suzanne Langille, "O'Donnell's Camp" ++ Billy Woods & Mike Ladd, "Christine" ++ Stephen Steinbrink, "Poured Back in the Stream" ++ Moon Mullins, "Drops" ++ Scree, "Half-Death" ++ Branko Mataja, "Tebi Majko Misli Lete" ++ Sandy Denny, "A Little Bit of Rain (Home Recording 1967)" ++ Andrew Scott Young, Ryan Jewell, Ryley Walker, "Childers" ++ Lynn Avery & Cole Pulice, "Plantwood (Day)" ++ The Innocence Mission, "On Your Side" ++ Wilco, "More Like the Moon" ++ Jeff Parker, "Flour of Fur" ++ Alice Coltrane, "Jai Ramachandra" ++ Luiz Bonfa, "Sambolero"
Aquarium Drunkard is powered by its patrons. Keep the servers humming and help us continue doing it by pledging your support via our Patreon page. Only the good shit.