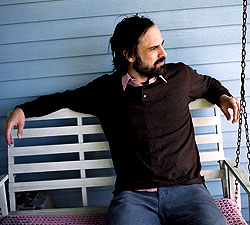 As previously reported Dave Berman and his Joos are the subject of director Michael Tully's documentary following the band on their tour throughout Israel last summer.
Earlier last week, I had the opportunity to watch a screener of the film and am happy to report Berman appears to be in both good health and in good spirits, having recently rediscovered religion (as well as having buried some old demons.) This doc is a must see for those who have followed Berman's music and poetry over the years.

Production Notes: In the midst of the first Silver Jews world tour in the summer of 2007, celebrated poet/musician David Berman, his wife Cassie, and the rest of the band –Tony Crow (keyboards), Brian Kotzur (drums), Peyton Pinkerton (guitar), and William Tyler (guitar) — stopped off in Israel to play two shows and visit Jerusalem. SILVER JEW documents this unforgettable trip. Run time: 51 minutes
Below: The following video for "I'm Getting Back Into Getting Back Into You" was shot by Tully in Jerusalem last summer while shooting Silver Jew in Israel. It contains this lyrical gem: "Wings and brandy on a winter's night, I guess you wouldn't call it a scene." * * The track "Rebel Jew" can be found on the Silver Jews mid '90s classic Starlite Walker LP.


Download:
MP3: Silver Jews :: Rebel Jew
——-
Amazon: Silver Jews – Starlite Walker
www.silverjews.net +++ www.silverjewmovie.com ++ www.dragcity.com