"Knock My Teeth Out, Make Way For The Gold…" — Boss Hog, 'I Dig You'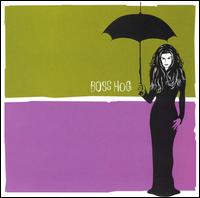 In the early-mid '90s, while I was knee deep into the Jon Spencer Blues Explosion, this "side project" by Spencer and his wife Christina Martinez was a god send. It called itself Boss Hog, and was a mixture of the JSBX's trademark howling and rock & roll sneer, coupled with a punkish pop sheen that made things all the more bizarre and messier.
In my head I always imagined an indie rock take on Ike and Tina Turner's shtick, which actually still sounds fairly appropriate today. Christina Martinez, more that a little easy of the eyes, takes an equal share of the reins insuring that Boss Hog are anything but a "Jon Spencer Blues Explosion + female vocalist" novelty. The album is all fuzzed out and garage-y pop that still sounds relevant today. If you're into the Blues Explosion and somehow missed out on the Hog, dig these tracks below for a taste.
Boss Hog released a follow-up LP, five years later, entitled Whiteout, in 2000 — I have yet to pick it up. Heard it?
Related: Jon Spencer Blues Explosion :: Afro (video)

Elsewhere: WXPN in Philly is broadcasting their four day music festival live with about twenty bands playing. You can hear it streaming here. Also, they are ramping up their 885 Moments In Music feature.
Download:
MP3: Boss Hog :: I Dig You
MP3: Boss Hog :: Sam
MP3: Boss Hog :: Walk In
——–
Amazon: Boss Hog – Boss Hog
www.thejonspencerbluesexplosion.com ++ get boss hog's s/t album at emusic
+ Download Boss Hog through eMusic's 25 Free MP3 offer.
––––––––––––––––––––––––––––––––––––––––––
+ Visit The Hype Machine for additional JSBX MP3s.