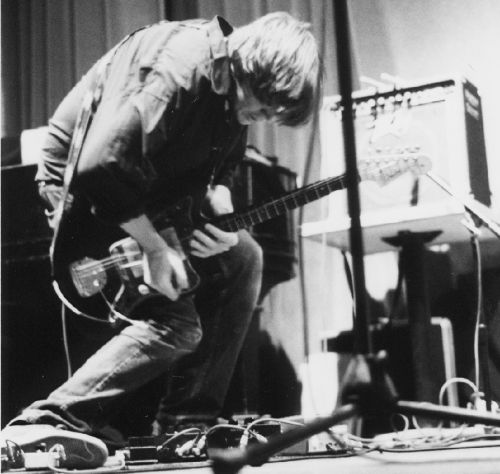 Not surprisingly, Thurston Moore's upcoming solo album, Trees Outside The Academy, (Sept 18 via Ecstatic Peace) has been getting a lot of our attention since catching Sonic Youth's performance of Daydream Nation, in its entirety, at the Greek Theatre, in July.
Those of you who caught Thurston's acoustic performance at this years SXSW, have an idea to the flow and atmosphere the twelve new tracks inhabit. Check out this great teaser video, below, the track "Ono Soul" off 1995's Psychic Hearts, and the beautifully arranged "The Shape Is In A Trance" off the upcoming Trees Outside The Academy LP.
Details: "This newborn disc is 12 songs long. Thurston recorded primarily on acoustic guitar and bass, laying down the core of the tunes with drummer compatriot Sonic Youth's Steve Shelly and violinist Samara Lubelski, a noted player from MV/EE and The Golden Road, Hall of Fame and other awesome gatherings as well as solo artiste.
Most of the tunes are lyric driven but there are a couple of majestic instrumentals like Trees Outside The Academy, which brings the album to a musical and breathless close. There's also some weird cassette tape that Thurston found at his mom's of him at 13 years old in the early 70s making some kind of sound-theatre. It's kinda nuts, and it's the last "hidden" track. Tracks like Frozen Gtr, The Shape Is In A Trance, Silver>Blue, Never Day and Fri/end (a theme song to the hippest TV show yet to be broadcast) will lead you in to a sparkling and heavy new world of Thurston's heart, mind and soul." (via: thurston @ ecstatic peace)
Download:
MP3: Thurston Moore :: The Shape Is In A Trance
MP3: Thurston Moore :: Ono Soul
———-
Pre-order: Thurston Moore – Trees Outside The Academy

www.sonicyouth.com ++ www.ecstaticpeace.com ++ emusic
+ Download tunes via eMusic's 25 free MP3 no risk trial offer
––––––––––––––––––––––––––––––––––––––––––
+ Visit The Hype Machine for aditional Thurston Moore MP3s