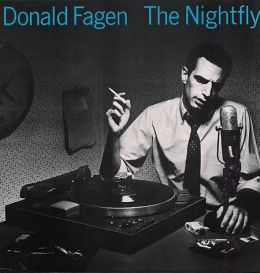 Steely Dan have sparked more heated debates than any other artist I consider myself a loyal, and ardent, fan of. People just love to hate on The Dan. And when I say love, I mean they looove to. And Donald Fagen's solo work? Shee-it, that's just even more bizarre to the non-Dan faithful than the proper canon. Luckily, I could give a fuck.
The beauty of Steely Dan, is that if you get it, it's as if you are part of one big, sarcastic, inside joke. If you don't, then it reportedly sounds like a bastard hybrid of lounge music crossed with '70s yacht-rock. But, I wouldn't know.
Anyway, this brings us to Donald Fagen's 1982 solo debut, The Nightfly. I am presently spinning an aged vinyl copy that I scored years ago at a used record store.
My imagination informs me the album's jacket was most definitely used to cut bad coke, in lieu of a mirror, back in the early '80s, somewhere in West Hollywood. But that is neither here nor there.
On The Nightfly, not unlike his main gig, Fagen employs an equal use of social commentary, sarcasm, humor, and perversion to spin tales of the boomer generation growing up in the shadow of the Cold War. All this is (of course) wrapped up with the Dan's, typical, hyper-studio production values.
This one goes out to "Lester the Nightly," "WJAZ," and all you Steely Dan/Fagen obsessives, and completists, out there. Oh, and my wife…just kidding, she hates Steely Dan. Keep listening.
Download:
MP3: Donald Fagen :: I.G.Y.
MP3: Donald Fagen :: The Nightfly