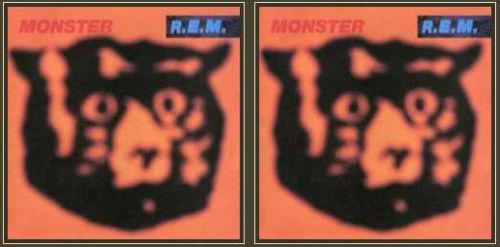 Athens, GA: Earlier this Fall, R.E.M. were at work on their next, as of yet untitled, album in a 19th century Athens chapel that had been carefully converted into a makeshift studio. Those familiar with R.E.M./Athens lore will note this apparent return-to-roots approach…but sorry, no Bill Berry.
The news of R.E.M. again gearing up for another studio release has coincidently coincided with my recent (re)appreciation of the band's 1994 LP, Monster. I can't get enough of it.
Coming off the heels of two relatively quiet and acoustic based albums (Out of Time, Automatic For The People), Monster, their ninth full-length, was touted as a "return to rock" — in fact, I believe I said as much in the review I penned my freshman year of college in the school's newspaper.
Besides the music itself, this re-kindled interest in Monster is in part due to my relationship with it over the last decade and a half. For shortly after praising it in print, I turned vehemently against both it, and the band's inflated image. Suddenly Stipe and company had, in my eyes, lost it. This sentiment lasted for a number of years. **(Granted, this was my freshman year of college, twelve hours from home, and I was eagerly consuming a vast amount of varied/disparate music. As a Georgia native, growing up not 60 miles form Athens, R.E.M.'s familiarity was in retrospect a strike against them. Ridiculous, I know).

When I first revisited the album a couple of months ago my initial reaction was that Monster may have been ahead of its time. But not so fast, perhaps it was just ahead of my time. Maybe, in '94, I wasn't ready for this new, evolved, R.E.M.; and to be honest, if not for a friend swearing by New Adventures In Hi-Fi a few years after its original release, I may have never picked up post–Autuomatic era R.E.M. again.
Not surprisingly, this drastic re-appraisal of Monster has me wondering what the last three albums (Up, Reveal, Around The Sun) were like – I have heard none of them, and, upon their release, blew them of on spec. Heard them? Have and opinion? Hit me up in the comments.
Elsewhere: As previously mentioned, Pop Songs 07 is a music blog dedicated to chronicling every R.E.M. song ever recorded.
Download:
MP3: R.E.M. :: Strange Currencies
MP3: R.E.M. :: Tongue
——–
Amazon: R.E.M. – Monster
* * * * * * * * * * * * * * * * * * * * * * * * * * * * * * * * * * * * * * * * * * * * * * * * * * * * * * * * * * * * * * *
R.E.M. :: Strange Currencies – 1994
www.remhq.com ++ www.murmurs.com

+ Download your digital music througheMusic's 25 Free MP3 offer.
————————————————————————————————————————-
Additional Monster Era Videos After The Jump