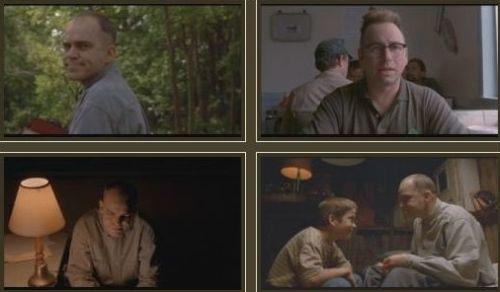 …and some folks, when called upon, cannot name you the titles of their favorite films. I am not one of those people; as for me, when it comes to the last ten years, or so, the answer is unequivocally Billy Bob Thornton's Sling Blade, followed closely by David Gordon Green's All The Real Girls; both southern Gothic tales set in the new south. But, let's talk about music.
Thornton's Sling Blade boasted a score by one of my favorite producers, the multi-talented Daniel Lanois. As discussed multiple times (near ad nauseam) on AD in the past, the Lanois touch is undeniable, no matter the project, be it Bob Dylan, Emmylou Harris, or The Neville Brothers.
Such is the case with his film scores. Here, musically, Lanois uses both rural, organic, elements (suiting the film's small town Arkansas setting) as well as modern production and instrumentation; both separately, and in tandem. Also, complementing his own compositions, are the other artist contributions which fall more in line with what you might hear in an actual late twentieth century small southern town (e.g. the Bambi Lee Savage's "Darlin" found below.)
Put on some headphones and listen to the two disparate Lanois tracks below off the same soundtrack: the first "Shenandoah", a beautiful and autumnal track, benefits from Emmylou Harris's angelic voice, while the second track, "Orange Kay" is the aural manifestation of the simmering violence smoldering just barely beneath the film's surface. The two seem to embody the light and the dark, the duality Thornton pushes and pulls throughout the course of the film's narrative.
The below clip, a key scene from Sling Blade features a medley of notable faces and performances, including (most notably, the fantastically frightening chops of Dwight Yoakam) Colonel Bruce Hampton, and Vic Chesnutt. But that's not all — hit up the comments if you can name the others. Hint: Bob Dylan's drummer.

Download:
MP3: Daniel Lanois & Emmylou Harris :: Shenandoah
MP3: Daniel Lanois :: Orange Kay
—
MP3: Bambi Lee Savage :: Darlin'
——
Amazon: Daniel Lanois: Sling Blade OST
+ Download your music DRM free via eMusic's 25 Free MP3 trial offer.
————————————————————————————————————————-
+ Check out additional Daniel Lanois tracks at the Hype Machine.