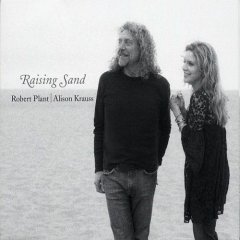 While I have long counted myself a fan of both the music of Alison Krauss and that of Robert Plant's Zeppelin, I must admit, when I first read the news, earlier this year, that the two were teaming up for a duets album I was more than just a little skeptical. On paper it just sounded suspect. Alas, having recently picked up the album, all my initial, unfounded, fears were laid to rest.   In a word, I was completely wrong.
With producer/auteur T. Bone Burnett behind the wheel, Raising Sand's production inhabits a space and atmosphere sonically reminiscent of the production work of Brian Eno and Daniel Lanois (Lanois' masterful work on Emmylou Harris's Wrecking Ball particularly comes to mind). Eschewing his trademark, million dollar, banshee howl, Plant eases into laid back, collaborative, harmonies with Krauss that shed new light on his talents as a vocalist. Yes, Zoso had the "The Battle of Evermore," a duet with English folkie Sandy Denny, but even it placed Plant's vocals high in mix maximizing the Zeppelin factor. The closest Plant comes to getting the Led out (sorry) are during the final moments of "Gone Gone Gone (Done Moved On)," and "Please Read The Letter" where he gets to do some of his trademark scat during the refrain.
The tracklisting is primarily made up of cover material, ranging from folk, rock & roll, blues, gospel, country, and r&b, expertly culled by Burnett including: The Everly Brothers, Tom Waits, Gene Clark, Sam Phillips, Townes Van Zandt, etc. In other words, it reads like most of our favorite music. Plant's own "Please Read The Letter" sits more than comfortably amongst the cover material, and after hearing his rendition with Krauss, the track seemed destined for the project.
Raising Sand comes highly recommended to fans of that old, weird, America sound aquarium drunkard loves so much.

Download:
MP3: Robert Plant and Alison Krauss :: Rich Woman
MP3: Robert Plant and Alison Krauss :: Please Read The Letter
———
Amazon: Robert Plant and Alison Krauss – Raising Sand

+ Download Alison Krauss using eMusic's 25 free MP3 no risk trial offer
———————————————————————————————————————–