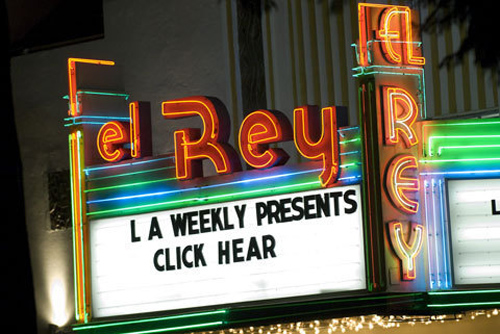 If you're in town or have been dropping by the Drunkard over the last few weeks, then you know about LA Weekly's Click Hear show Monday night at the El Rey. Clustered with the alt-pub's Muzika '07 feature (read LA Weekly's AD profile here), the show promoted a slew of local bands across four hours. Most notably are two that happen to be regular features here and in the speakers of the Drunkard home offices: Travel by Sea and Le Switch. While the Drunkard is off continuing his research for a forthcoming book, I had the chance to attend in his stead.
I first saw Travel by Sea a year ago in a small venue. In fact, it was their first live performance, yet they felt more like a seasoned touring duo. Twelve months later, they continue to comfortably ride that rhythm.
Where other alt-country tunes' sense of longing can veer toward the dark, Travel by Sea's same lyrical themes seem to offer a since of hope and recovery, even overcoming. It's front man Kyle Kersten's voice that is the difference. On softer verses, he hints of Ryan Adams (damn near sounds like him). And in live shows, on heavier, passion-driven notes, he's comparable to Richard Buckner. But Kersten's voice is steadier than Buckner's. There's more control than Buckner's oft-intentional pitch variations, which suggests more control of the story he's telling in the song. And in that way, he's in charge of the outcome. He's capable of overcoming.
Following Travel by Sea was the up-tempo Le Switch. I've been trying to peg Le Switch's unique (and refreshing) sound for the better part of six months and a handful of shows. There are rockabilly overtones, but they're not rockabilly. The songwriting and frolicking outpour of heavy strings summons the country western of the Southwest of yore. But they most certainly aren't country western. And the horn certainly comes from ska. But I hear no ska there. What I hear is lighthearted and fun rock and roll.
Le Switch has a big sound that's great in a smaller venue (i.e. their home away from home, Spaceland). Often, there's concern that some of that can fade in a larger joint like the El Rey. However, Le Switch's songs are full enough that they easily permeate the more open space, and you forget you're anywhere but a friendly setting. That said, they still have the ability to even the pace out with slower songs, more serious lyrics and a viola the cries that way you would want it to.
Download:
MP3: Travel by Sea :: Complete Shakeup
MP3: Le Switch :: Living in Another World
———
Travel by Sea ++ Travel by Sea Myspace ++ Le Switch ++ Le Switch Myspace
–––––––––––––––––––––––––––––––––––––—
+ Download DRM free music via eMusic's no risk 25 Free MP3 trial offer.