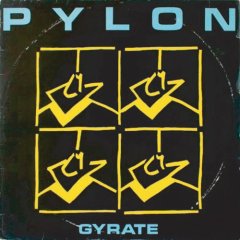 The rise of file-sharing, and digital music providers such as eMusic, have made it much easier to be a Pylon fan than the days of yore when one had to settle for a used copy of their greatest hits CD, or in the case of Gyrate, a second generation dubbed cassette. Cassettes, remember those? Yes, thanks to technology, and now, the folks at DFA Records, checking out this frenetic, early '80s, Athens, GA outfit is easier than ever.
Late last year the label remastered and reissued Pylon's 1980 debut LP (its first time being released on compact disc), along with additional cuts culled from singles and EPs, all respectfully tacked on to the end, totaling 16 tracks. For those new to the seminal post-punk group, just a mere skim of the reissues liner notes, penned by noted fellow Athenians (The B-52s Fred Schneider, R.E.M.'s Michael Stipe), should infer both the importance, and influence, of Pylon's short run. Two tracks off Gyrate to sample below, and the video for "Stop It (rock and roll no)" filmed in the early '80s.
Elsewhere: If you're a Pylon fan, make a note to check out the live show Southern Shelter is hosting from the group's November date recorded last year, in Atlanta, at The Earl.
* * * * * * * * * * * * * * * * * * * * * * * * * * * * * * * * * * * * * * * * * * * * * * * * * * * * * * * * * * * * * *
Download:
MP3: Pylon :: Cool
MP3: Pylon :: Danger
—
MP3: R.E.M. :: Crazy (Pylon cover)
——-
Download: Pylon – Gyrate Plus

+ Download Pylon via eMusic's 25 free MP3 no risk trial offer
————————————————————————————————————————
+ Visit The Hype Machine for additional Pylon MP3s