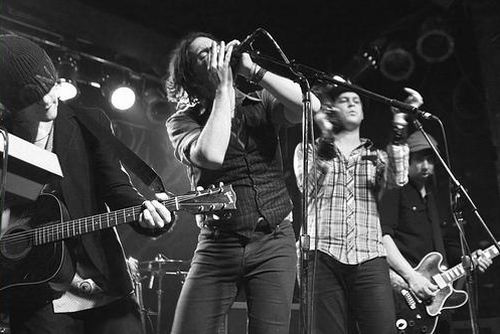 Longtime Marah fan – and AD contributor – J. neas, looks at the Philadelphia based outfit's latest album (released last month on Yep Roc) and deems it the bands best work in years.
With Angels of Destruction!, Marah have cooked up their best LP since 2000's dynamic Kids in Philly. For me, what put Kids In Philly above the band's subsequent albums was its focused chaos. Throughout the stylistic shifts of ragged college, roots and blues rock, as well as soul and r&b shuffles, was the narrative theme of Philadelphia. And here again, on Angels of Destruction!, is that focused chaos. Themes of mortality, in love and life, run rampant among the varied styles
The album opens with a fist-pumping run of four songs that comprise an incredible act to follow. "Coughing Up Blood" roars out of the gate with the type of slick, dirty rock that fans of Marah have come to expect. It stops and starts in fits as it sets the tone for the first third of the album. Rolling right into "Old Time Tickin' Away," this first part of the album takes advantage of not giving listeners time to rest between songs. Returning from last year's EP, "Angels on a Passing Train" serves as somewhat of a cool-down, but only in the sense that it uses piano and acoustic guitar as major vehicles. And one of the absolute best songs on the record, "Wild West Love Song," closes out the opening with a more up-beat re-call of the style of music best typified by Kids in Philly's "The Catfisherman" – bluesy, propulsive rock.
A brief lull, in tempo, not quality, follows ("Blue But Cool," "Jesus in the Temple") before "Santos De Madera" rescues the heavier themes of its lead-in. "Songbirds" is the type of heartworn, gorgeous and soft song that haunts the corners of Marah's records. The title track and another song rescued from the EP ("Can't Take It With You") wrap up the main part of the album – the latter thematically bookending the album, its chorus used very briefly to open the album.
This has been a common trick among bands of the roots/alt-country persuasion of late – the reprise of an earlier song or theme in order to give the album a proper beginning and end. Here also there's one more track after that end – the book leaned up against the outside, giving witness to what has most recently been on the reader's mind. And "Wilderness" does so with serious gusto. The album's loudest and most harsh song, it takes the album's focus on mortality and turns it on its head, as the narrator describes coming down "out of the mountains," searching through the "wilderness" for his people and their home. The biblical notes are obvious, but so is the song's ambiguity about what this search means. It's either a defiant statement of survival or a harsh detailing of a bitter experience that hasn't amounted to much but heartbreak and insecurity.
Marah has been a consistently thrilling band to listen to, but as much as I've enjoyed their last few albums (including, and especially, 2005's If You Didn't Laugh You'd Cry), I haven't heard one that has matched Kids in Philly for its wall-to-wall inducement of excitement. Angels of Destruction! is the closest they've come and, with repeated listens, may just mark its equal.
Download:
MP3: Marah :: Wild West Love Song
MP3: Marah :: Songbirds
———–
Amazon: Marah – Angels of Destruction!
www.marah-usa.com ++ www.myspace.com/marahusa ++ eMusic
+ Download DRM free music via eMusic's 25 free MP3 no risk trial offer
————————————————————————————————————————–