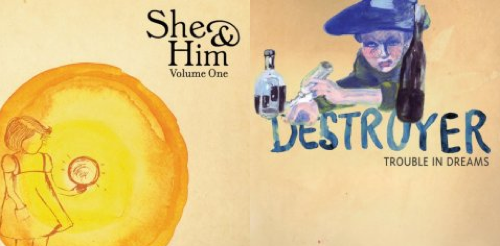 Some great albums were released yesterday, including two of my favorite listens over the past month; She & Him's debut, Volume One, and Destroyer's new LP, Trouble In Dreams. As an added bonus, I had the chance to see both groups perform their new material live, last week, at SXSW.
I've fawned over M. Ward and Zooey Deschanel's project, Volume One, previously, but having spent plenty of travel time with it (and their live act twice now, @ Noise Pop/SXSW), I am even more enamored with its sound. The back-story goes that the pair originally hooked up a couple of years ago while recording a cover of Richard and Linda Thompson's "When I Get To The Border" for the film The Go-Getter. The vibe of this meeting has obviously carried over to Volume One. A simple record, it plays upon many of my favorite '60s and '70s touchstones, and does so without delving into blatant pastiche and/or Lenny Kravitz-esque retro-isms. Comprised of ten originals and two covers (The Beatles's "You Should Have Known Better" and Smokey Robinson's "You Really Got A Hold On Me"), the album nods to Phil Spector's production, Patsy Cline's longing, and '70s AM radio dial twisting. Highly recommended.
The strength of Destroyer's Trouble In Dreams again finds me pondering who is really my favorite songwriter in the New Pornographers (my initial introduction to Bejar's work): Carl Newman or Dan Bejar (note: I actually prefer Newman's The Slow Wonder to the New Porno's catalog). This ongoing battle in my tastes, alone, keeps each release interesting. Bejar, at times, feels like Dylan through a kaleidescope, which, while much too eccentric for the masses, often points to brilliance, and Trouble In Dreams is no exception. Both albums available, now, on the Merge label.

Download:
MP3: Destroyer :: Blue Flower, Blue Flame
MP3: She And Him :: Why Do You Let Me Stay Here?
————
Amazon: She & Him – Volume One / Destroyer – Trouble In Dreams
www.myspace.com/sheandhim ++ www.myspace.com/destroyer ++ www.mergerecords.com

+ Download DRM free music   via eMusic's 25 free MP3 no risk trial offer
———————————————————————————————————————————