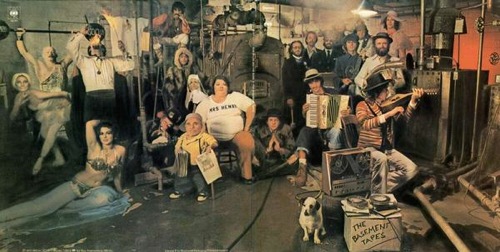 Hardcore Dylan-phile nitpicking aside, there is a lot to love about the (official) Basement Tapes. While many of these recordings (from 1967/68) were originally known on the bootleg circuit from the unofficial comp The Great White Wonder, a number of them received overdubs and general sprucing up before being released, seven years later, as The Basement Tapes. Due to the obsessive nature of Dylan fans, it was later revealed that a few of the tracks released were in fact not from the sessions at all, which in turn, rubbed some folks the wrong way. Thankfully, I'm not one of those people.
A rough and tumble Americana album, recorded for the most part in the basement of the Big Pink in upstate New York with neighbors and former touring mates, The Band, The Basement Tapes are a glorious laissez faire ode to the roots of American music. Loose and inspired, this set would go on to influence more than half the artists in my LP collection…most likely yours too.
There are many, many, many various bootleg collections floating around claiming to be the "complete" Basement Sessions; the majority are very similar with slight differences. Through trading, and more recently the Internet, I've heard a number of these and will post some favorites ("Quinn The Eskimo") in the future. Right now, here are a couple of gems from the official 1975 Columbia release.
Further Reading: If you really want to get knee deep in Basement Tapes minutiae, check out the Wiki which has a run down of all the known tracks from the sessions.
Amazon: Bob Dylan & The Band – The Basement Tapes
+ Download DRM free music via eMusic's 25 free MP3 no risk trial offer
——————————————————————————————————————————–