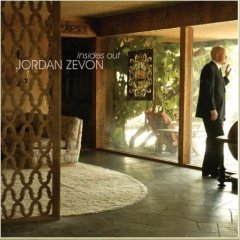 The curse of the father's success. It's an unavoidable discussion when musicians are the sons or daughters of someone famous. Liam Finn has been facing that down with his music and now so will Jordan Zevon.
The press release for Insides Out goes to great lengths to have Jordan say various things like "No matter how good Dad was, he was still my Dad and you're supposed to rebel against your parents." The line has to be drawn between Jordan and Warren, yes? Well, try as you might, he is his father's son. And despite the obvious British influences that Jordan readily cites, his father's songwriting influence is prevalent. But that could just be genes.
The album starts off well at establishing an alternative set of influences. "The Joke's On Me" and "This Girl" are both near-perfect slices of Oranges and Lemons-era XTC pop, full of carefully constructed harmony-choruses and the sort of wry, deprecating lyricism that both that band and Jordan's father had perfected over the years. It's not a surprise that these are the tracks that seem to be leading the album's commercial push – Zevon is set to perform the former on Letterman on April 18th and the latter is the free download over at New West's website. They're immediate and hooky, precisely the sort of thing that drives interest.
The rest of the album, though, does little to separate Jordan from his dad. Especially in songs like "Just Do That," "Camila Rhodes" and "Payday," Zevon channels his father's sense of style and structure. This isn't necessarily a bad thing. Warren Zevon's pop style was acerbic without being over the top. It had an ultimate optimism that boiled below the surface, even in its darkest moments. Jordan's songs don't yet have the depth of his dad's. That's probably unfair to compare someone's debut album against the high water mark of a brilliant musician's career, but it's the unfortunate and obvious comparison.
The bulk of the record's tracks aren't bad, they just suffer from comparison. So an unquestionable highlight is when Jordan takes on one of his dad's own songs – the rarity "Studebaker," which didn't even surface on record until after Warren's death. Jordan's version is the fully-fleshed out version that Warren never had, being that the only version that exists is a piano-only demo. Jordan gives it a loving and reverential reading that makes it fit perfectly between the other tracks on the album. It doesn't help the rest of the album, but it at least lends him creedance as an artist by making the musical connections between the generations more apparent and, ultimately, giving most listeners a reason to come back again when his second album comes calling. –j.neas

Download:
MP3: Jordan Zevon :: The Jokes On Me
MP3: Jordan Zevon :: This Girl
————
Amazon: Jordan Zevon – Inside Out
www.jordanzevon.com ++ www.myspace.com/zevon ++ new west records
+ Download your digital music via eMusic's 25 free MP3 no risk trial offer
—————————————————————————————————————————–