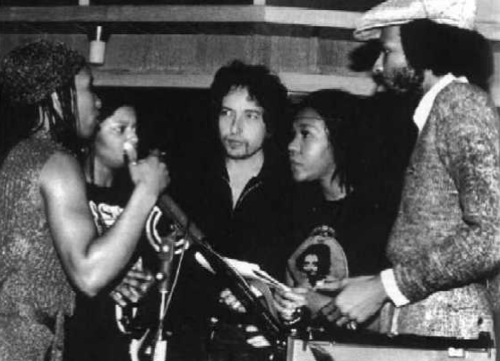 Bob Dylan and session musicians :: Muscle Shoals, AL – 1980 (Recording the Saved LP)
This weekend I watched the latest installment of the Under Review series continued focus on Bob Dylan entitled Both Ends Of The Rainbow. I believe this was number three in the Dylan series, taking us though his career from 1978 to 1989 — a rough (to put it mildly) ten or so years for the artist, both critically and commercially. Per usual for the Under Review series, the viewer is treated to a series of interviews with various rock critics (Robert Christgau, etc), and "insiders" in the Dylan camp (record producers, engineers, musicians) to add context and drive the narrative. I've watched a number of Under Review DVDs and this approach is at best thoughtful reflection, and at worst self-righteous naval gazing and pointless pontificating. Thankfully, this edition genuinely sheds some light on a period of Dylan's career long regarded as both fascinating and mysterious.
Beginning with Dylan's 1978 come-to-Jesus moment – in a Tucson, AZ motel room – that led his to embracing Christianity and recording three evangelical LPs (Slow Train Coming, Saved, Shot of Love), the documentary paints a picture of an often flailing artist over a ten year stretch who is equally struggling with his identity, his audience, and his role in the world music. Indeed a 180 degree change from that wild thin mercury, amphetamine, driven artist so mythologized from the Sixties, or for that matter, the artist from three years earlier who had released Blood On The Tracks. Both Ends of The Rainbow goes on to document the ups and downs of the '80s (Empire Burlesque, Live Aid, Traveling Wilburys) and closes after the recording of his excellent comeback Daniel Lanois produced LP Oh Mercy. One can only assume that the next, and final, Under Review Dylan installment will take us through his early '90s, cover-driven, folk material to his second pairing with Lanois on1997's Time Out of Mind, and on to the present.
One particular takeaway from the DVD I found interesting was the discussion of the recording of "Brownsville Girl" during the 1986 sessions for Knocked Out Loaded. Arguably the saving grace of the album, the track was, according to session players, originally a stripped down slow burner akin to "Desolation Row" and "Sad Eyed Lady of The Lowlands." Only in post-production did the semi Phil Spector-esque layered sound come into play. Curious. I for one would love to hear the original mix.

Amazon: Bob Dylan: 1978-1989 – Both Ends of the Rainbow