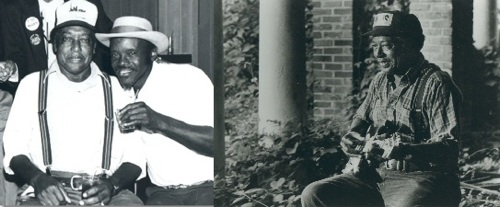 "It's so much cussin' on there, man, it's like playin' the dozens with somebody. That stuff tickles 'em." – R.L. Burnside (reflecting on the recording of A Ass Pocket of Whiskey, Pulse magazine 1996)
Speaking of Jon Spencer, back in 1996 the Blues Explosion decamped from NYC to record the LP A Ass Pocket of Whiskey, down in Holly Springs, Mississippi, with the late, great R.L. Burnside. About as ramshackle a recording as you can get (seriously), the album sounds like a group of very drunk menz talking shit at a juke joint (see Poor Monkeys Lounge) — who just happen to be holding instruments with the tape rolling. While many blues purists saw the album, and previous collaborative tour, as sacrilege, Blues Explosion fans saw it for what it was: typical JSBX antics. It's those very antics that made Spencer and company so interesting/appealing at their '90s peak — you never knew what might go down, or who they might appear with, on stage and on record.
Elsewhere: Having recently revisited this album, I ran across an old essay, from 1997, by Jim DeRogatis entitled The Truth About The Jon Spencer Blues Explosion. A worthy read, DeRogatis posits that "if Spencer really loves black music, how come he can't get beyond making fun of it?" In addition to the essay's premise, I found it interesting that the Blues Explosion's LP Now I Got Worry (the follow up to the band's 1994 opus Orange), was originally to have prominently featured Burnside. Spencer nixed the idea, understandably, for fear of leaning too heavily on the bluesman's cred, which makes one wonder if Rufus Thomas' guest vocals on "Chicken Dog" were initially slotted with Burnside in mind.

Download:
MP3: R.L. Burnside w/ Jon Spencer :: Goin' Down South
MP3: R.L. Burnside w/ Jon Spencer :: Have You Ever Been Lonely (Have You Ever Been Blue)
————
Amazon: R.L. Burnside w/ Jon Spencer – A Ass Pocket of Whiskey
+ Download DRM FREE music via eMusic's 25 free MP3 no risk trial offer
——————————————————————————————————————————