Album artwork: Does it indeed affect our listening experience, and if so, how? Scratch the Surface is a new feature on Aquarium Drunkard that that takes a look at some dubious/in(famous) cover art choices. Not surprisingly, we kick off the series with one of our favorite LPs, Bob Dylan's Blood on the Tracks.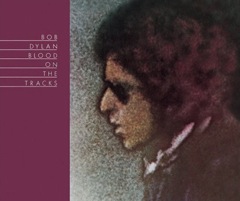 I've always been a fan of rock art, from stickers and show posters to t-shirt designs, but nothing captures the imagination like a great album cover. One of the loudest laments in the digi-age comes from those of us who enjoy a nice, quality piece of art to go with our records. It's a beautiful thing to hold that 12" square in your hands and pore over it like it's a key to the record itself; you can't get that from iTunes clipart. From Pink Floyd to the Beatles to Bob Dylan, up to the Beastie Boys, the National, and Panda Bear, great records have long been covered by great sleeves.
So what do we do when our favorite records start to get uglier and uglier, when we come across a cover so out-and-out bad that the record itself has to fight to be heard? Scratch the Surface, that's what we do.
Ahh, Dylan record sleeves. There's the blurred amphetamine burnout of Blonde on Blonde, the fuzzy snuggle of The Freewheelin' Bob Dylan, the glassy fisheye of Bringing it All Back Home (my personal favorite). There's the kitchen-sink clutter of The Basement Tapes, which was aped earlier this year by Montreal sprawl-poppers Plants and Animals. Even the pop-art cover of b-sides collection Biograph is cool enough to still be used on Dylan merchandise over twenty years after that record's release. Each of these covers is iconic, each of them as ingrained in the American mind as the Yankees logo or the flag-raising at Iwo Jima. They're all validated, of course, by the incredible music found beneath the artwork, but each stands on is own as a textbook example of perfect cover design.
And then there's Blood on the Tracks. Widely and rightfully considered to be one of Dylan's best albums, it chronicles his separation from then-wife (and mother of Wallflower Jakob) Sara Dylan and contains many of Dylan's now-classics ("Tangled Up in Blue," "Shelter From the Storm," "Simple Twist of Fate"). It's an acher of a record: listen to the hurt in Dylan's voice as he lets her go in "You're a Big Girl Now" or the lonesome harmonica that kicks off "You're Gonna Make Me Lonesome When You Go." Dig the fierce ramble of "Idiot Wind" and the final kiss-off of "Buckets of Rain" (the despair and confusion in "Buckets of Rain" in particular is enough to make a married man weep). It's a soulful record, to say the least.
So what on earth is the wet velvet of Blood on the Tracks doing covered by a pixilated, washed-out Dylan and some fuchsia, Nagel-esque graphic design? The sleeve does little to capture the mood of the album, and while it may have been progressive (it predates Duran Duran's Rio by a good seven years, for instance), it conjures up thoughts of some twitchy Dylan singing through a Vocoder, Trans-style. Biograph, which came out ten years later, is a much more tasteful employment of a similar design aesthetic, one which effectively captures the Bard's lost, wondering music. Scratch that for Blood on the Tracks; were it not for the record's epic reputation, I would have most likely never have given it a chance.
Basement Tapes excepted, Blood on the Tracks kicked off a string of bad album covers for Dylan that extended until 1988's Down in the Groove, and a streak of cover/album disparity that arguably continues to this day. Even 1997's comeback record, Time Out of Mind, looks more like a beer ad than a classic album. But nowhere in Dylan's extensive discography is the quality gap between record sleeve and record itself so wide as it is on Blood on the Tracks. I for one still can't decide which is more disturbing: the sleeve itself or the fact that Dylan thought that its slick, stylized aesthetic was an appropriate representation of the weary soul contained therein. words/marty garner
Discussion: Fellow Dylan fanatics, what do you think of Blood On The Tracks cover art? Love it? Hate it? Indifferent? Sound off in the comments below.