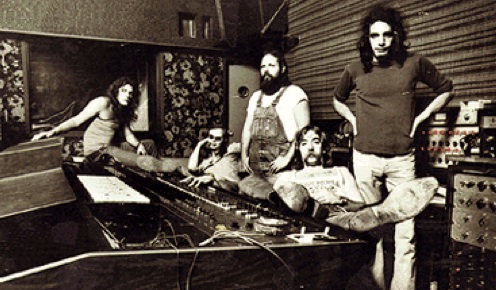 (Sevens, a new feature on Aquarium Drunkard, pays tribute to the art of the individual song.)
Let me begin by saying that when the genre of yacht rock is finally sunk forever by the churning ocean of history and good taste, I'll be one of the last to call SOS. There's always been something grating about the entire style — two guys; usually mustachioed; playing lite, jazzy, half-rock for the lunchbreak set. And, really, "Reelin' in the Years" is no different: Elliot Randall's guitar crunches like ice in a glass and the piano and bass come straight from a 70's sitcom, while Walter Becker and Donald Fagen's harmonies are period-perfect.
But I can't get enough of it. For four minutes and thirty-seven seconds, the Dan do a power-lunch 'n' roll all over a classically nonsensical lyric. I can trace the beginning of my appreciation for "Reelin' in the Years" all the way down to my childhood and the bizarre, almost grating quality of Randall's guitar tone. I can still remember thinking that it sounded like a knife cutting through frozen broccoli: that sharp crunch is hookier than any vocal melody Fagen and Becker ever could have come up with. And when he seesaws into that last, climbing solo? Forget it.
Of course, Becker and Fagen are no slouches, and their arrangement only serves to turn up the broilers. The band chug away behind Randall's guitar — which shines new light on the term "lead" — and when they build to the chugging, handclapping bridge, it's nearly impossible to not bob your head along. And in my mind, that's what the Dan looked like while they were recording "Reelin' in the Years." I can see it: all loosened ties and pushed-up sleeves in the big city, they're nodding their heads and watching the clock, grinning from under their mustaches. And then, as the song fades out, Becker stands up, pushes up his glasses, and says, "Alright men, back to work." words/marty garner
Download:
MP3: Steely Dan :: Reelin' In The Years
———-