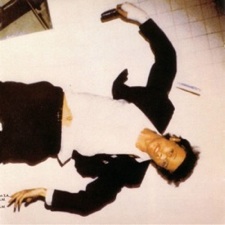 Speaking of Brian Eno collaborations, last week at the Echo, Sylvia's between-band DJ set included "Boys Keep Swinging," my favorite track off Bowie's Lodger LP. Culled from the third and final installment of Bowie's Berlin Trilogy, with Eno wearing the producer's cap, Lodger has the dubious distinction of being known as the most critically panned of the trilogy. But don't let something like that sway you — I happen to love it, as I usually tend to root for the underdog. At ten tracks "Boys Keep Swinging," alone, is worth the price of admission (a personal favorite mid-period Bowie track), with the rest of the LP easily holding its own. And lets' face it, Low and Heroes would be damn hard acts for anyone to follow, Bowie or otherwise.
Lodger is also home to Bowie's "Red Money," a track that Iggy Pop enthusiasts will immediately recognize as a slight variation of Iggy's "Sister Midnight" off his 1977 Bowie-produced album The Idiot. This would later prove to be the 1st of two tracks from The Idiot Bowie would nick for his own use on albums. The second time would prove to be a commercial hit with "China Girl" off his 1983 LP Let's Dance.
* Watch the video for "Boys Keeping Swinging" below – further proof no one smears their lipstick quite like that David Bowie.
Download:
MP3: David Bowie :: Boys Keep Swinging
MP3: David Bowie :: Red Money
———
Amazon: David Bowie – Lodger

* * * * * * * * * * * * * * * * * * * * * * * * * * * * * * * * * * * * * * * * * * * * * * * * * * * * * * * * * * * * *
David Bowie :: Boys Keep Swinging (Lodger, 1979)
+ Download your music via eMusic's 25 free MP3 no risk trial offer
——————————————————————————————————————————