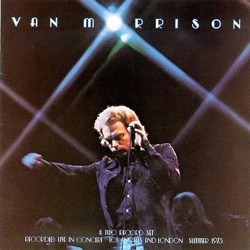 To understand what makes the live collection It's Too Late to Stop Now so momentous, its context in Van Morrison's career must be taken into account. Nowadays Van Morrison conjures up visions of a chubby man in a suit who sits on a stool while on stage, whereas the Van Morrison of 1973 was coming off what may be one of the most-overlooked string of releases from the '60's and 70's. From Astral Weeks, to Moondance, to His Band and the Street Choir, to Tupelo Honey, to Saint Dominic's Preview — Van Morrison didn't just release albums that would yield songs for greatest hit collections years later — he put out his greatest records. Strong, well-rounded, lyrically complex and beautiful, more musically rich and ranging than he and his band are ever given credit for; it's a run that is nearly unparalleled in music.
It's not that It's Too Late is forgotten, far from it. It's that it is one of those rare live-gems that redefines a musicians work. In this case, over and over and over. There's the soul-infused version of "Warm Love" and the funky-blues of "Domino" and "These Dreams of You," — there's the quiet bliss of "Listen to the Lion." Every track stands up to the original. This is more than a live record, it is its own record – not a compilation but an entry into the cannon, fully and whole-heartedly.
If there's one track that stands out (and it's hard to pass over the classic "Caravan" which has more raw energy than probably any performance Van, or many artists, have ever given) it's the closer, "Cyprus Avenue." A track that, in it's original setting is a harpsichord-heavy free-jazz odyssey, it becomes emotional dynamite – mixing love, genius lyricism and a stage-flair that transcends an audio-only experience but most importantly, is a beautiful song that you could rock out or fall asleep to.
With only a minute left in the show, a fan yells "turn it on!" and the only appropriate response is delivered with a comic-slyness, "it's turned on already." And when Van asks the audience "Over there?" he means where he should kick his leg, where the song should go, how the show the song will reach its unlikely climax… he answers himself over the cries of "over here!" – "it's too late to stop now!" words/ b. kramer

Download:
MP3: Van Morrison :: Cypress Avenue
MP3: Van Morrison :: Listen To The Lion
————
Amazon: Van Morrison – It's Too Late to Stop Now
+
L.A. Folks:
I have three pairs of tickets to
Giant Sand
to giveaway for the October 8th show at
The Echo
. Leave a comment with you favorite Van Morrison track if you'd like a pair. First come, first served.