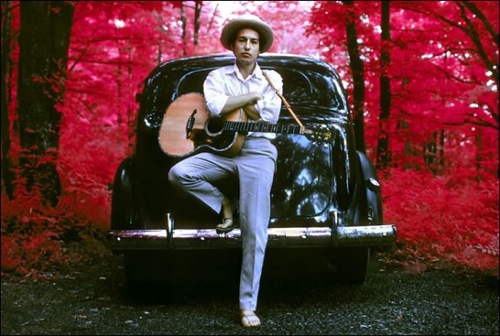 Following the amphetamine-paced frenzy of his 1966 European tour, Bob Dylan retreated to his home in Woodstock, NY. It was there that, on July 29th, the artist crashed his Triumph 500 motorcycle. While the details of the crash, and subsequent injuries, remain somewhat of a mystery, Dylan, reflecting on the pivotal event, later stated in an interview that "When I had that motorcycle accident…I woke up and caught my senses, and realized that I was just workin' for all these leeches. And I really didn't want to do that." Following 1966, the Dylan timeline would forever be altered, adding another era; "before" and "after" the crash. Below, we reflect on the three immediate albums following Dylan's convalescence in Woodstock, NY: John Wesley Harding, Nashville Skyline, and New Morning.
Before we begin, let's put some of the obvious nuggets that make these records incredible on the table, so we can admire them and move on. 1. New Morning and Nashville Skyline heavily feature none other than Charlie "Devil Went Down to Georgia" Daniels on bass. 2. All three records (and additionally, the often forgotten covers record Self-Portrait) were released in a less than three-year span. 3. Nashville Skyline features a duet between Johnny Cash and Bob Dylan – only one out of what is described as "an album's worth" of duets; the demos of which have been posted on AD in the past.
There's a reason that these three records are over looked. Aside from the fact that they lack singles, lack protest songs, and lack the things which define Dylan Hits to non Dylan fanatics: they were released in-between two of the most beloved Dylan iterations. Before them is the Dylan of old, the 60's — Blonde on Blonde directly precedes them. Following New Morning, in 1970, came Pat Garrett & Billy the Kid (a movie soundtrack mostly remembered for ""Knockin' On Heaven's Door") and the not-so-authorized Dylan. After this Dylan again teamed up with the Band.
This mini-period of Dylan work often tends to not stand out — it slinks behind. It's forgotten for no reason other than the fact that it wasn't a golden era. But maybe, instead of being something left by the wayside because it doesn't fit into the Dylan that most know and love – it's actually a period of time in which he released what could arguably be called some of his best records. There are not singles, there are not concert staples, but what there are, are three records that tie-together seamlessly and capture Dylan at a moment of extraordinary song writing, of a different language and mentality. Suffice it to say, this is easily packaged as country music, and Dylan nailed it.
Note that this is not the country Dylan of now, with the suits and the countrified versions of old classics. No, this is a Dylan taking the folk medium on the road to a meeting with Johnny Cash and country music – literally exchanging verses with the Man in Black. A true meeting of two rebels who met, recorded, and were both tremendously changed/challenged by the experience.

Starting with John Wesley Harding, in 1967, Dylan's story-telling loses the abstractness of his thin wild mercury period and instead tells individual stories and autobiographies. This music harks more to the unreleased 1963 song "John Brown" than to anything recorded by Dylan between that and Harding. What goes unnoticed on this record is that there is not a single chorus. Not one. The closest is the verse ending line "I'll Be Your Baby Tonight" from the song of the same name. Consequently, it is the only song that feels out of place on any of these three records.
What Nashville Skyline proves is that these three records do not necessarily share enough elements that they could be intermixed. Skyline is a much more country record, not least because of the Cash collaboration on "Girl From North County." The record is marked by a vocal styling not often thought of when speaking of Dylan: sleepy. He almost waltzes through the entire album, save the Cash, the Earl-Scruggs-featuring "Nashville Skyline Rag" (a rare Dylan instrumental) and the playful but short "Country Pie." There's a melodic sleepiness to this record, not least because of the voice mentioned earlier. The music is country, and yet lush with light organ and pedal steel; the drumming is rarely heavy and never inappropriate.
Upon examining these albums as a microcosm, New Morning seems like a vast departure. Though, what becomes clear is that this particular record is almost a hybrid of the prior two. This is story-telling Dylan with a country-tint; not rocking with The Band, yet, not monotone. How does Dylan's first jazz song, "If Dogs Run Free," a combination of beat-poetry, skat singing and a piano, manage to fit into this record? Varied as it is, the record is incredibly strong and the standout tracks share a common musicality. "Sign on the Window," "The Man in Me" (which gained a second life via The Big Lebowski), "If Not For You" and the title track range more in terms of sheer loudness than most all Dylan songs. Part rollicking, part ballad – they are obvious love songs, and much more straight forward than we're used to with Dylan.
An overused word for any musician is that a work is "introspective" – these records seem far from that. They are outward expressions…reactions…culminations. New thoughts. New ways of expressing oneself. A small moment in Dylan's career, introverted both musically and socially, the artist managed to create three powerhouse melodic and captivating records. words/ b kramer
Comments: What's your favorite Dylan period? Hit up the comments below.
Only the good shit. Aquarium Drunkard is powered by our patrons. Keep the servers humming and help us continue doing it by pledging your support via our Patreon page.