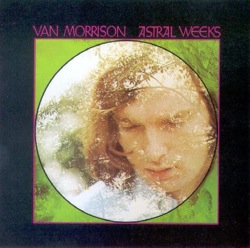 What happens to the bands we love when they don't call it quits. Ups, downs, break-downs, break-ups, reunions. And then, the backing-band: three back-up singers, too many guitarists, a percussionist. It can all get to be a little too much.
So when Van Morrison played the first night of two at the Hollywood Bowl, those more skeptical could be forgiven for being fearful of the elaborate band set-up, the Silver "VM" welded to the mic stand, and the three microphones on a raised platform in the back. For an hour, the crowd was treated to an array of greatest hits, some obscure hits and very little new material.
Obviously, Van Morrison is not the same man flailing around with The Band ripping through "Caravan" during The Last Waltz. He still shakes, still throws his arms to the beat – but the oddness of his pear-shaped-body in the 70's is now fully manifested, like an umpire wearing protection pads under his shirt. But if Van hasn't lost one thing, it is his voice. It's a bit deeper now – his range is still unmatchable, his emotion incredibly raw and his skating, doo-wahs and repeating lines are still an instrument unto themselves.
As the second set began with a new stage set-up in place, Morrison began the occasion for the night: a full rendition of his hallmark 1968 record — the unparalleled Astral Weeks. To be performed with a couple of the original musicians from the recording, the event closed out the season at the Hollywood Bowl and promised to be a once-in-a-lifetime event, as, due to budgetary restraints upon the time of its release, the LP had never been performed in its entirety in accordance with Morrison's vision.
What followed was a moving rendition of the record. True to its core and emotional, but not bound to it's exact form, Van Morrison chose new replication over new rendition. Playing only one song out of order, the record comes much more alive than its original form in this setting. Even a song which some write off as the weak spot on an eight-song masterpiece ("Beside You") was moving, jarring even. But, staying true to form, the album never became a loud ruckus – e.g. the staple "Cyprus Avenue" that remained mellow and hearty rather than the version that appeared in his shows following the records release: the rollicking concert-closer.
Astral Weeks has stood the test of time and endured much differently than his singles ("Brown Eyed Girl," "Domino") is that it is a sleeping giant. A singular moment of perfection. Clean may be a very a over-used adjective, often with little meaning, fitting for a record with such a wide-array of instruments and arrangements, without a single moment out of place. Soothing, yet genius and complex. The Van Morrison who wrote these abstract love songs and small stories of troubled lovers is the same man now that he was then – full of emotion, with a full belief in the songs he wrote forty years earlier. If anything, the performance Friday night at the Hollywood Bowl proved just that. words/ b kramer
+ Download your music DRM free via eMusic's 25 free MP3 no risk trial offer
——————————————————————————————————————————-