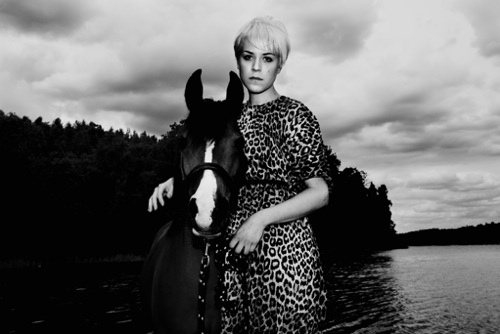 Off The Record is a recurring feature here on the Drunkard that marries two of my greatest interests; music and travel. Having a locals perspective when visiting a new locale is the difference between experiencing it through the lens of a tourist and of that of a native.
Off The Record gathers some of my favorite artists, asks them to reflect on their city of residence, and choose a handful of places they could not live without, be them bookstores, bars, restaurants or vistas.
Today's installment of Off The Record catches up with Frida Hyvî¶nen as she lists some of her favorite things in her hometown of Flarken, Sweden. After catching Hyvî¶nen's solo set at SXSW 2007, I must have listened to her debut LP Until Death Comes 10 times the following week. Her new release, Silence is Wild, is proving to have the same effect.
* * * * * * * * * * * * * * * * * * * * * * * * * * * * * * * * * * * * * * * * * * * * * * * * * * * * * * * * * * * * * *
Krutrî¶k :: Means Gunpowder smoke. It's a black horse that belongs to a neighbor. There is no stopping this horse. You get up on his back, and he goes until you've gone around the world and are back home. Extremely charming.
The Submarine :: A person in the next village has built a fully functional submarine in his spare time. It took 2500 hours and a lot of welding.
Flarkens Kapell :: It's a Chapel, built in 1920. I live next to it. Nothing ever happens there, except the occasional concert or wedding, and every Saturday at five to six, the red windows in the tower open, and the bells ring for 5 minutes. It means that the weekend started. There is a special room for watching it in my
house.
Hardware store :: It's the only shop in my village. The man who works there has worked there forever, so, naturally, he has everything. If you want alcohol, though, you have to order it the day before.
The Grand Piano Salon: : Where I keep my instruments. My grand piano, a Blüthner made in Leipzig in 1916, magically turned up at the thrift store in Umeî¥ one day. It had a note on it said I AM YOURS. Usually not a good pick up line, but two days later, it moved in.
Westmans Konditor ::. A young guy called Gustav Westman went to North America a hundred years ago, found gold enough to travel back home to the village Bygdsiljum in northern Sweden in 1929, marry my grandfathers sister, Rut, move into a house next to the lake, and start a bakery and a stylish garden café, inspired by ones he had seen overseas. Complete with fountains, monkeys, peacocks and Chinese pheasants. It was very unlike anything one had seen. As result of unfortunate modernizations, much of the original charm got lost. But the peacocks are still roaming around.
The view from my office.
Download:
MP3: Frida Hyvî¶nen :: Enemy Within
MP3: Frida Hyvî¶nen :: You Never Got Me Right
———-
Amazon: Frida Hyvî¶nen – Silence Is Wild
+ Download Frida Hyvî¶nen DRM free via eMusic's 25 free MP3 no risk trial offer
——————————————————————————————————————————-