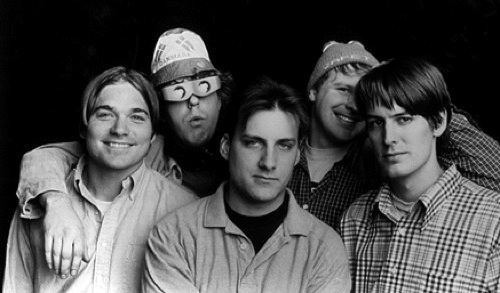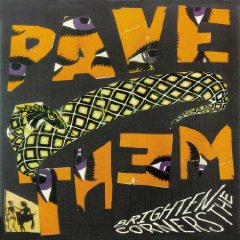 Psychologists have it all wrong. Myers-Briggs? For chumps. Rorschach tests? Child's play. No, there really is one much simpler, more defining way to tell exactly what makes people tick. First, ask them if they are Pavement fans. If they say no, you can pretty much write them off immediately. I mean, for purposes of this study. I'm sure their life can still amount to something in general, but frankly, I'm not interested.
Next, ask them what is their favorite Pavement album. There are only five possible answers, so this gives us a good, narrow yet diverse way to assign our subjects a description. Slanted and Enchanted? A life emphasis on something new, but without a real clear definition of what that is – the perpetual search for life's meaning. Crooked Rain, Crooked Rain? A specific world-view that is grouped around having had the search for life's meaning and found something to focus on. Wowee Zowee? Someone who embraces chaos and finds life's meaning in the constantly shifting nature of existence and human nature. Terror Twilight? Well, you know, we can't all be perfect.
And today I want to focus on the in-depth revisionist view of Pavement's fourth album, Brighten the Corners. As part of the continuing series of remastered/reissued editions of the Pavement oeuvre, Nicene Creedence Edition is another winner. This type of loving, detailed examination of an album is the type of thing that more classic works are deserving of, but then again, Pavement was lucky enough to be recognized as a masterful band before enough time had passed for recordings to start disappearing, people to get angry and clog up the works, and any of the numerous other reasons why bands don't get this kind of treatment. That or it's just a continuation of the fascination America's culture has with instant nostalgia. You're remembering something almost as soon as it exists.
I'll cop to myself being a Brighten the Corners person. What does this say about me? Well, the moments of sentimentality on this record are some of my favorites – and I'm a bit of a sentimental softy. "Old to Begin," "Type Slowly," "Starlings of the Slipstream" and "Fin" are among the best songs of their type in the Pavement catalogue – slow and emotional, leading and descriptive. My favorite songs from the other Pavement albums often follow this line. There's something really, blindingly unified about this album also. Where its immediate predecessor, Wowee Zowee, was a chaotic mess of styles and sounds, even in its disparate moments, Brighten the Corners seems like one piece. The soaring, plaintive wail of the crunchy "Date with IKEA," possibly Spiral Stairs' best contribution to any Pavement album, leads in perfectly to the soft pull of "Old to Begin" and "Type Slowly." The raucous, shout-along-perfect "Stereo" opens the album with a flawless tone, followed by "Shady Lane," the song that a friend of mine has labeled as the song he instantly thinks of whenever someone uses the phrase "indie rock." Even the weaker songs seem almost perfect in their less-than-amazing status. Almost as if placed there to emphasize the brilliance of the rest of the album – juxtaposition at its finest. "Ain't no dark 'til something shines," as Townes Van Zandt put it.
For records recorded in the 1990s, the re-mastering of these albums is a little less important than the additional material, so the biggest question about whether these reissues are worthwhile comes down to the add-ons. Like with the previous entries, they don't disappoint here with a whopping 32 tracks in addition to the original 12 song album. Here are album outtakes, b-sides from album singles, compilation tracks, another Peel Session and scattered live tracks. One of the more interesting notes about some of these, specifically some of the b-sides, is that they come from Terror Twilight-era singles. The excellent "Harness Your Hopes," "Roll with the Wind," their fantastic cover of Echo and the Bunnymen's "The Killing Moon" and the Peel Session version of "The Classical" were all b-sides to either "Spit on a Stranger" or "Major Leagues," both singles from Terror Twilight. They were all recorded during this album's era, but it does start to make you wonder what extras are floating around from Terror Twilight and whether an expanded edition of that is even in the cards.
The highlights show the evolution or deconstruction of certain songs – eventual Terror Twilight album track "The Hexx" (here called "And Then (The Hexx)") shows up twice – first in its original, unedited version, clocking in at just over seven minutes and sounding much crunchier and wandering than its Nigel Goodrich-produced album counterpart; then as a BBC session more closely resembling the five-minute running time of its final version. "Slowly Typed" is a goofy, loping re-working of "Type Slowly" that is good fun, if nothing revelatory. There are some excellent songs that existed or were recorded around this time – "Winner of the," "Cataracts," the instrumental "Beautiful as a Butterfly," and "Birds in the Majic Industry" (appearing here for the first time with vocals) are all songs that would've fit in beautifully with the album's tone.
A run of live tracks on the second disc show just how somewhat confounding Pavement could be as a live band. A gorgeous version of "Type Slowly" from the Tibetan Freedom Concert album is an example of how their sentiment could transfer over, but a really lackluster version of the otherwise sublime "Date with IKEA" from the Peel Sessions seems like they're just running through the motions. The rest of the live tracks, with the exception of the fun and context-needed versions of the freak-outs they performed on an episode of Space Ghost: Coast to Coast, a run through of Wowee Zowee's "Grave Architecture," and the unreleased "The Classical," are pretty miss rather than hit.
What does all this say about those of us who prefer Brighten the Corners above other Pavement records? Maybe we are more pragmatic – we prefer our fact checkin' cousins to those who get rattled by the rush. I like to think that we simply appreciate a band at the height of their focused power – something that would seem to abandon them after this moment in time. words/ j. neas
In the comments: So What is your favorite Pavement album? As noted above, J. Neas votes for Brighten The Corners; I've always been in the Wowee Zowee camp. Holler at us below and let her rip…
Download:
MP3: Pavement :: Type Slowly
MP3: Pavement :: And Then (The Hexx)
MP3: Pavement :: Winner of The
——-