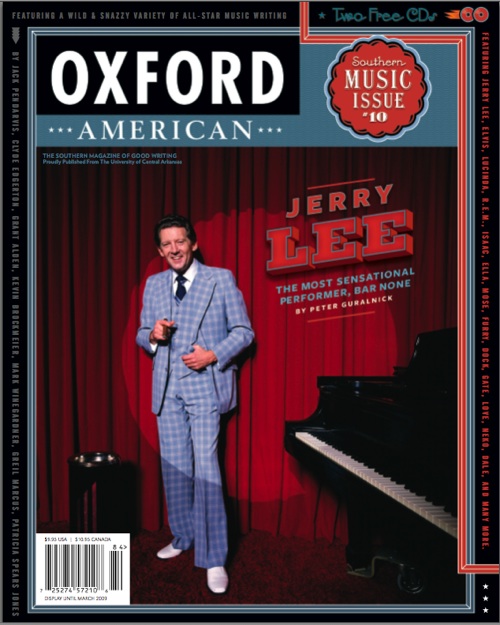 While I subscribe to a handful of magazines, the quarterly Oxford American is without a doubt the most rewarding of the bunch; it's arrival is always a sincere mailbox treat. Spanning everything from politics to film, music, literature, sports and general Southern living the writing and content are nothing less than superb (the Autumn issue was dedicated to New Orleans and the Gulf Coast three years post-Katrina.)
Like a lot of folks, I was initially turned on to the publication via their annual music issue which continually covers disparate genres that all are tied, in one way or another, the the region's rich musical heritage. This year, the music editions tenth anniversary, boasts not one, but two CD compilations. Disc one, entitled Past Masters, features artists who have graced the compilations from past issues (albeit with new track selections), while disc two, Future Masters, features artists making there OA debut (Neko Case, Bobby Charles, etc.). Check out Jerry Lee Lewis (who graces the issues cover) knock out Sam & Dave's "Hold On I'm Coming," in a fashion true to the killer himself. Also, Aretha's sister Erma makes good on a tune her famed sibling also delivered upon back in the '60s. And as the issue points out, which version do you prefer?
Related: Making a case for serendipity, we recently did a Sevens on Arthur Lee's "Everybody's Gotta Live" that went live yesterday. Oxford American included Love's acoustic version on this year's sampler. You can hear both in the aforementioned post.
Download:
MP3: Jerry Lee Lewis :: Hold On I'm Coming
MP3: Erma Franklin :: Baby I Love You
———–
Subscribe: Oxford American Magazine
+ Download your digital music DRM free via eMusic's 25 free MP3 no risk trial offer
——————————————————————————————————————————-