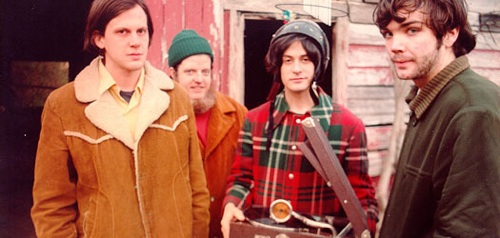 Repost: Received several emails Per the Mangum acoustic tracks (from 1996, posted last week) saying that the old E6 links, for the the XFM '98 set, are no longer active. I have upped the five tracks to my server for anyone who has not grabbed them during previous years. Worth picking up for the versions of "Engine" and "Gardenhead" alone.
We posted this XFM set a year ago, today, while reflecting on the fact Neutral Milk Hotel's Aeroplane Over The Sea was nearly a decade old — and now, in February 2008, it is. Pitchfork has just re-posted two of their interviews with Jeff Mangum, from 1997, up on the main page. Excerpt below.
Pitchfork: How many of the parts of a song do you hear in your head when it's first coming together?

JM: I'll hear lots of parts, but the songs are like little blurs in my brain. They're whole entitities, but it's weird– I write them and I sing them and I envision them for what they are, and the recordings never go very far from that, but at the same time when they do become recordings they become like a whole other thing. It takes a little while to get used to the music coming from these speakers instead of inside my head. It's very exciting to hear that, like when we play live, but it's very strange.
Jeff Mangum :: XFM Radio Session – May 1998
Download:
MP3: Jeff Mangum :: Interview
MP3: Jeff Mangum :: Gardenhead / Leave Me Alone
MP3: Jeff Mangum :: Engine
MP3: Jeff Mangum :: King of Carrot Flowers pt. 3
MP3: Jeff Mangum :: Oh Comely
————–
www.neutralmilkhotel.net ++ www.elephant6.com
+ Neutral Milk Hotel available through eMusic's 25 Free MP3 trial offer.
—————————————————————————————————————————-