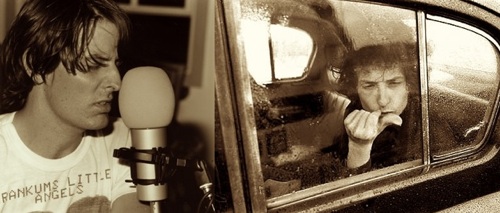 An AD reader recently reminded me of this great clip from 1966 of Dylan playing "Can't Leave Her Behind", filmed in a Glasgow hotel room with Robbie Robertson while on tour in the UK. While the general consensus among the Dylan faithful is that the following is the only known recording of the tune (and a fragment at that), I can't help but wonder if somewhere in Dylan's archives a rough demo doesn't exist, just waiting for an eventual, future, "bootleg series" release. One can always hope. While just a fragment, this is arguably one of the sweetest love songs the artist ever penned:
"Where she leads me I do not know, Well she leads me where she goes
I can't find her nowhere, Well, she needs me here,. All aware, I just can't hear her walk, I just can't hear her talk. Though sometimes you know you will. And when she comes my way, I'll just be left any night or day, I will hear her say that I don't wanna try, I tried also cried, But I can't leave her behind."
In 2006 Stephen Malkmus and Sonic Youth's Lee Ranaldo cut a version of the track for the accompanying soundtrack to Todd Haynes' film I'm Not There. Brief and understated, Malkmus makes the track his own, vocally, without delving into any ill advised Dylanisms.
Download:
MP3: Stephen Malkmus & Lee Ranaldo :: Can't Leave Her Behind
————-
Clips can be found on both the Eat the Document and No Direction Home Dylan documentaries. Per the former, look for bootleg torrents online.